Introducing WPCafe App: One of a kind White Label Food Delivery and Food Ordering App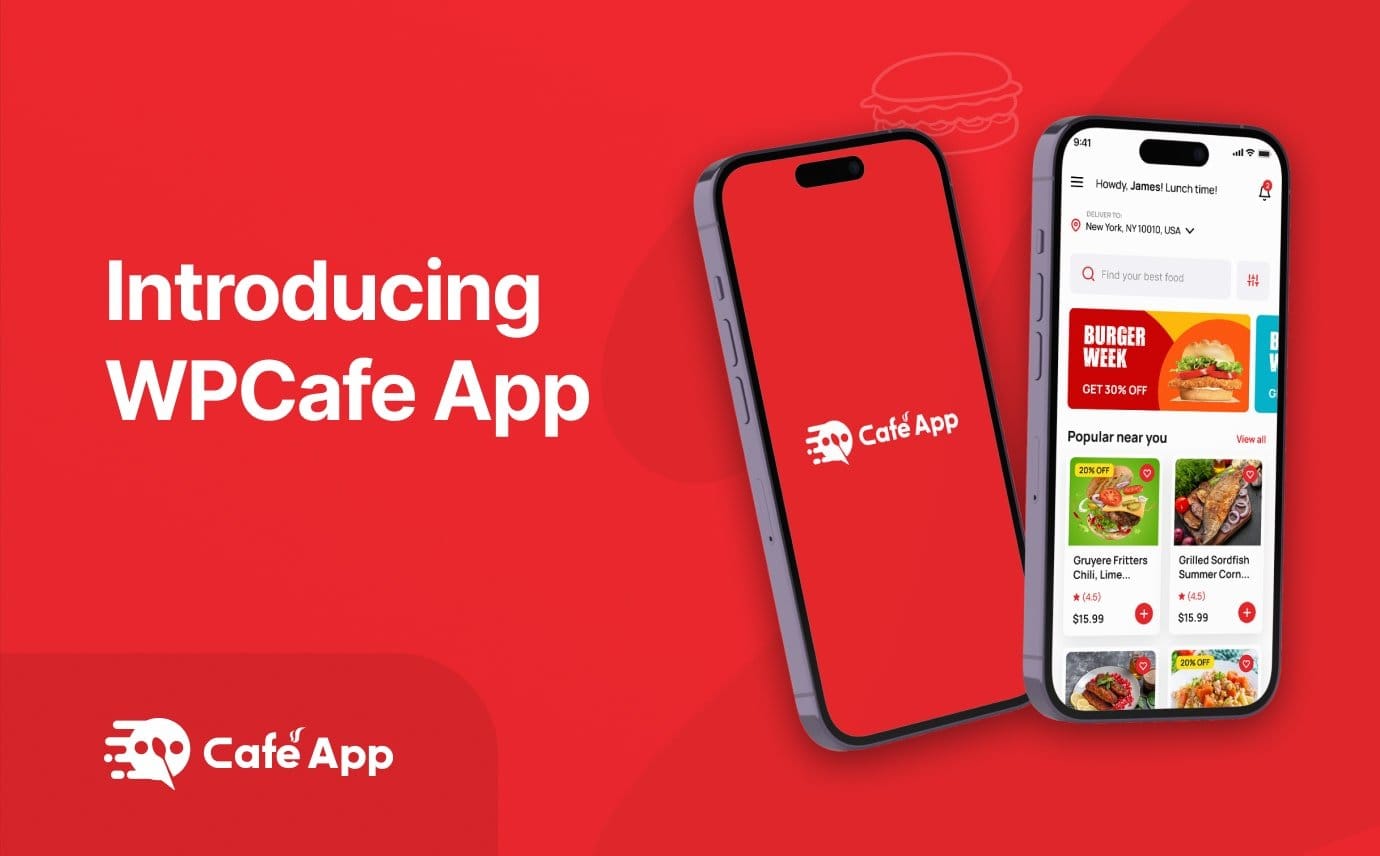 Sugar, spice, and everything nice. Yes, that is how we would like to describe our long-awaited white label food delivery and food ordering app, the WPCafe App.
Imagine this scenario for a moment,
Your restaurant is running quite fine now. But the one sector you are struggling with is an efficient way to communicate with your customers and make it easy for them to order from your restaurant.
The first thing that comes to your mind is a Mobile App. but in that case, you have to hire developers, set up servers, and hire support engineers. That is simply too expensive.
Now, you don't need to hire developers or software firms to build an app for you which would cost you a fortune. This new year, make your customers' food ordering experience smoother with the much more affordable WPCafe App.
A Brief Introduction to The WPCafe App
Since the app is white-labeled, you don't need to hire any developers for it, all you have to do is send us the information, and we will add your restaurant's branding to this ready-made app.
The WPCafe Mobile App is a pre-built, fully functional white-label food delivery and ordering app. It will help your customers order food and help you manage your orders.
The app has niche-specific food menus, a WooCommerce payment gateway, Instant notification for offers, and many more.
Your customers will have a flawless experience while using this app. From pixel-perfect design to swift performance, the WPCafe App has everything a restaurant owner desires for their restaurant business.
In a nutshell, the WPCafe App is a complete package.
Why You Need a Food Ordering and Food Delivery App
Here are a couple of statistics that I think you should know before we go any deeper.
According to a report by Sensor Tower, downloads of restaurant-branded apps increased by a total of 91% in 2020.
According to research done by PYMNTS, 92% of top-performing restaurants allow customers to place orders using a mobile app.
As you can see here, the numbers are crazy. The restaurant next to you is ahead of yours because they have their own mobile app. The reason is having a mobile app means flexibility.
Having a mobile app will help you to bring more customers, allow customers to order food from your restaurant on the go, and open the door for communication with customers.
How WPCafe App will Help You Growing Sales
The WPCafe App comes with a lot of great features that will surely bring more sales for your restaurant business. Here are how by using the WPCafe App, your restaurant will gain more sales –
1. Ease of use
The easier an app is to use, the easier it is to increase conversion. If an app is visually pleasing and at the same time very swift in doing any task, that will convince the user to use the app more which will ultimately lead the user to order from you.
2. Optimized for Speed
The WPCafe App is optimized in such a way that it won't put any load on the user's phone at all. The app is built keeping the user experience in mind.
If you give your customers an app that has a great user interface and user experience, and it doesn't lag, users will be drawn to the app and will order more from you.
3. Instant Offer Notifications
No matter which industry it is, consumers are always hungry for offers and discounts. If an offer or discount comes right in front of the consumers' eyes and that offer or discount matches their needs, they will surely place an order.
Because of the push notification of the WPCafe app, customers will never miss any of your discount offers. This way, your sales will grow tremendously.
4. Bringing in Idle Customers
There might be some people who are regular faces in your physical restaurant. Maybe there are times when they are missing the delicious meals of your restaurant but don't feel like going out or they just simply can't go to your restaurant.
In situations like these, a mobile app will be a lifesaver for them. This way you are grabbing the regular faces of your physical restaurant too which can give a massive boost to your sales.
5. Keeping Customers Updated about Order Status
In the WPCafe App, the customers will get an email notification for pickup or delivery schedules. So the customers will get updates on every step of the delivery process. This will help you to build trust among your customers which will later increase your sales.
6. Open Doors for Communicating with Customers
With the customer support option, you will be able to communicate with your online customers even more. Any business that opens up the door for the customer to communicate always sees better results in their sales than those who don't.
Features of the WPCafe App
With this first release, these are the features that will be freshly baked for your customers. Like the WPCafe plugin, the app will also get updated from time to time. Depending on the user's demand, feedback, and our R&D, we will add more features soon.
You can create a separate menu for a separate customer base based on their location with this app. This will help you grab new customers with less hassle. If you have multiple branches, this is an ideal option for you.
Real-time Push Notifications
Whenever you release a new discount offer, customers will get a push notification through the app instantly. If the customers are convinced of your discount, they will surely place an order.
Predictive live search and search history for food/category
Whenever your customer starts typing in the search bar, the App will show suggestions for the food item and the nearest location. The search option allows users to find the desired food more quickly.
Set Custom Pickup/Delivery Schedule
Your customers can set custom pickup and delivery schedules from the WPCafe App. This is something that you won't find in most Apps these days. With such flexibility given to the customers, your sales will surely grow.
Email Notification with Pickup/Delivery Schedule for Order
Your customers will be notified through Email about the status of their order. They will get the full story from preparing their meal to bringing it to their door.
Dynamic Calendar for Pickup/Delivery
You can keep your schedule transparent to your customer. The app has the option to maintain a dynamic calendar. It allows the customers to see their pickup and delivery schedules on a calendar.
Customer Profile
Customers have the option of creating their profiles. And they can update their profiles an unlimited number of times. They do not need to create a new account again and again. Under the single profile, they can see the order history as well.
Customers do not need to memorize the item's name and price. They can see the order history from the app menu.
Food Item Favorite Option for Future Order
Customers can mark food items as their favorite items so whenever they want to order any food, the favorite marked items will be in the suggestions. This is a huge time saver.
Customer Support Option
There is a customer support option in the app. If any customer wants to talk to your customer support, it can be done through the App.
WPCafe App Pricing
If you want to build a white-label food ordering app from scratch with your own developer, that will without a doubt cost you a fortune. If you hire a software firm to build your app, it will cost you at least $6000 according to Gurucan. But the WPCafe app is quite affordable.
How to Get Started with WPCafe App
Getting started with the WPCafe App is a piece of cake. You just need to go through 3 simple steps –
1. Buy the App
This part is a no-brainer. Buy the app from the WPCafe App Website. You can buy the app under 2 pricing plans. One is a Recurring Build plan and the other is a One-time build plan.
2. Submit a Build Request
After you have purchased the App, you will have to submit a build request with information regarding your restaurant.
The information includes your restaurant's name, logo, brand color, website login URL, website admin user ID and password, FTP/SFTP user ID and Password, and your App Content (Images, T&Cs, and Moto/Message).
NB: It will take us 3-7 Business days to completely build your app and you can build 5 apps per month at max.
It is true that initially, we are demanding a bit more time for building the app than usual but this will improve with time.
3. Start Selling
After you've got your freshly baked app, upload your product images, add descriptions, and create user roles and profiles. After you've set up everything, you are now ready to sell through your App.
Get the Special WPCafe Addon
After you purchase the WPCafe app, you will get the WPCafe App Addon. With it, you can add an extra user role for your delivery men.
Because of this extra addon, the deliverymen can update the order status and you can see it from the WPCafe Pro plugin WordPress dashboard. The customers will also get notified of the order status because of it.
Upcoming Features of WPCafe
Slowly your customers will be able to enjoy most of the best features of the WPCafe Plugin in the App.
This is just the start. With more updates in the future, we will make it the best white label food delivery app. Here are the projected plans for the near future –
Restaurant Reservation
Reservation with Food Order
Multiple Home & Cart Layouts
Show Order Preparation Days for Food Delivery
Show Order Preparation/Delivery Time on Food Menu
Show Order Preparation/Delivery Time on Order Details
Multivendor Support
Try WPCafe App to Grow Your Restaurant Sales
To sum things up, this app has huge potential. If you want to cut costs while increasing sales, getting a good white label food delivery app like WPCafe App is your best option.