Eventin BuddyBoss Integration: Most Effortless Way to Manage Events Inside BuddyBoss Platform
Hello BuddyBoss users, we have great news for you! You can improve your community's members' engagement with events. The Eventin BuddyBoss integration opens up a whole new world for BuddyBoss users. BuddyBoss Eventin native integration enables the platform to create and manage events.
BuddyBoss is a medium that helps you create online communities. If you ever think about your own community, then BuddyBoss is the only helping hand needed to process a website. With buddyBoss, you can create public and private groups, send messages, share updates, sell products in the community, and much more.
Eventin integration allows you to manage the events. an innovative method of generating income from the community.
Users want to ask questions, share opinions, and communicate with other attendees, but so do the events' attendees, right? If you already use BuddyBoss, Eventin BuddyBoss Integration is a must.
BuddyBoss: Course and Community Platform
BuddyBoss is a WordPress plugin for creating online courses and communities on WordPress. With this platform, you can maintain memberships and courses, create a central hub for employee training, launch your own mobile app, and more. The BuddyBoss platform centers around connecting people from your own website.
Create community
Sell course
Sell products
Sell events and session
Your website becomes a fully functional social networking site, similar to Facebook, LinkedIn, and others when you use the BuddyBoss Theme.
Eventin's Integration with BuddyBoss
Eventin, an easy-to-use event management plugin, is loved by more than 8,000 people worldwide. Eventin BuddyBoss integration has been developed in two phases. Eventin begins with only the most fundamental features. It allows the group member to create and publish an event at that time.
After a month of hard work, ThemeWinter has released the second phase of the BuddyBoss update. And with the latest update, Eventin is now fully compatible with BuddyBoss, and the native integration allows the users to do everything that they need. Starting from creating events, they can assign groups, manage user role permission, add events categories, locations, etc.
Eventin BuddyBoss Modules
It's time to go over the details of the Eventin BuddyBoss integration feature list. Here's the list of features:
| | |
| --- | --- |
| Event Submission | Member Profile* |
| Add Event Category | Add Event Tags |
| Add Event Location | Create a New Event |
| Assign the group an event. | Create Community Group |
| Manage Members by organizer | Group News Feed |
| Event Tab Hide/Show | Event Tab Label Change |
Event submission will be added for the BuddyBoss group and member profile. So, once you publish any events there, members can see them from their own profiles and groups.
How to Use Eventin with BuddyBoss
In this section, we are going to see how you can actually work with Eventin and BuddyBoss. Starting with the basics, we will move on to the advanced option step by step. First, the pre-requisite plugin list
At this step, we assume you already have a WordPress-based website, including the domain, hosting, and basic setup.
Eventin BuddyBoss integration is a premium feature, so until you install Eventin Pro, you cannot see the Eventin menu inside BuddyBoss. WooCommerce is required for those who want to sell products, courses, or sessions. Once you have installed all the plugins, you need to enable the BuddyBoss module. You can do it from the Eventin settings panel.
After activating the Eventin Pro and BuddyBoss platform plugins, go to the Dashboard -> Eventin -> Add-ons and enable BuddyBoss integration. Then you're ready to go.
Create an Event at BuddyBoss
In order to create an event, go to BuddyBoss and check the tab. You can see the "Create event" button. Click on that, and then click on "Add New Event."
Go to the Events tab ->Create event -> Events tab -> select a New Event from the dropdown. Now click on "Add new event."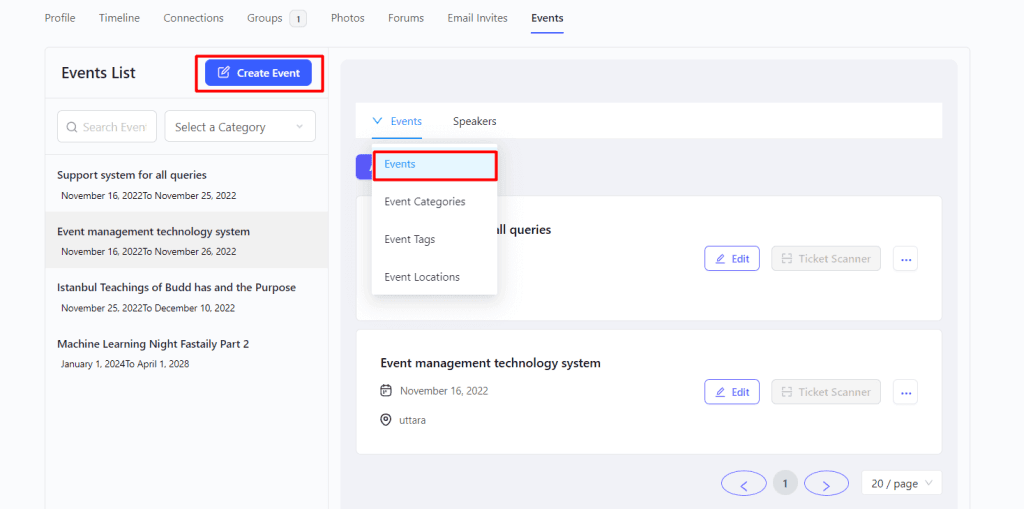 When clicking on "Create an event," the event form will pop up. Now, fill up the event form and click "Submit" at the bottom.
Your event is ready. The member can see the event list in the left sidebar. They can visit the event's single page and search for the event there as well.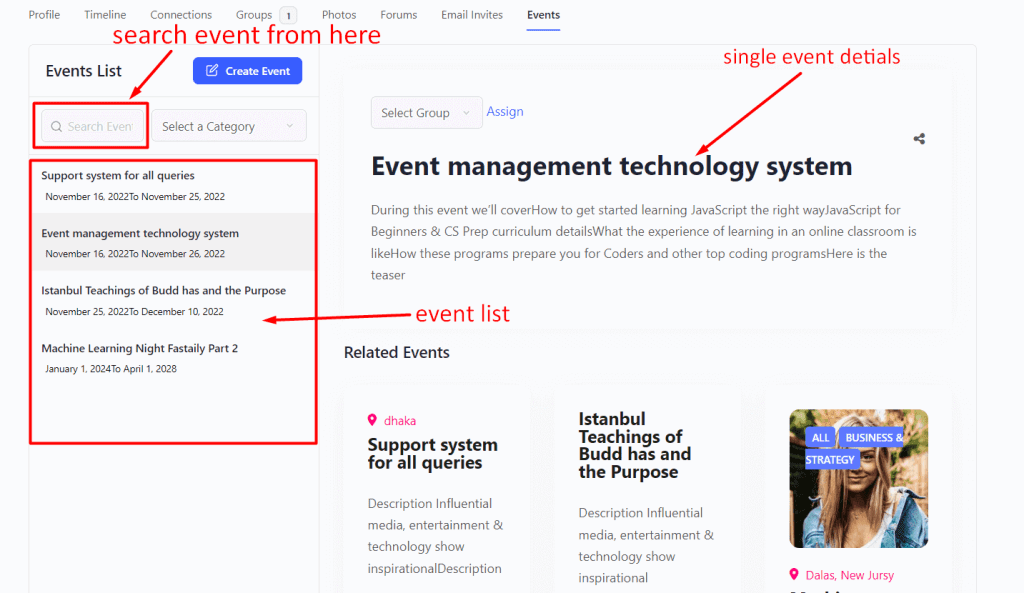 Other BuddyBoss Eventin Features
There are multiple other features that you can use in order to manage your BuddyBoss events. You can control members' profiles, event categories, tags, groups, etc.
Go to BuddyBoss -> Integration and select the user role to which you want to give permission for creating events.

According to the user role permission, the member can submit the event, event location, event category, and event tags in the front end of their profile.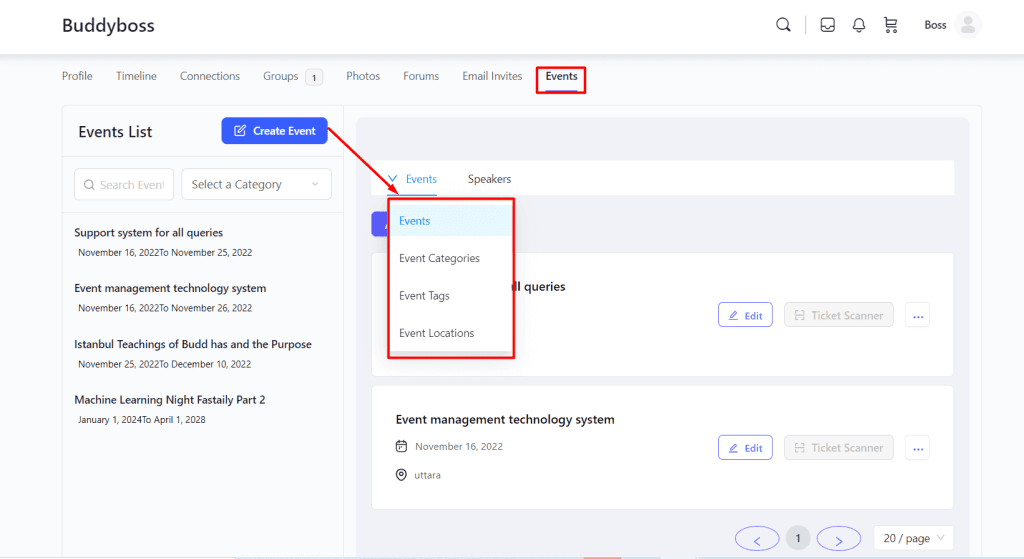 Add Event Category
You can categorize your events with different tags. The category works like the WordPress category.
Go to the Events tab ->click on the "Create event" button -> Events tab -> select the event category from the dropdown. Now click on "Add new category" and add the category with detailed information.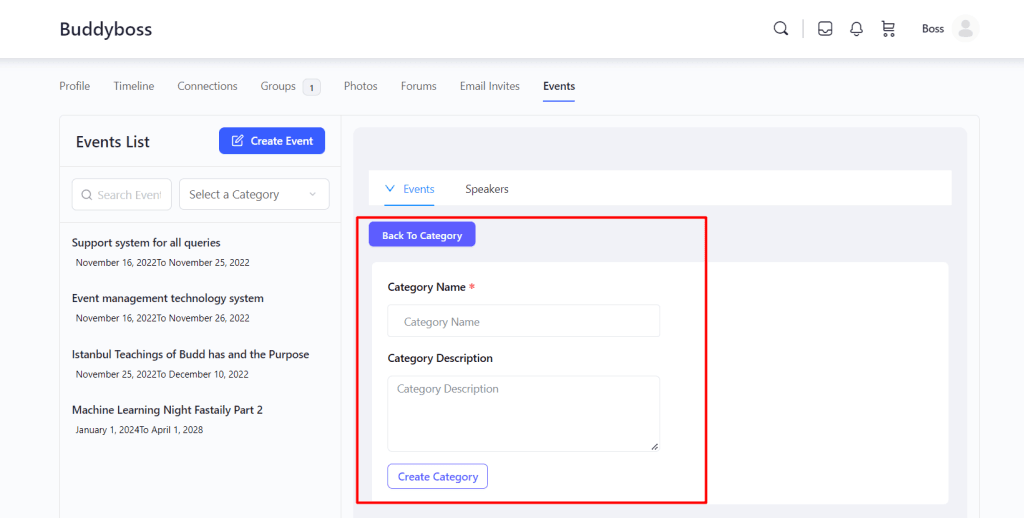 Add Event Tags
For each event, you can add one or multiple tags. First, you need to create the tags in order to use them on any events.
Go to the Events tab ->click on the "Create event" button -> Events tab -> select event tags from the dropdown. Now click on "Add new tags" and add the tags with detailed information.
Add Event Location
Events locations help users to find the spot in more conventional ways. At the BuddyBoss Eventin event, you can add event locations.
Go to the Events tab ->click on the "Create event" button -> Events tab -> select event location from the dropdown. Now click on "Add new location" and add the location with detailed information.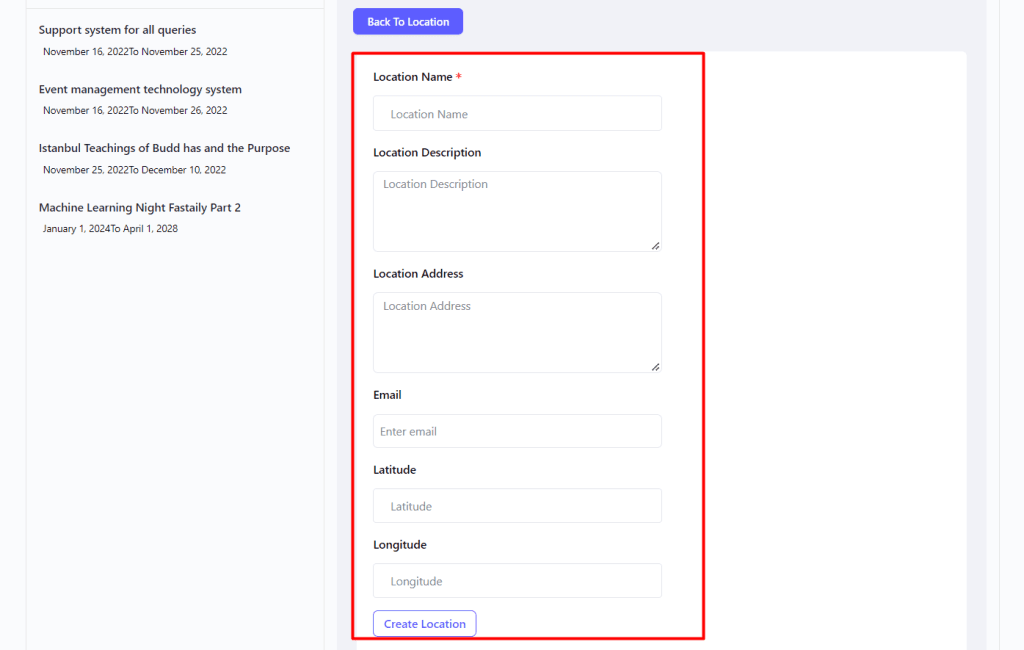 Assign the group an event
The member can assign his or her front-end-submitted event to one or more of his or her groups.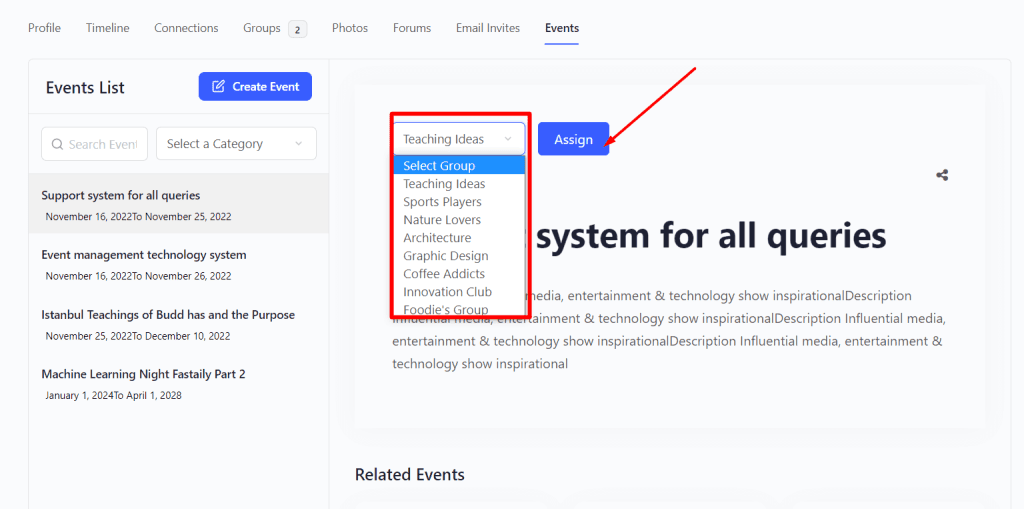 Create Group
The members can create a new group from their profile if they want.
Please visit Profile -> Groups -> Create Group and fill in the necessary information for the group.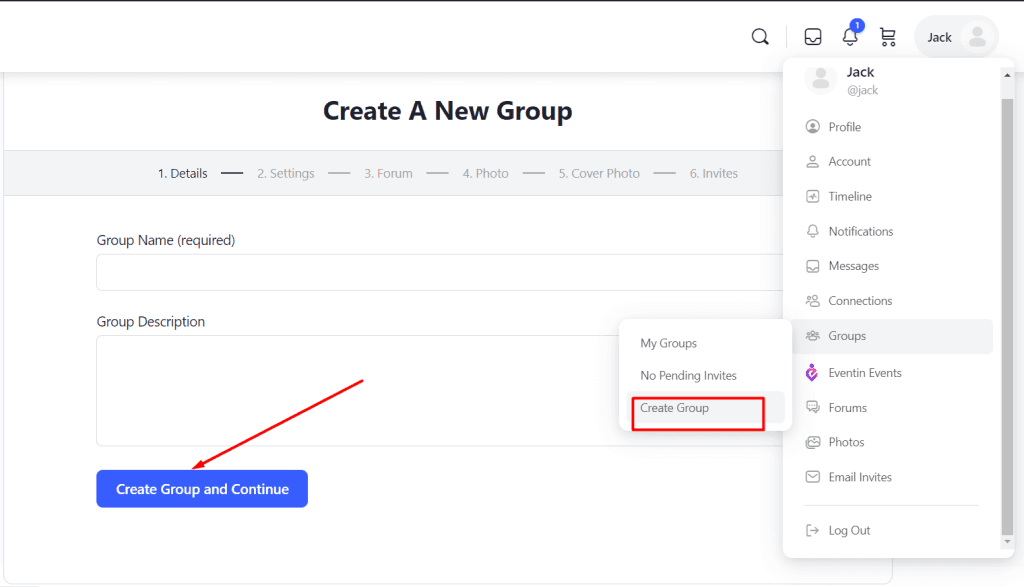 Manage Members By Organizer
Organizers can allow the member to submit the event with their permission. Go to Groups -> Manage, and there is an option for Eventin Events in the sidebar. There are three permission options for the members.
All group members: When selecting "All group members" permission, all the group members can manage the event.
Organizers and Moderators: When selecting "Organizers and Moderators" permission, only the organizer and moderator can manage the event.
Organizers: When selecting "Organizers" permission, only organizers can manage the event.

Now, in the Eventin Events menu, there is also the option to create an event, show a list of events, visit the event page, or search for the events.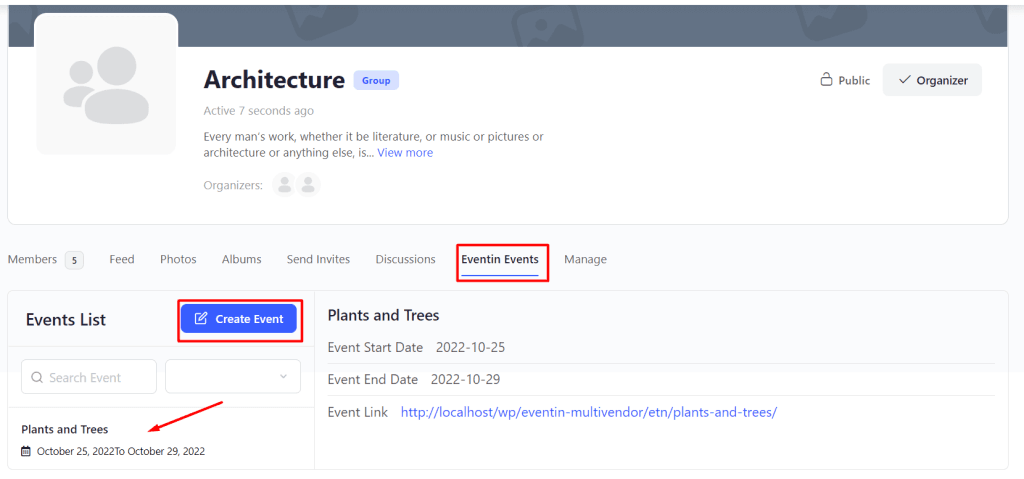 Group Feed
Now, all the events are listed under the Feed menu. So, any visitors visit on the website, they can see the events on their own feeds.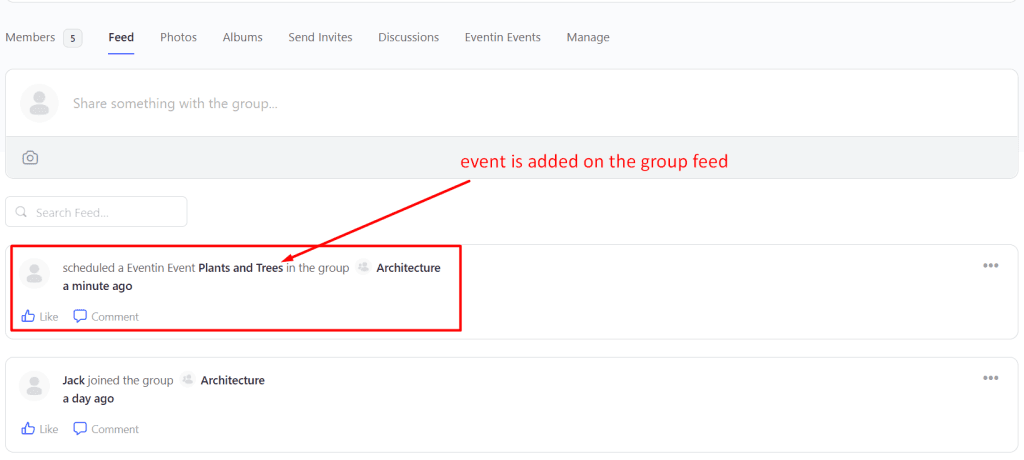 Event Tab Hide/Show
The group organizer can enable/disable the event tab from the group. If they want to show the event tab, you can set it too. Please be aware that, the event's show and hide option is a unique feature that we are providing.
Go to the Groups -> Manage -> Events and checkmark the "Yes, I want this group to have an event tab" option. Otherwise, the tab will not show on the group.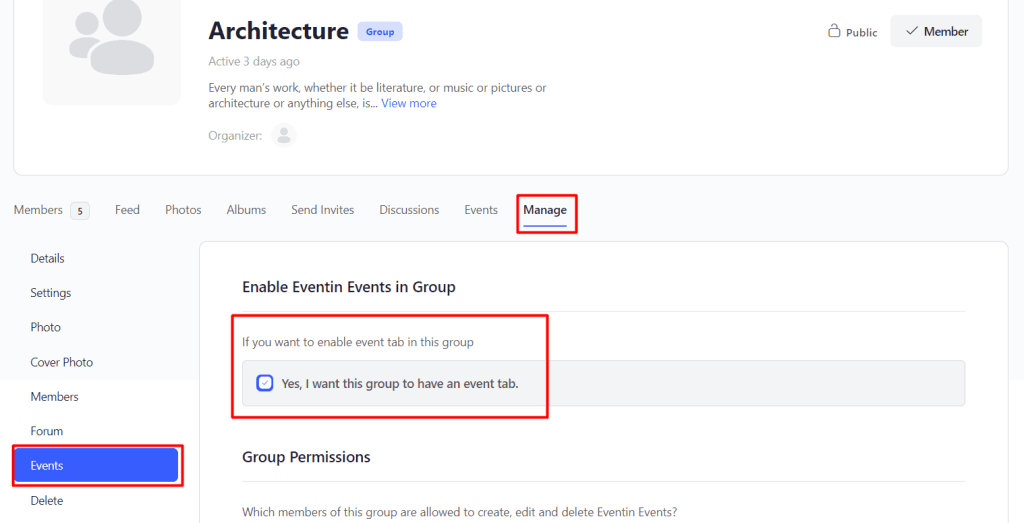 Event Tab Label Change
There is an option for changing the event tab label. You can change it for the member's profiles as well as the groups.
Go to the Dashboard -> BuddyBoss -> Integrations -> Eventin Tab and change the Events tab label as you want.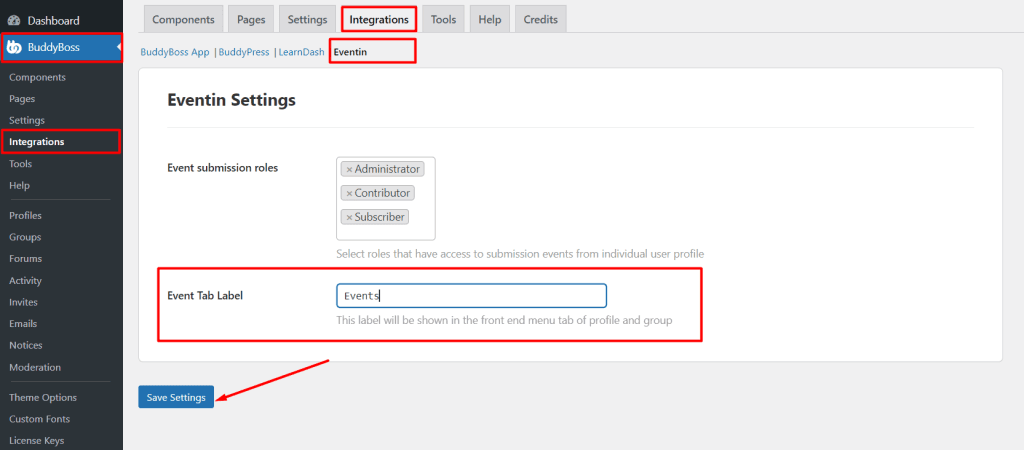 Global feed option: In BuddyBoss global feed page shows all the eventin feeds.
Eventin – Easy-to-use Event Solution
If you still don't know what Eventin is! Eventin is a WordPress-based one of the best event management plugins. It is compatible with WooCommerce, Elementor, Elementskit, and MetForm making it the perfect event management plugin for all events. You have full flexibility over customizing event details, registration forms, and email. Multiple templates also make it easy to get started. Let's see the key features of this plugin.
👉 Unique QR Code for Attendees
👉 Maintain Recurring Events
👉 Event Calendar View
👉 Simplified Schedule Management
👉 Showcase Speakers/Organizers
👉 Unlimited Single/Multiple Events
👉 Multi-tier Ticket Pricing
👉 Unique Attendee Management
👉 Detailed Analytics Report
👉 Custom Field for Attendee Form
👉 WooCommerce Payment System
👉 Groundhogg & FluentCRM Integration
👉 Event Venue with Google Maps
👉 Purchased Event Details on the Dashboard
👉 WooCommerce Coupon for Events
👉 Stripe Payment System
Try Eventin to Build Community-Based Events
We hope you learn all the features and are ready to use them on your BuddyBoss website. Can you share with us which features seem most interesting to you? Also, you can ask us questions in the comment box.