Virtual Conference Events with Zoom: Benefits, Usage & Best Practices [2023]
Ever since the Covid pandemic, it became clear as a day that running things virtually is the most effective way to get any job done. As an event manager, you can go wild by integrating virtual conference events into your business plans.
The potential created by virtual events is viewed as a success element by 87% of marketers.

Source – Markletic
This only proves how important virtual events have become in today's world. So what are you waiting for?
Let's take a tour and see what a virtual conference is, why you should start doing it, and what Eventin has in store for you.
What is a Virtual Conference?
Virtual Conference is a conference that people can attend remotely, from anywhere in the world. All a person needs is an internet connection, a PC/Mobile/Laptop, and the specific software that the host chooses to use.
After the covid outbreak, the trend of doing virtual conferences and virtual events has risen to an all-time high. One-to-one meetings were impossible to arrange. Thus the arrival of virtual conferences.
Why You Should Start Doing Virtual Conference Events Using Zoom
Zoom is one of the most prominent names among all the virtual conferencing websites and tools. It was one of the fastest-growing apps during the time of the coronavirus pandemic. According to the business of apps Zoom's meeting participants grew by 2900% during that time.
The core reasons why Zoom saw such flying colors are –
If you go to Zoom's website, you will see that their mission statement is, "Make communication frictionless and secure".
And they have succeeded in doing that. Each and every part of the app is carefully catered to the users.
No matter how much technical knowledge you have, you can easily learn how to use this app within a few moments. This is one of the huge factors why Zoom is so popular.
Implementing Zoom into your work or management system is not rocket science. You don't need to have a high level of IT knowledge to implement it. The platform can be deployed on internal servers in 30 minutes.
Not just on servers, even if you want to use it for small meetings, or some personal meetings with clients, signing up and starting your first meeting will be smooth as butter.
It's not that the other online conferencing tools have very bad audio and video quality whatsoever, but Zoom is just a few steps ahead. Additionally, after the surge of increase in Zoom users, its quality has increased significantly.
In the early days of the pandemic, when zoom had its first breakthrough, some people used to randomly break into a meeting but the host had no control over it.
This has changed. Now there's a new waiting room feature where the host can control whether a person can enter a conference or not.
Whether you just want to use it for teaching students or for enterprise-level meetings, Zoom is quite affordable. The cost is very low compared to what you would've spent for a similar physical event.
Now, do you see why people are obsessed with this tool? So why not hop aboard? Let me tell you why you should consider integrating zoom into your event plans–
As I've said before, the expense is very low compared to traditional in-person events. In a "real-life" event, you have to print tickets, do decorations, arrange food and drinks, rent videographers and photographers, and so on.
All these things accumulate a huge amount of money, whereas in the case of virtual conference events with zoom, the only thing that will hit your wallet is the subscription fee and that's it.
If you want to arrange a hybrid event, then that's another matter.
Less use of ink and paper
Since you will be doing everything virtually, there is no need to print out paper-made tickets. You just have to create a QR code for managing event attendees or share the link on your event website or social media page.
In a traditional event, you have to look out for uninvited outsiders, cleanliness of the event venue, make sure that all the staff is doing great, and the overall event environment.
Managing a virtual event won't give you much of a hassle compared to the things I've just mentioned above.
Easy interaction with attendees
Interacting with attendees in a virtual event is much easier because of the live chat, hand-raising, and reaction features. On the other hand, in an in-person event, grabbing the attention of the attendees is one of the hardest tasks out there.
You can manage and keep an eye on your events from any sort of device you like. Desktop, laptop, tablet, or smartphone- anything you like.
Potentials of Virtual Conference Events
The fact that virtual conferences are still here even after the pandemic, only proves that this is here to stay and since this is staying, the potential is huge. You can bring a new segment to your business.
Those of you who are experienced in managing physical events can grow your business exponentially by integrating virtual and hybrid events into your business plan.
So what are the potentials of virtual conference events?
Organizing Online Classes & Training Sessions
The recent pandemic has taught us that there are no boundaries to learning. Schools, colleges, universities, training centers, and all other educational and training institutions had resorted to online classes.
You can give lectures by using the whiteboard feature, interact with your students one-to-one, assign classwork, and so on.
You can teach regular school subjects or music or arts or even fitness! Name it all, everything is possible with a Virtual conference. You can even take exams online by assigning questions to questions with google forms.
The possibilities are endless!
Organizing Hybrid Events
As the name suggests, hybrid events are a mishmash of physical and online events. You can arrange a physical event and then do a live stream of that event online. By doing such you can grab both local and foreign customers' attention.
You can promote your business, build awareness, or reach out to a much larger population than you could by doing traditional physical events.
Companies like Apple, Google, Microsoft, AMD, and Intel, all of them host hybrid events during the release of their products each year. This helps them to market their products worldwide and generate more sales each year.
The benefits of organizing hybrid events are –
More Attendees
Better engagement rates
Higher sponsorship value
Less carbon footprint
Better opportunity for getting analytics
Better ROI (Return on Investment)
Online Networking Events
Networking events are where you educate other people about your business, build connections, and look out for people who might be interested in working with you or be your potential big client.
Usually, networking events are held physically where people share their contact information, make other business sharks learn about their presence by doing charity, or take other people's contact information.
But this can be done online too. This can be much more smoothly done online. Arranging a physical networking event is very taxing and keeping track of everything is very hard. If you arrange it online, you can manage everything with far less effort.
Arranging Online Discussions, Talk Shows, and Podcasts
Well-known events like TedTalk by TedX almost all the time keep their events hybrid. This way they can attract both local and international customers to their program. As a result, the reach of their company becomes much wider.
Not only just talk shows, but you can also arrange your podcast and online discussion session event using zoom. Be it on an app or a WordPress plugin from your website.
By doing such you can attract more audience than you can even imagine. So if big companies are moving towards virtual events, what's stopping you?
Having Online Seminars
Online seminars (also known as webinars) are a great way to teach or train or even demonstrate any sort of product to a wide variety of audiences.
A webinar is mostly a very interactive online session, where you can have a Q&A session after your presentation or demonstration with your audience. Arranging a regular online class can also be classified as a form of a webinar.
What Eventin is and What it Offers
Eventin is an event management, event calendar, and event ticket plugin for woo-commerce. The goal of eventin is to make event management as simple as possible for all customers around the globe.
As a part of the event management features, we have introduced zoom integration to our plugin. This means you can now use zoom for your virtual events without any problem at all.
We have all the features you need to run your online event. Our features include –
Adding and Deleting Zoom Events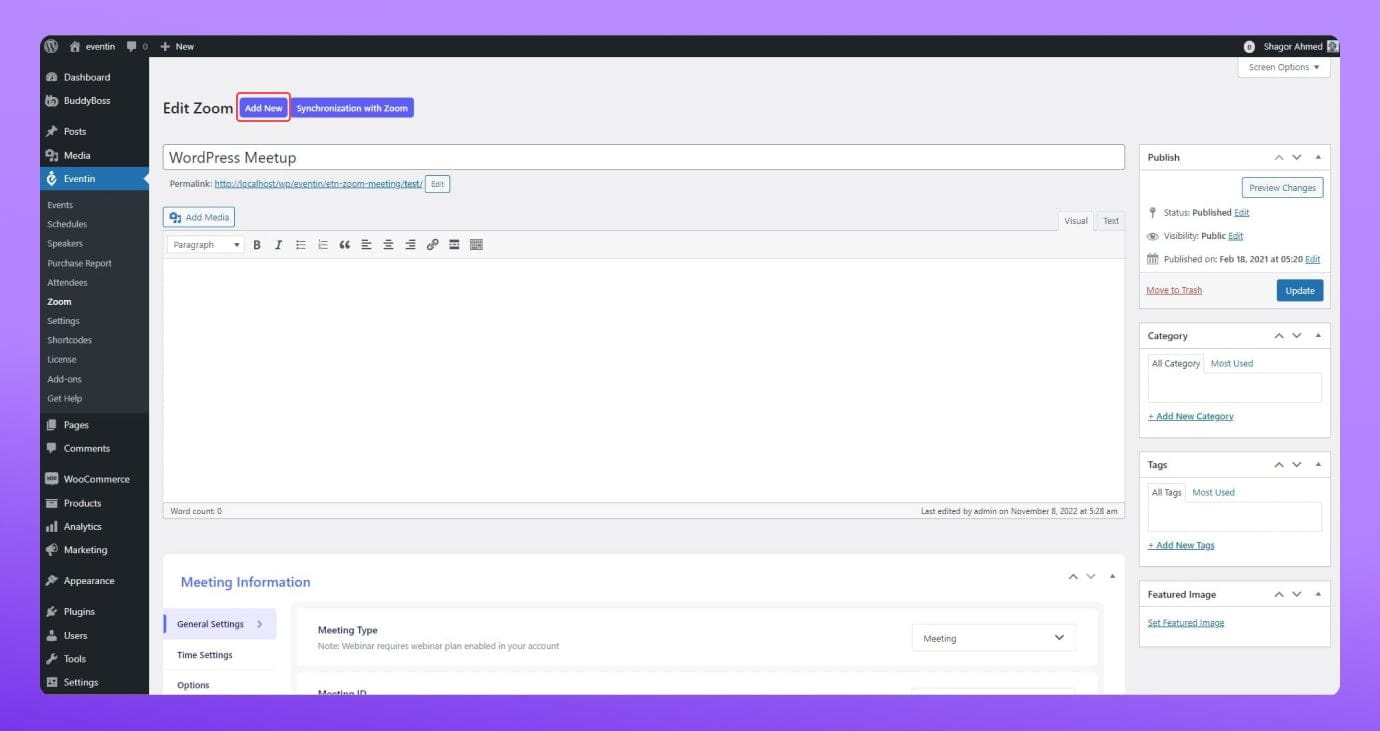 If you go to the Eventin Zoom dashboard, you can add new zoom events, and see the list of zoom events after you have done some. You can even see the type of zoom events that you have done.
Synchronizing Events With Your Zoom Account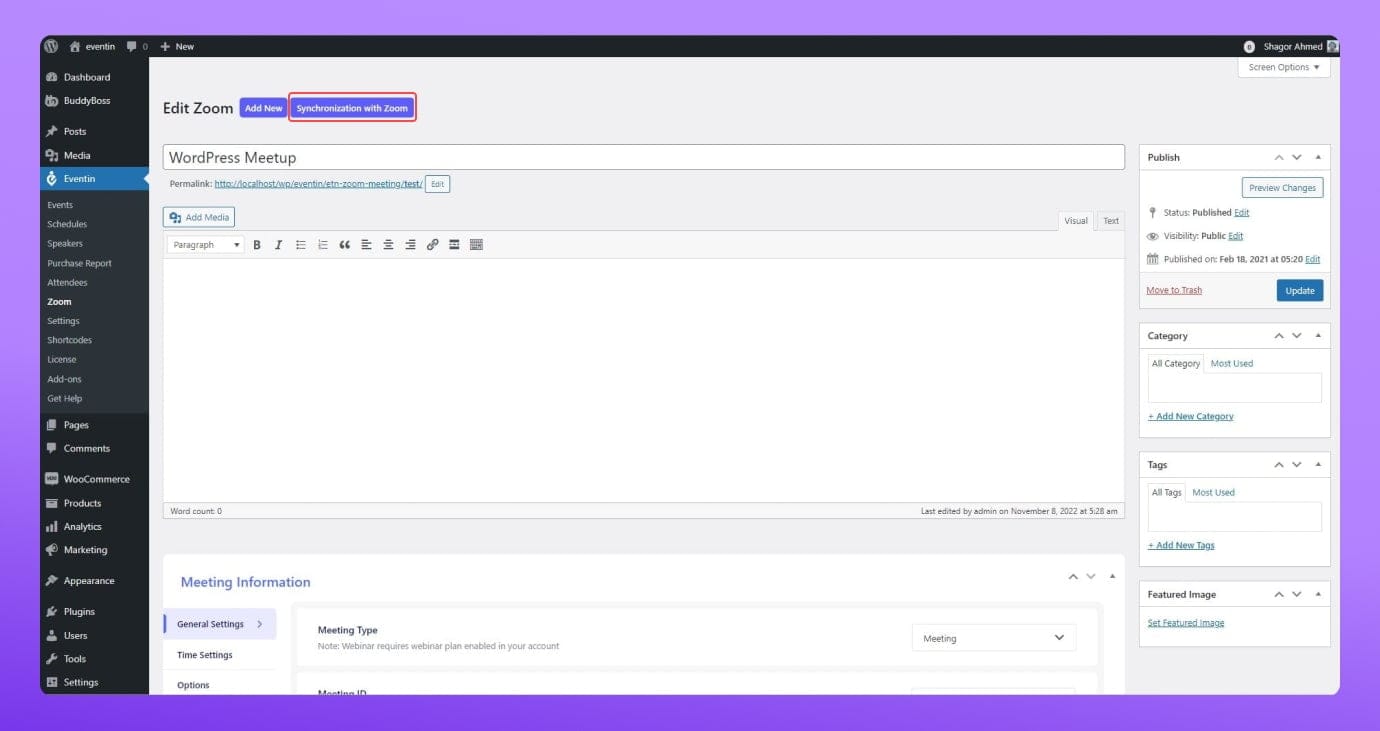 You can now synchronize your zoom events with your zoom account. As a result, you can now keep track of which sessions you have already completed and which are your future sessions.
Require Host's Authentication To Join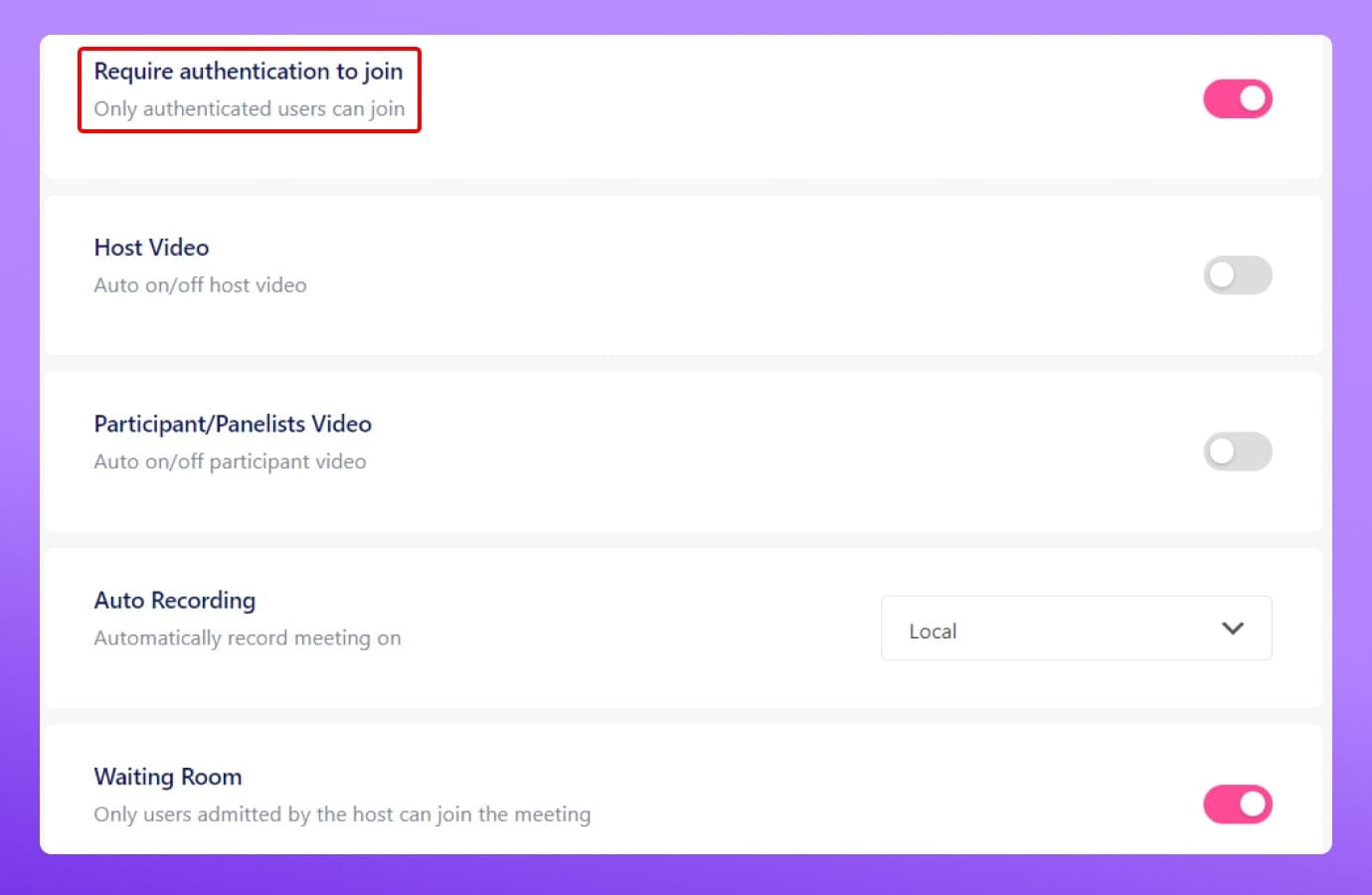 This is a great security feature to avoid unwanted guests at your event. By enabling this option, you can now check before giving anyone access to join the event.
Auto Recording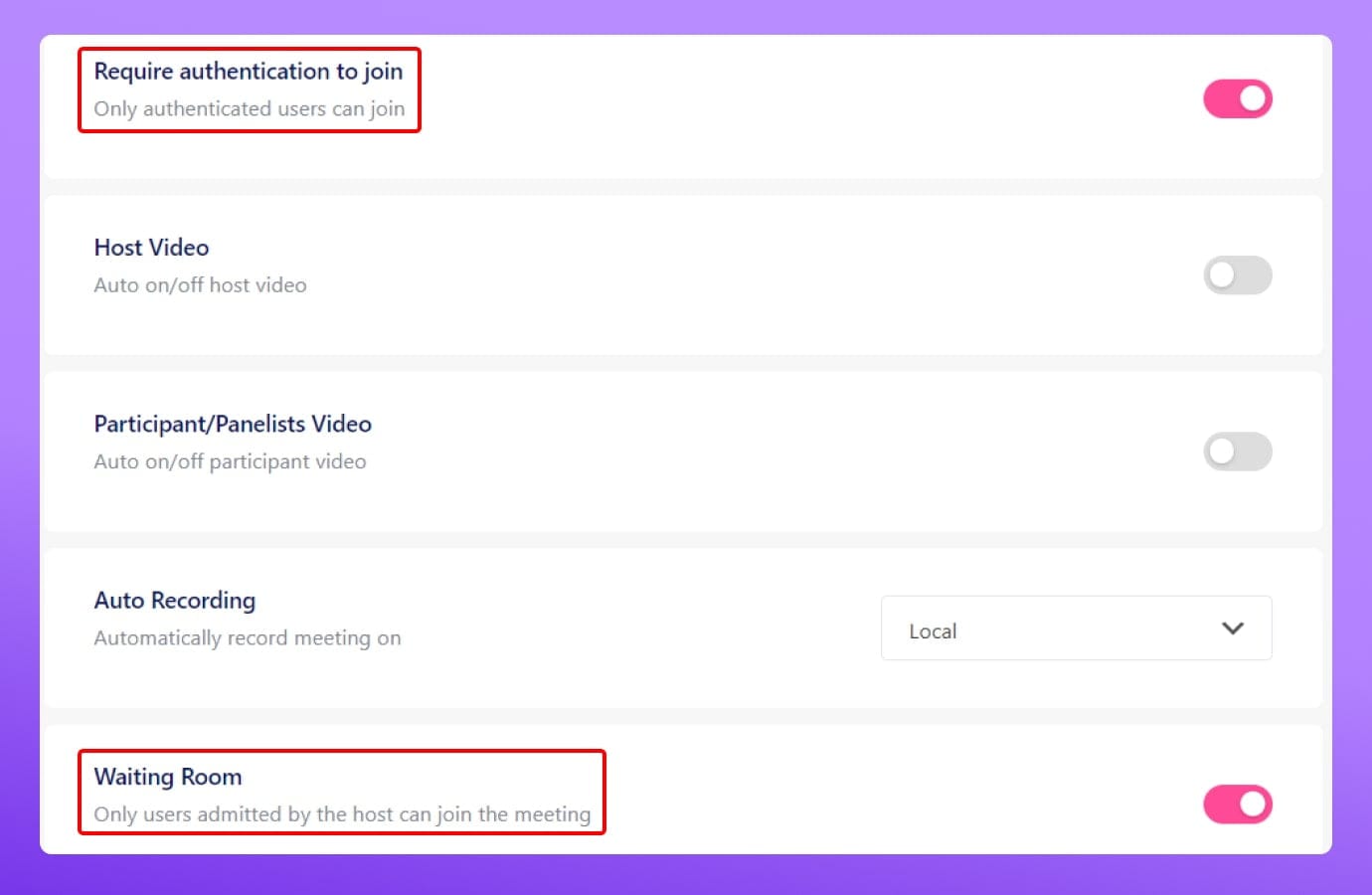 You can now turn on auto recording so you can provide the recorded sessions to the absent attendees. It will also help you to analyze your event and make yourself better for your next events.
Creating Zoom Webinar With Elementor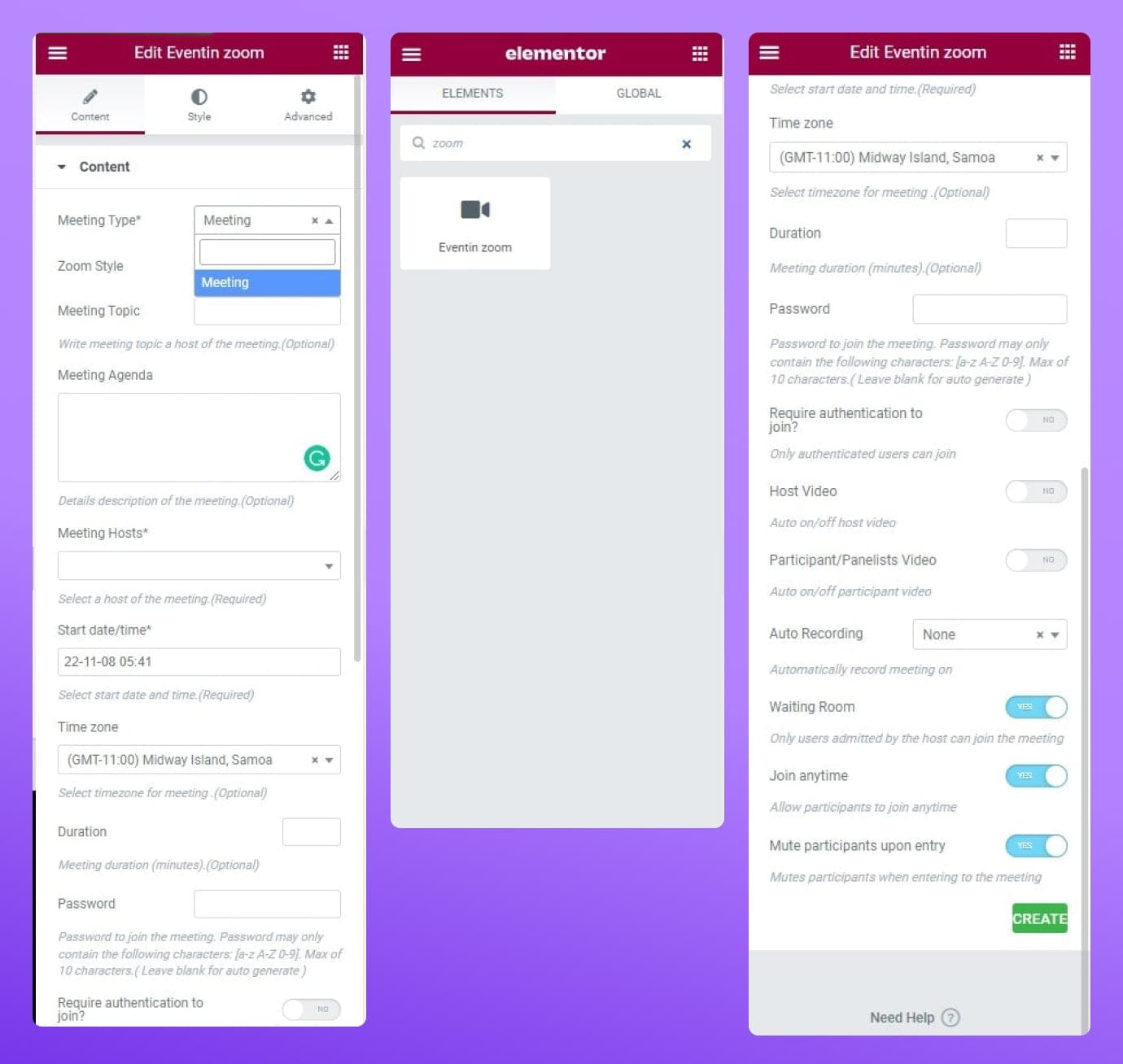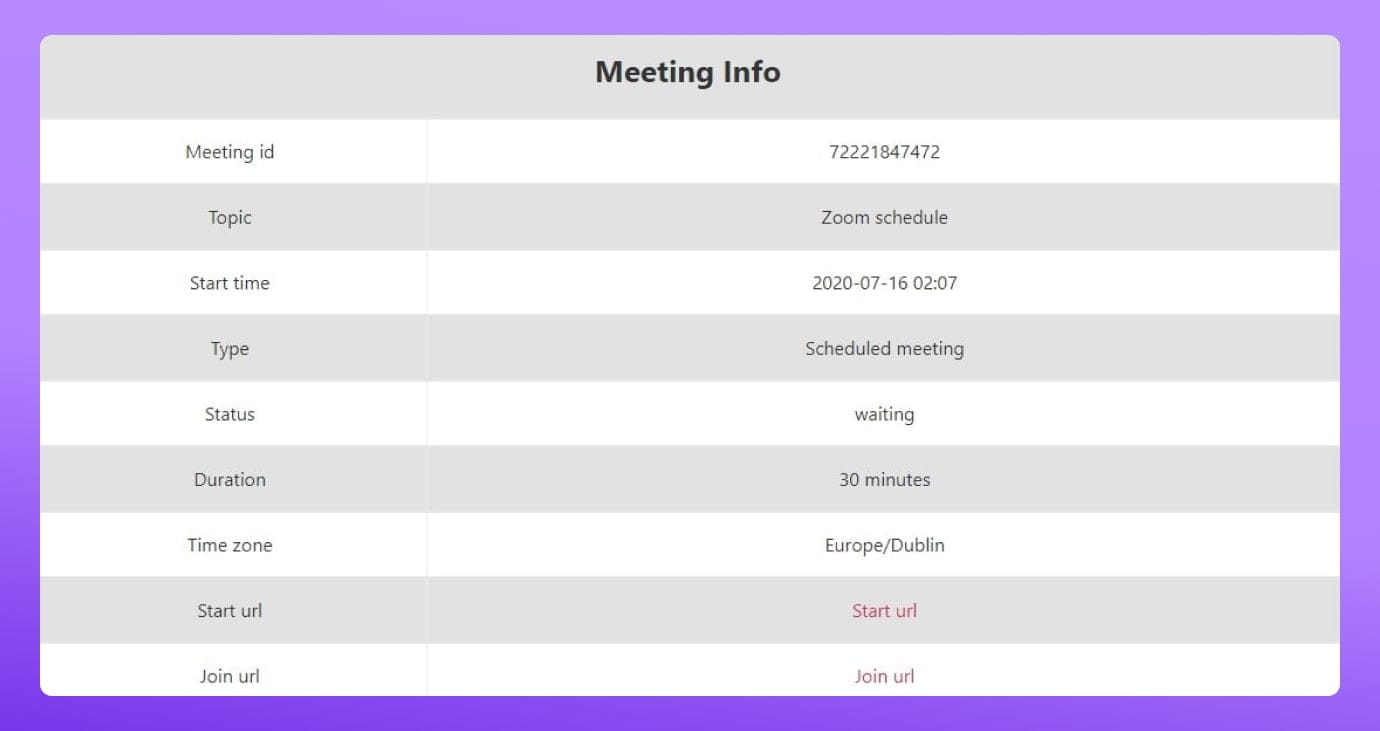 If you are accustomed to using Elementor, then you will definitely love this feature. You can now create a zoom webinar event on your website using Elementor.
Generating Shortcodes
Because of the shortcodes, now you don't need to look for each option and waste time on creating your event.
A Complete Package for Teachers & Trainers
Because of the Zoom integration, it has been even easier for trainers and teachers to offer good-quality classes to their students.
Teachers and trainers can make recurring zoom events on their preferred schedule, allow students in their class, take attendance, and even give the students a certificate. This is all possible with Eventin.
How You Can Start Virtual Conference with Eventin
You can easily integrate zoom to your website by just going to the Eventin Settings -> Integration -> Zoom Settings. There, you have to toggle the button beside the "Zoom" option and follow the step-by-step guide from our documentation.
But if you want to get a video we also have that.
Virtual Conference Event Best Practices
Certain best practices will make your online conferences much more effective and will help you to arrange and manage your events painlessly.
The best practices in the current virtual conference industry are –
Set a Clear Goal for Your Event
This is a no-brainer. You can't make a successful event unless you have a clear sight of what your event will be about. No matter if it's a physical or a virtual event.
Keep your attention straight, carefully strategize your keynote or lecture, and avoid anything unrelated to your event goal. Remember, a well-planned event will never go in vain.
Understand Your Audience
This is also pretty obvious. Since you will be doing virtual events, your audience will be very diversified. So you have to choose your words carefully. Cater your speech and segments in such a way that everyone will feel at home.
This is the most important part of any kind of event and the key to an event's success.
Test your tech before the show starts
Having technical glitches is quite common. It's nothing to be ashamed of. But it is best if you test all your tech accessories beforehand. You should also check your internet connection before you start.
Avoiding any sort of technical difficulties will help you to finish your event smoothly.
Find virtual conference sponsors and exhibitors
Getting sponsors and exhibitors for your event will boost your event's success. This is a well-known marketing tactic. Try to get a sponsorship from a well-known company. In some cases, the names are enough to attract a good amount of attendees.
This will also help you to save some bucks for your event.
Find unique ways to attract your attendees
Don't make your event a boring one where audiences just yawn the whole time and wait for the event to end.
Engage with your audience frequently, have fun activities, and have some comedic segments (not the boring dad jokes). If it's an educational event, then make the learning fun. If it's a keynote, throw out some interesting numerical facts to grab the attention.
Keeping an event fun and engaging will help you to arrange more successful events further down the line.
Check Out Analytics
Data and analytics are the main driving force in any industry. Use data to analyze what percentage of attendees were present, and how many of them left before the finishing time, take the attendees' feedback on your event, and analyze them.
Analyzing all this data will certainly help you arrange better-quality events in the future.
Record The Live Session
It is not uncommon for attendees to be absent during an event. Be it physical or virtual. Problems don't come with warnings. So it is best to have your session recorded for the people who couldn't make it. This will up your reputation.
Create A Quality Full Production Team
The best way to organize an effective event is to nourish your production team and elevate the production level as much as possible. Try to use better gears, and operate them with experienced people.
If you don't have a team, then it's quite fine. Try to be a one-man army, up your skills, and you will grow.
Conclusion
Zoom is currently one of the most popular video conferencing tools out there. Industries throughout the whole world are using it as their one and only primary tool for doing virtual conferences and virtual events. So what's stopping you?
Hurry up and download Eventin Pro and be the next big player in your respective industry.
Did you find this blog post interesting? Share it on your favorite social media and let us know what you think about this blog in the comment box below.