2022 Best WordPress Black Friday & Cyber Monday Deals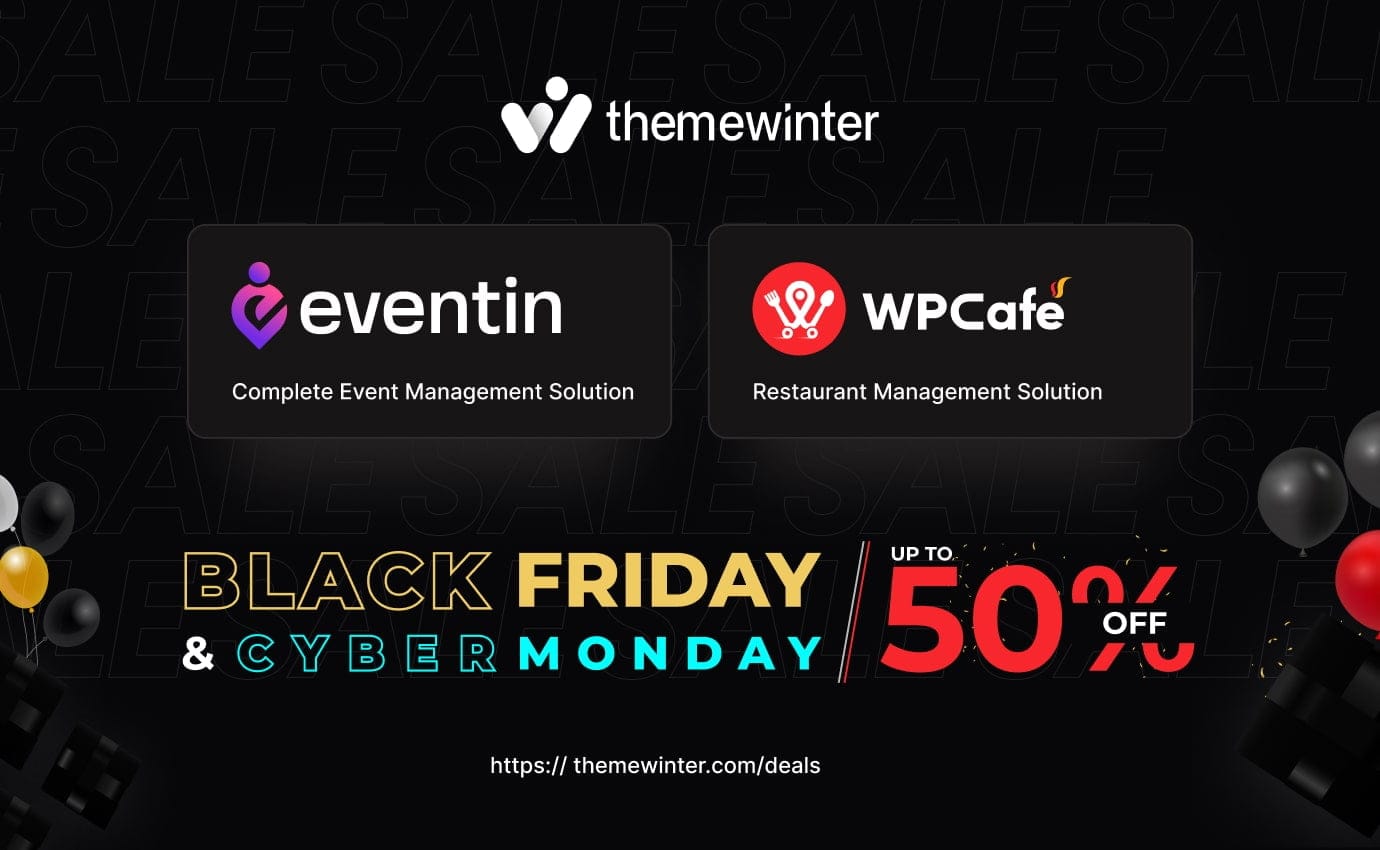 Can you smell? What Themewinter is cooking?
You got it right. It's Black Friday and Cyber Monday deals time!!
We have never forgotten to offer you the greatest deals possible from our side and this year's holiday season won't be any different. So sit tight, hold your wallet, and crack some bones. Because we're not letting you go away from our deal this year.
What Are The Deals on Black Friday & Cyber Monday from Themewinter?
Themewinter has been crafting beautiful and useful WordPress themes and plugins since 2013. Each of the plugins is simple yet powerful and each of these themes is better than any other themes you can ever find.
Themewinter's plugins include Eventin and WPCafe. As for the themes, we have Cafesio, Newseqo, and Bizxpo. Here are the Black Friday and Cyber Monday 2022 deals for our products-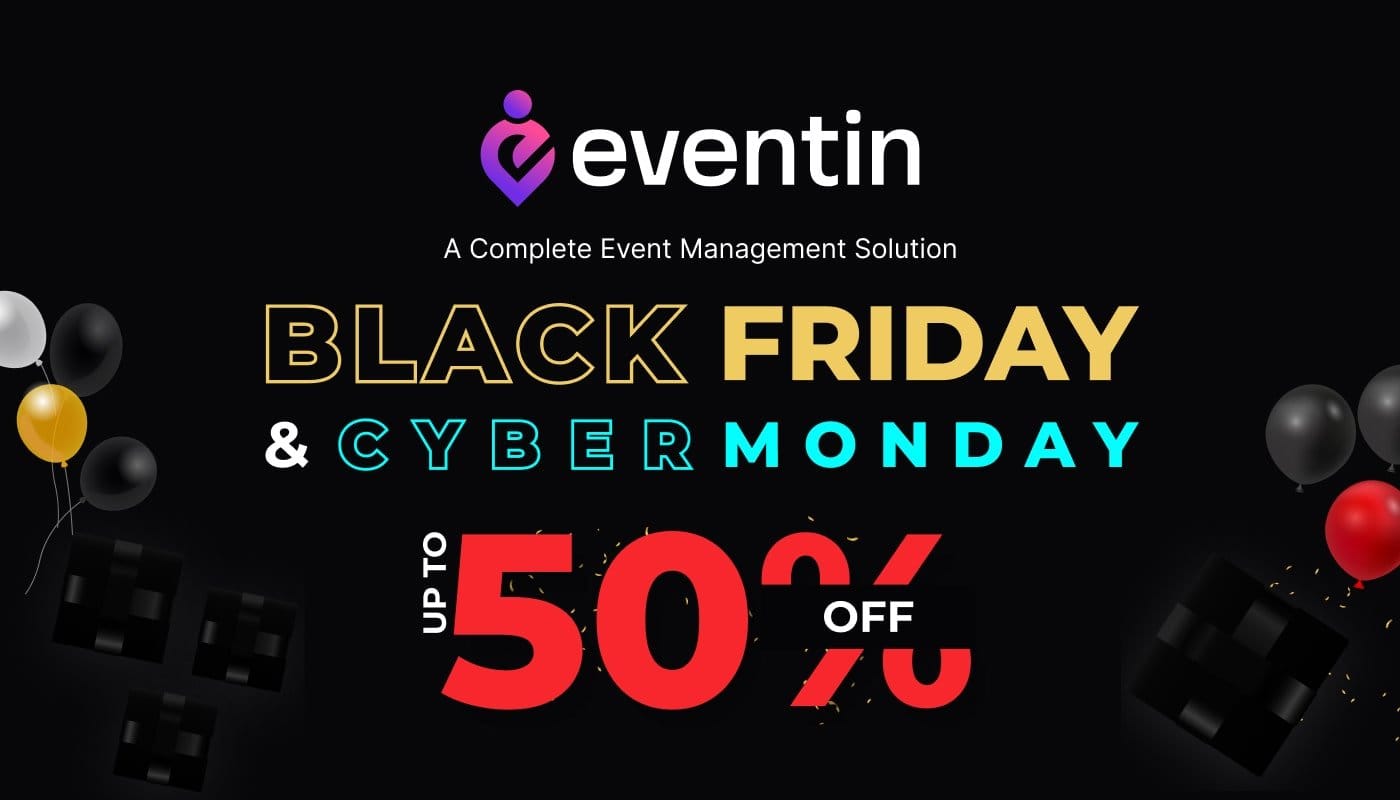 Eventin is a very known face in the WordPress plugin industry. Eventin has achieved 2nd place in the honorable Monster's Award 2021 for being the best booking and appointment WordPress plugin and got a nomination for Monster's Award 2022 in the same category as well.
It is an event management, event calendar, and event tickets management plugin for woo-commerce based WordPress websites. By using Eventin you can easily manage your events, be they physical, virtual, or hybrid.
Eventin's use cases are not limited to only event managers. Teachers, Trainers, Digital Marketers, Agency Owners, Meetup Hosts, Conference Organizers, Theme Developers, and many others can integrate Eventin into their day-to-day recurring tasks.
Eventin's features include –
Frontend Event Management
PDF Certificate builder
Multivendor Event Marketplace
Recurring Events
QR Code for Attendee Management
Unique Attendee Management
Zoom Meetings & Webinars Integration
Event Calendar Viewing
Stripe Payments Integration
Event Purchase Report &
Setting Flexible Schedule
Recently, Eventin just got a big update. Its file size has been reduced by 37%. The whole package is now only 2.2 MB in size. It is much more efficient than ever before.
The latest big changes are–
Buddyboss Integration
Webhook for Single Event and Shortcodes
Frontend Submission (1st Phase)
Attendee List and Manage Attendees in Dokan Multivendor
Attendee Ticket Scanner in Dokan Multivendor
PDF Certification for Attendee
Google Map Integration for Event Venue Location
Fluent CRM Integration
Zoom Webinar Integration
Take this deal and go sky-high with your business.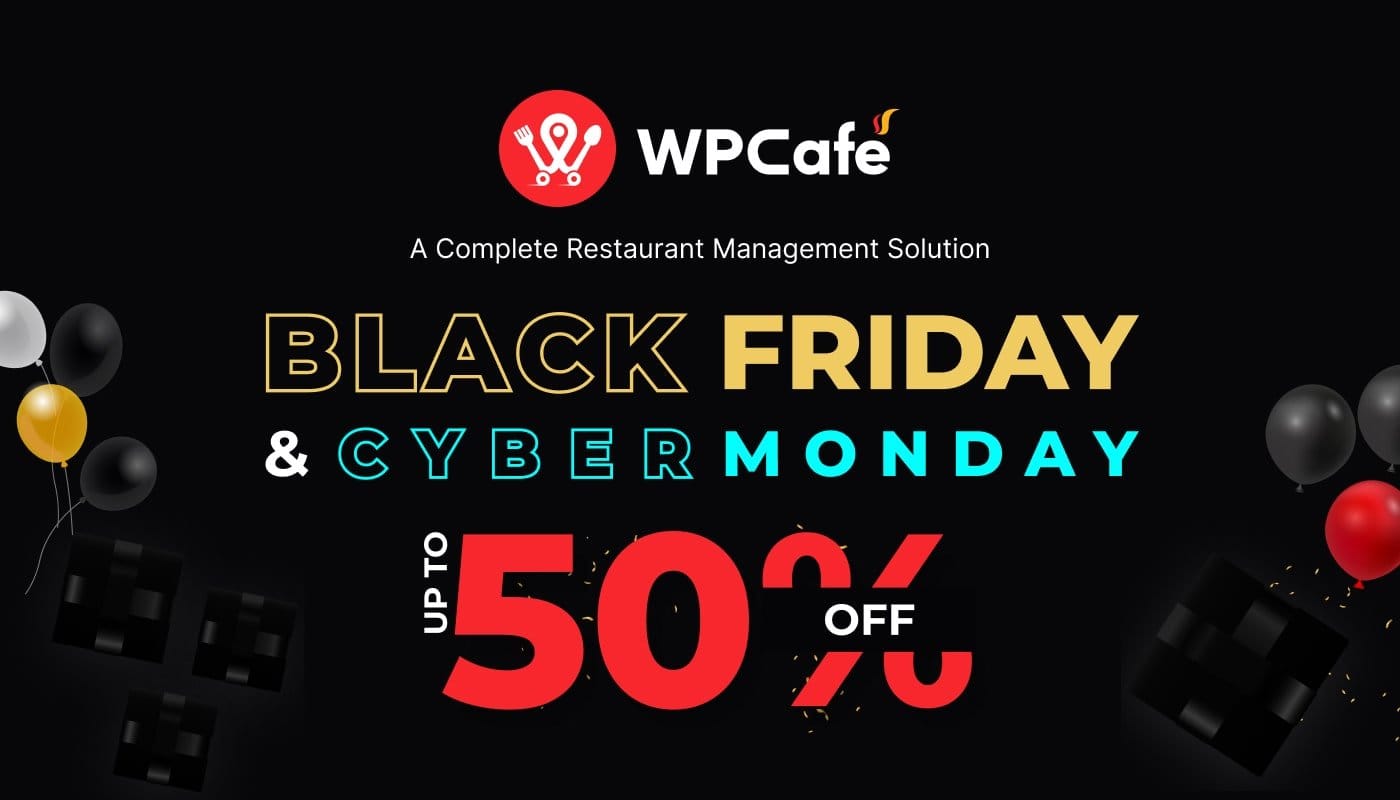 WPCafe is your one-stop solution for all your food-ordering website's needs. From managing orders and getting analytics to visual table reservation systems, anything you ask, it's there.
With the new delivery module, you can now have a complete system for managing your food deliveries to the customers.
WPCafe's features include-
Online Food Ordering System
Visual Table Reservation System
New Delivery Module (Food Store Location on Google Maps, Auto-complete Address, Delivery Charge, and Minimum Order Amount)
Integrations with Woocommerce, Dokan Multivendor, Shipday, Divi, Gutenberg, Oxygen Page Builder, and Many More
It's a full-fledged system for managing your restaurant from both the front end and back end of the web.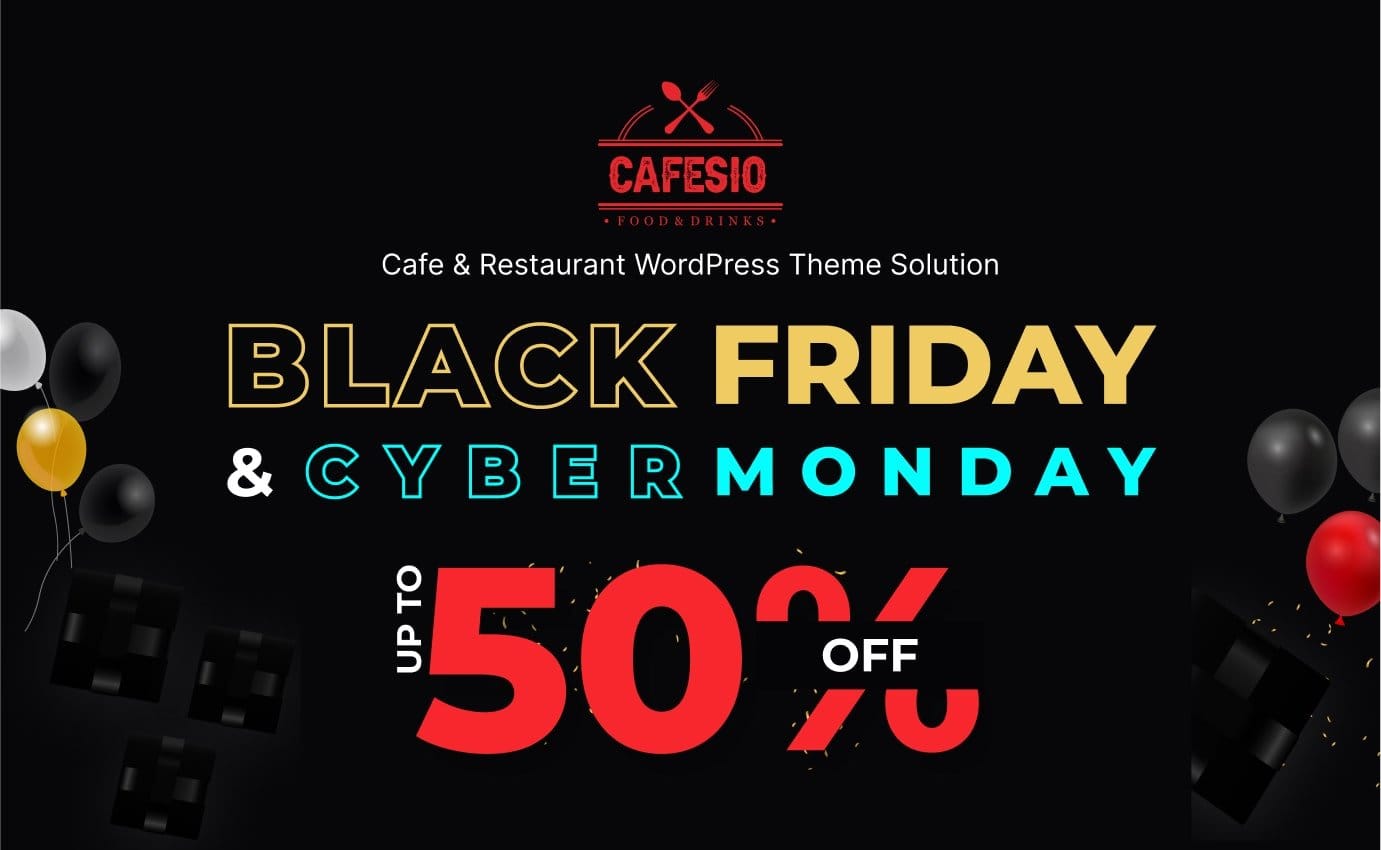 If you want to create a website for your restaurant or you already have one but want to give it a new look, then Cafesio should be your first choice for that.
Cafesio is a WordPress theme for restaurants. According to Google Pagespeed, Cafesio is 99% fast on desktops and 95% fast on mobile. The theme has achieved an "A-grade" with 94% performance on GTmetrix.
As you can see, Cafesio is fast, efficient, and beautiful at the same time which is very hard to find these days. So stop waiting and grab it up.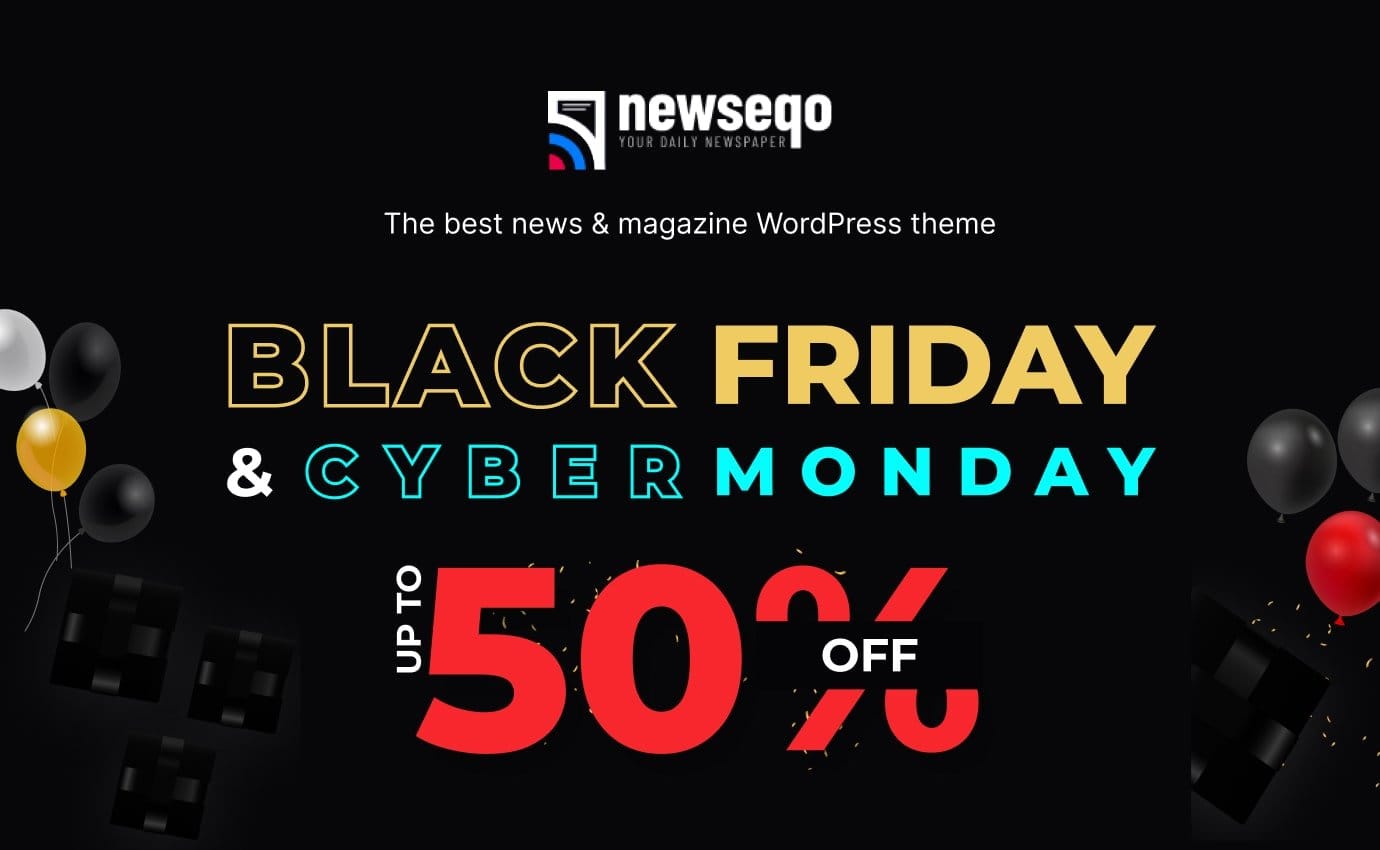 Building a beautiful and efficient website for news and magazines is quite tough. But if you can add a ready-made theme to your website, the rest of the work will be relatively very easy to manage. And that is what Newseqo is.
Newseqo is a news and magazine theme for WordPress-based websites. It is your go-to option for your news & magazine or portal website. So what's stopping you? Grab the deal.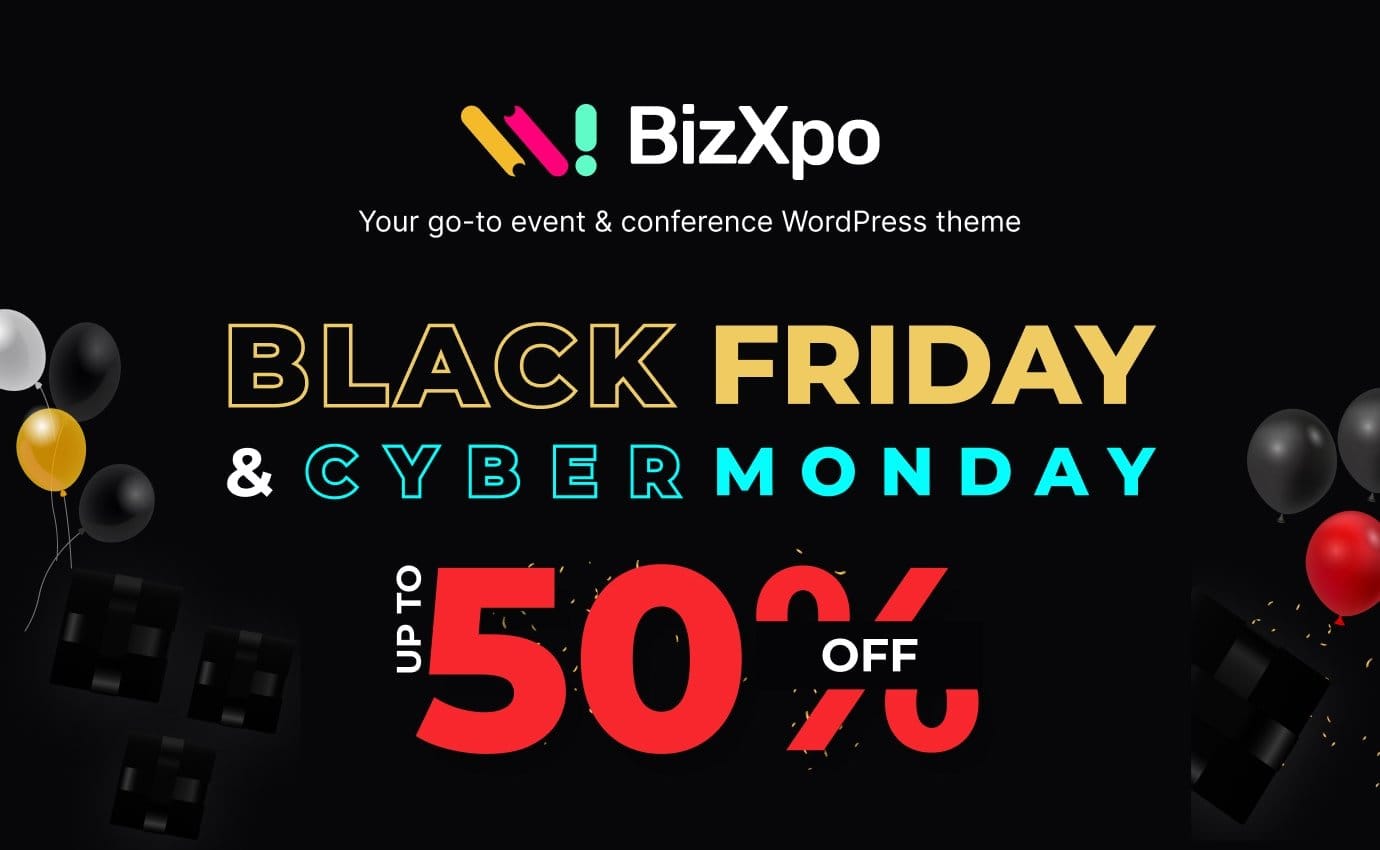 According to Allied Market Research, the event service market size value is estimated to be $1349.00 billion by 2031. I'm pretty much sure that you have come here to get some great deals for your event management business. 
Well, have no fear, Bizxpo is here. Bizxpo is an event management theme for WordPress-based websites. It has shown 98% in desktop and 86% in mobile performance on Google Pagespeed. It also achieved 99% performance on GTMetrix.
Hurry up, grab Bizxpo, and make fortune this holiday season.
FAQ
What is Black Friday?
The Friday following Thanksgiving is referred to as "Black Friday" in American slang. It traditionally signals the beginning of the holiday shopping season in the US. It is the start of the Christmas holiday season.
All sorts of businesses, be they online or offline, offer great deals this season and as for the customers, this is the prime time to go shopping or search for necessities as the prices are very low at this time of the year.
What is Cyber Monday?
Cyber Monday refers to the Monday that comes after the Thanksgiving weekend. This day is special for both the people who run their businesses online and who like to shop online.
Plenty of online businesses offer very lucrative deals on this day of the year. It has become the online equivalent of Black Friday. Although now, companies tend to offer deals for both occasions, be they online or offline.
How Can I Avail for Themewinter's Black Friday and Cyber Monday Deals?
To avail for our black friday and cyber monday deals is very simple. All you have to do is to just click the buttons for each of the products described above, and then you can proceed from the redirected page.
When is Black Friday 2022?
This year's Black Friday will be held on Friday, November 25th.
When is Cyber Monday 2022?
This year's Cyber Monday will be held on Monday, November 28th.
Conclusion
To sum it all up, this holiday season is the best time for you to grab a lucrative deal from us and make your business bigger than ever before. We wish you a very happy thanksgiving.
Did you find this blog post interesting? Share it on your favorite social media and let us know what you think about this blog in the comment box below.