Event Management using QR Code: Benefits & Usage [2022]
Managing an event with traditional paper/card-printed tickets is one of the most difficult tasks for an event manager. Attendees losing their tickets, dealing with long queues, and venues surrounded by thrown-away tickets is a common scenario.
But there is a solution to this. Doing event management using QR codes will lessen your problems by many folds. And guess what? A lot of event management firms are using QR Codes as their main tools to manage events.
According to a survey done by qrcode-tiger in the first quarter of 2022, 59% of their respondents think that QR codes will be a permanent part of our smartphone usage. This says a lot!
Eventin's Front-end event submission feature offers you the privilege to manage events by generating QR codes on tickets and providing a ticket scanner option for you to scan your attendee's tickets and verify them.
By using this new feature, you will be relieved from the various types of complications that you thought you might have to be in.
What is a QR Code?
A QR Code (short for Quick Response Code) is a two-dimensional barcode or a matrix barcode. It has multiple black-and-white boxes which contain multiple pieces of information.
Unlike barcodes where data is stored in a one-dimensional format (just the row), QR Codes can contain almost 1700+ times more data than a barcode. The core reason is, in this case, data is stored in a two-dimensional format (rows and columns).
Benefits of Using QR Codes in Event Management
QR Code offers a wide range of benefits in the realm of event management. The notable benefits are-
Easy to Keep Track of Attendee Count
Adding a QR Code to the tickets will make attendee check-ins much faster and smoother.
By adding a QR Code on the ticket, all you have to do is just scan the ticket at the event venue gate. Since the code contains information that is already present in the database, the verification will be swift.
This will prevent long queues and save a lot of time for both event managers and attendees.
Smooth Verification Process
A QR Code is generated by embedding necessary information in it and representing that information in the form of black and white square boxes. This information will already be present in the database from which it is gathered.
Thus, when you scan a ticket, the scanner will try to match that information with the database. If the information matches, you can let the person. If the information doesn't match, then it's a fake ticket.
Note: You have to ensure that the ticket's QR code is printed perfectly. If any part of the code is not readable, it will not match the database.
Closes Down Information Gap
You can embed your event link into a QR code and promote that code. The link will contain all the information regarding your event. You can post any update on that link.
This way, if you have to change any vital information about your event, the attendees will know about those updates by scanning that code and visiting your link.
Cost Effective
Printing out tickets and fliers is too costly when you have to arrange an event that has too many guests. So, if you create a digital ticket and add a QR code to it, your costs will be much lower.
In such a case, you just have to scan the digital copy of the ticket from the attendee's mobile phone, and everything will be done swiftly.
Environment Friendly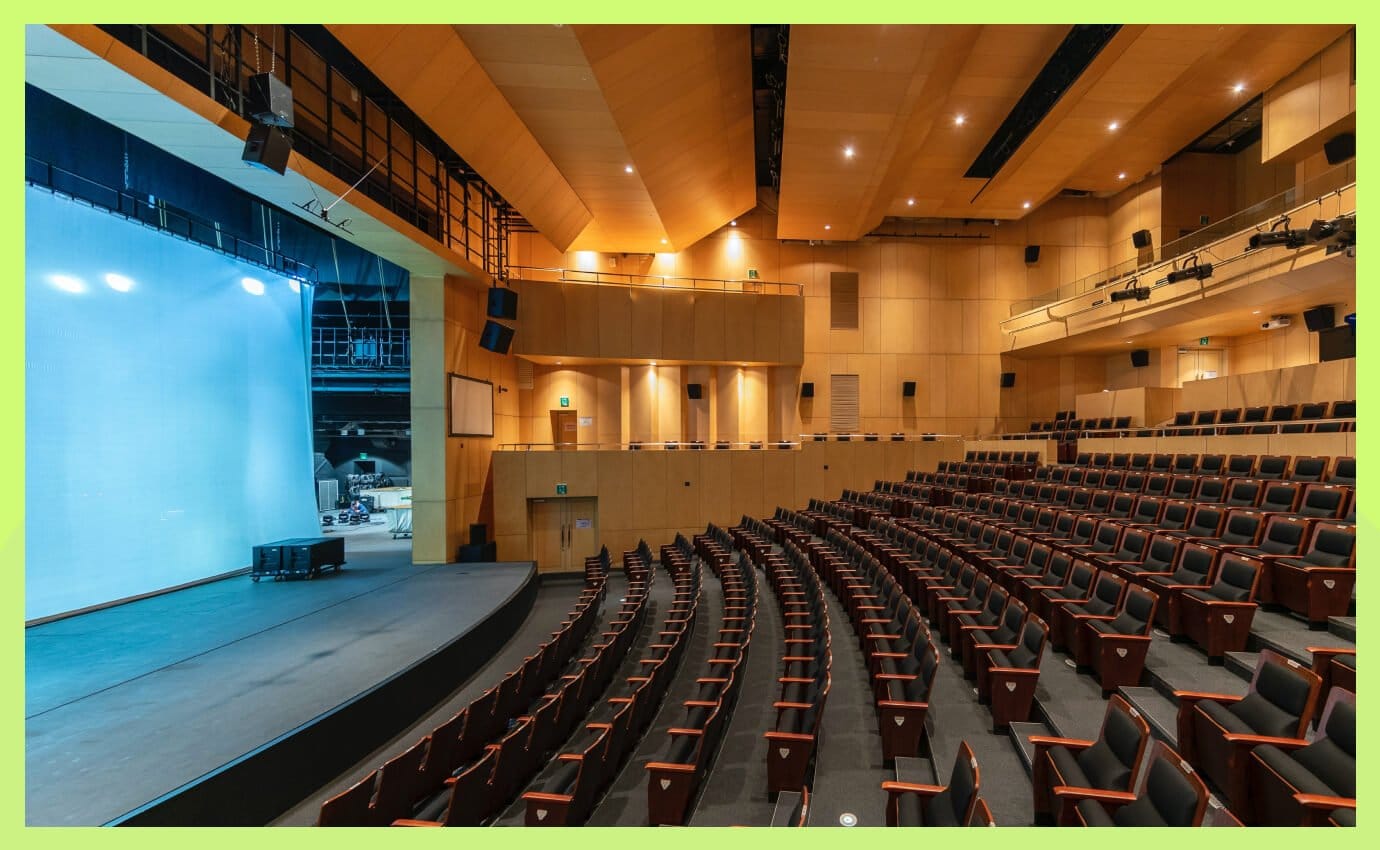 Sometimes, in an event where physical tickets are used, although there are rules to throw away those used tickets in dustbins, some people just don't do that. As a result, the place becomes dirty.
Having a digital ticket with a QR code will prevent these things from happening.
This will also reduce the use of paper and the more we use QR code-embedded digital tickets, the less will be the demand for paper and slowly deforestation will be decreased.
What Eventin is and What Its Front-end Event Management System Offers
Eventin is an event manager and event ticket manager plugin for WordPress. The goal of Eventin is to make event management as simple and convenient as possible. With that goal in mind, Front-end Event Submission has been introduced.
Eventin's front-end event submission feature allows users/organizations to create and manage their events from the front end of their website.
As a part of the front-end event submission feature, we have added QR Codes to the tickets and added some smooth verification processes so that you don't need to go through any sort of hassle.
Automatically Generated QR Code
After the attendees fill out all the necessary information and hit the checkout button, a ticket will be generated with a QR code on the lower side of it.
At the event place, you can just scan the code from the attendee's device with the ticket scanner option from your dashboard and you'll be good to go.
Attendee Verification System
You can verify your event attendees in two ways.
1. Single-Step Auto Check-in:
In this case, all you have to do is to scan the ticket of your event attendee, and the event database in the Eventin dashboard will be automatically updated.
This way, you will be hassle-free in terms of keeping track of your attendees.
2. Two-Step Manual Check-in:
Here, first, you scan the event attendee's ticket. After that, a pop-up will ask you whether you want to let the attendee in or not. The dashboard will be updated according to what you choose there.
In either of these cases, you, as an admin, have the option to edit the status of a ticket for an attendee at any time.
Much More Convenient than a Mobile App
Eventin is a mobile-friendly WordPress plug-in. You can take advantage of all of our features with the palm of your hand.
This is one of our strong points. Instead of a separate mobile app, you can now manage your event effortlessly through your mobile browser. From creating a new event to verifying your event attendees, you can do everything from your mobile browser.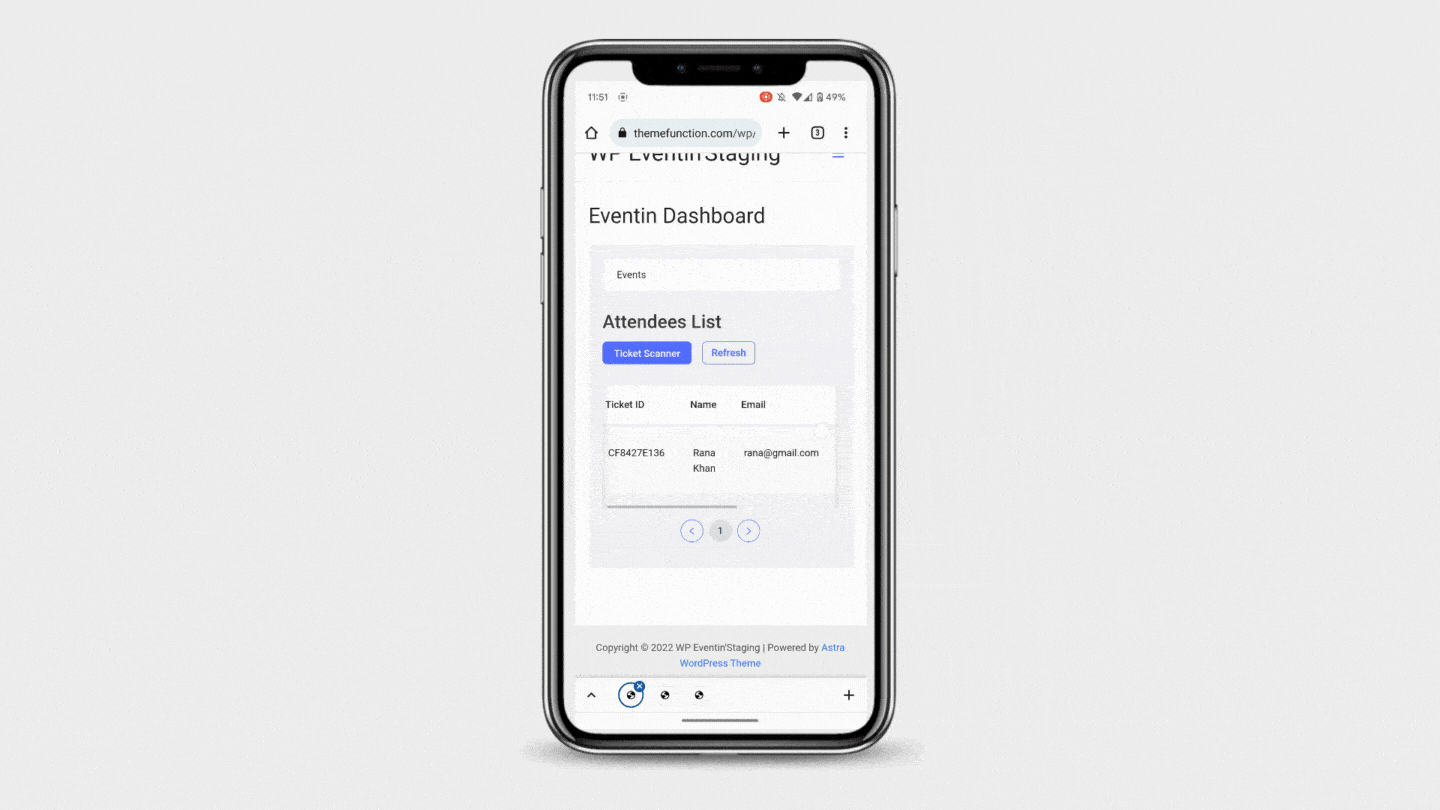 Reasons why you don't need a separate app for eventin–
This is the biggest elephant in the room. For an app with a similar service, you have to pay almost $200 as a setup fee and another $25 as a monthly subscription fee. This amount is not a joke!
Using a mobile app and a plug-in simultaneously will make you confused over time. When you can already make use of your browser and manage things quickly, using an extra app will be like getting two high-spec laptops when you only need one.
For an app to work perfectly, you need to update the app when it is needed. This sometimes becomes a bit problematic. If you don't update the app, you will miss out on many features.
Updates are sometimes large. If your storage runs out, you won't be able to update the app. You can always delete other apps from your device, but that is not always the most feasible option.
If you continue using the plug-in, all updates will be on WordPress. Your own device's storage is not needed here. So you can update the plug-in any time you want.
This is why using a plug-in in a browser is the most convenient way to go.
You can manage your whole event from the front end using your smartphone at any time and from anywhere. You just have to log into your account and manage it the way you want. This is the beauty of our Front-end event submission feature.
How to generate and verify QR code in Eventin
As of now, you have got the idea that our front-end event submission gives you the privilege to generate QR codes in tickets, and you can scan those codes to verify your event attendees.
You can just change the settings from the event settings and choose how you want the attendee's tickets to be verified. It is not complicated at all.
So how do you do that? If you go through our documentation, you will get the full idea of how to generate and verify QR Codes for event management.
Best Practices
It should be worth noting that, Eventin's QR code feature in the Front-end event submission follows most of the best practices like –
Placing the code strategically so that all the other information is easily readable
Making sure the code is perfectly scannable
Optimizing the content for all sorts of devices
Matching the CTA (Call-To-Action)
Try Eventin Pro
To wrap it up, Eventin's front-end event management offers all the necessities of an event manager or an event management firm. By using Eventin Pro, your workflow will be much more efficient, swift, and, most importantly, fun!
So why the wait? Hope aboard!
Did you find this blog post interesting? Share it on your favorite social media and let us know what you think about this blog in the comment box below.