Eventin Divi Integration: Most Effortless Way to Manage Events with Divi Builder
Are you a Divi user looking for an easy way to manage your events online? If so, you're in luck!
Divi by Elegant Themes is a WordPress website builder that gives you the power to create beautiful websites with ease. Divi is a drag-and-drop website builder that makes it easy to create responsive websites with no coding required. With Divi, you can create any type of website you can imagine. Divi is the perfect tool for creating online stores, portfolios, and blogs. Divi also includes powerful tools to help you create custom pages and designs.
To complement Divi's functionalities for event management, Eventin has introduced the Eventin Divi Addon.
Eventin's integration makes it easier for Divi users to manage events from their websites.
If you're looking to boost your event management skills with WordPress, let us walk you through all the aspects Eventin-Divi integration including how it works and what you can do with it.
Eventin's integration with Divi
This has been a feature on demand!
Many of you have been asking when the Divi integration is coming, since the launching of Eventin. The wait is now finally over, Eventin Divi Addon is LIVE!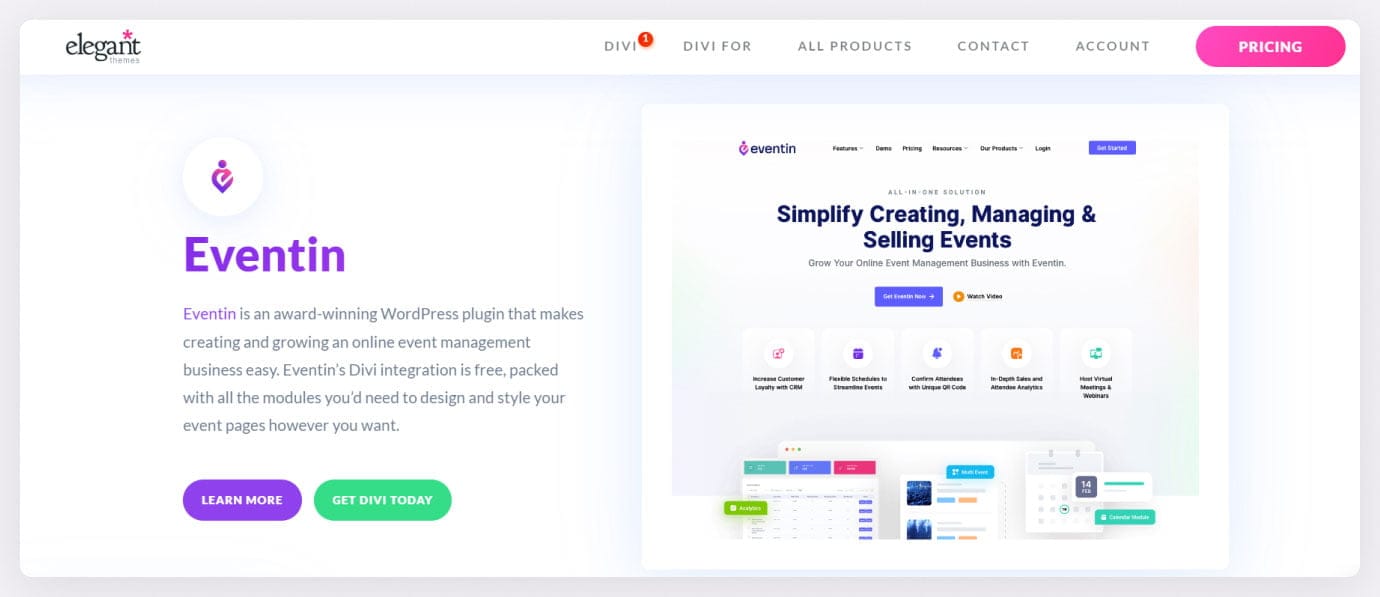 Eventin now integrates with Divi to give you the most seamless experience of Divi events creation and management on your WordPress site.
Eventin is a powerful, easy-to-use events management platform that is perfect for managing events on WordPress websites. With Divi integration, you can easily manage your events, and customize your calendar views, speaker list, and more. Eventin Divi addon comes with a couple of dozen modules for Divi builder.
The module list includes basic to advanced features. You can customize Divi event layouts using Eventin Events, Eventin Events Tabs, Recurring Events Pro, and Related Events Pro modules. Meanwhile, modules like Event Calendar and Event Calendar Pro List lets you create stylish event calendar views on Divi.
Furthermore, the list also includes multiple modules for event speakers list, advanced search, location, ticket forms, and so on.
Eventin – The all-in-one solution for event management
Eventin is the platform that helps you keep your events running smoothly. This plugin is designed to help manage all of your events from start to finish. Plus, it has a wide range of features available, so you can customize your management solution to fit your needs.
You can bring your event management business online and easily manage it from your website using the Eventin plugin. The event management plugin helps to create events, manage calendars and sell tickets from your website.
Eventin comes with a complete package of event management features:
Simplified Schedule Management
Event Calendar View
Maintain Recurring Events
Unlimited Single/Multiple Events
Unique QR Code for Attendees
Unique Attendee Management
Showcase Speakers/Organizers
Detailed Analytics Report
Custom Field for Attendee Form
Zoom online integration
Multi-tier Ticket Pricing
Supports WooCommerce payments
Purchased Event Details on User's Dashboard
With help of those Eventin features, you can increase customer loyalty with CRM, adjust flexible schedules to streamline events, confirm attendees with unique QR codes, host virtual meetings & webinars, and so on. Moreover, you get in-depth sales and attendee analytics using Eventin.
Eventin Divi Events Modules
| | |
| --- | --- |
| 1. Eventin Advanced Search | 2. Events Attendee List |
| 3. Eventin Events | 4. Eventin Events Pro |
| 5. Event Calendar | 6. Event Calendar Pro |
| 7. Event Calendar Pro List | 8. Eventin Speaker Slider |
| 9. Eventin Speaker | 10. Eventin Speaker Pro |
| 11. Eventin Events Tabs | 12. Eventin Events Tabs Pro |
| 13. Eventin Schedule Lists | 14. Eventin Schedule Lists Pro |
| 15. Eventin Schedule Tab | 16. Eventin Schedule Tab Pro |
| 17. Event Location Pro | 18. Events Classic Pro |
| 19. Eventin Events CountDown Pro | 20. Events Slider Pro |
| 21. Events Ticket Form Pro | 22. Eventin Organizer Pro |
| 23. Recurring Events Pro | 24. Related Events Pro |
How to use Eventin to manage events on Divi builder
Here, we'll show you how you can easily manage events on your existing Divi website. So, if you're ready to keep the hassle away and make event management efficient and easy on your Divi website, read on to learn how to manage events with Divi builder using Eventin.
Eventin Divi integration requires the following plugins and themes:
Theme Requirement: Divi Theme
Plugin Requirements:
We assume that we have all of the above plugins and themes installed on your website. To install the plugins navigate to Plugins > Add New from your WordPress dashboard, then install and activate plugins.
Also, make sure the Divi Theme is activated. Navigate to Appearance > Themes > Add New > Upload Theme and install the theme. After completing the installation process, move forward to using the Eventin Divi module.
Create events
First, you need to create events. With Eventin, creating events on WordPress is easy. When you have the plugin installed a section for Eventin will appear on your WordPress dashboard. From there you can create new events. After creating the event you can configure the settings, and set location, date & time, and other details about that event.
You can also read the documentation on how to create events using the Eventin plugin.
Use Eventin Divi modules
To use Modules open a page Divi editor. On the editor page, you can see the options for page editing. Choose the "Start Building" option to build designs from scratch.
Now, to add elements to the page click on the "+" (plus) icon and choose a new row to start.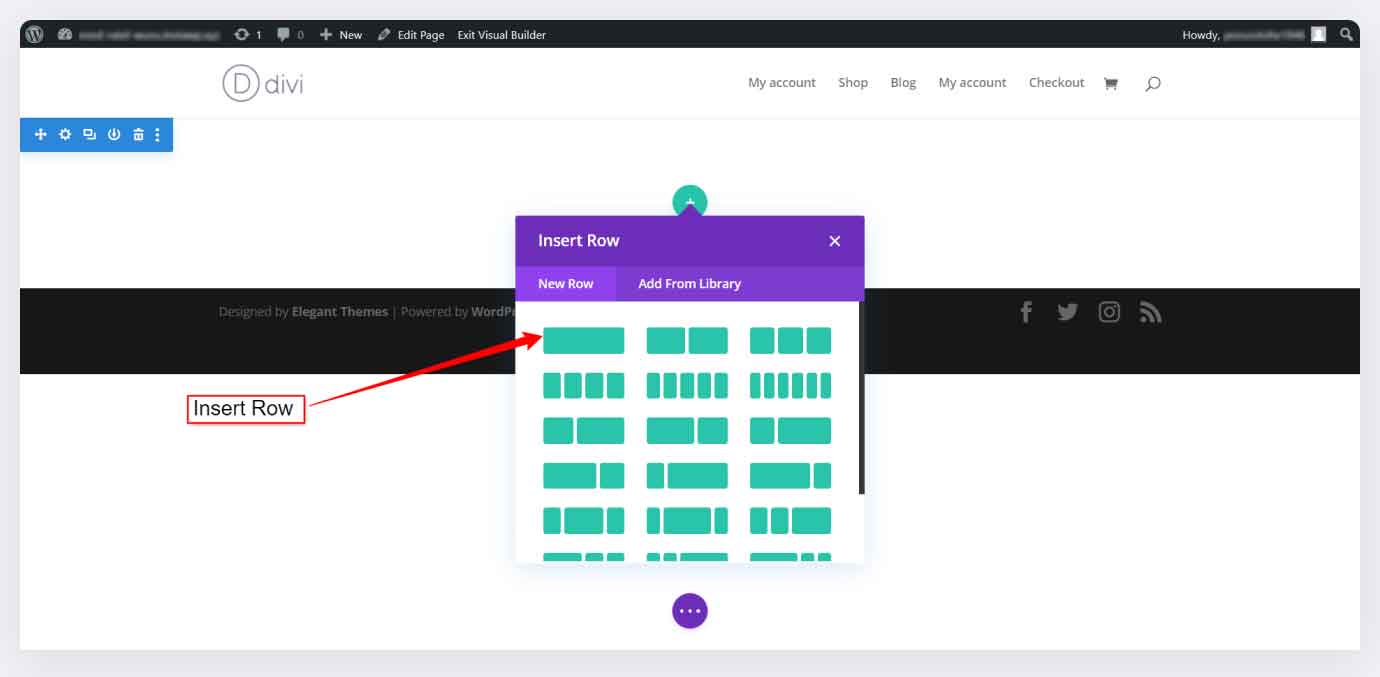 After that, in the Insert Module popup, search with the term "event" and you will find all the Eventin Divi modules there. Choose a module to start creating your event page.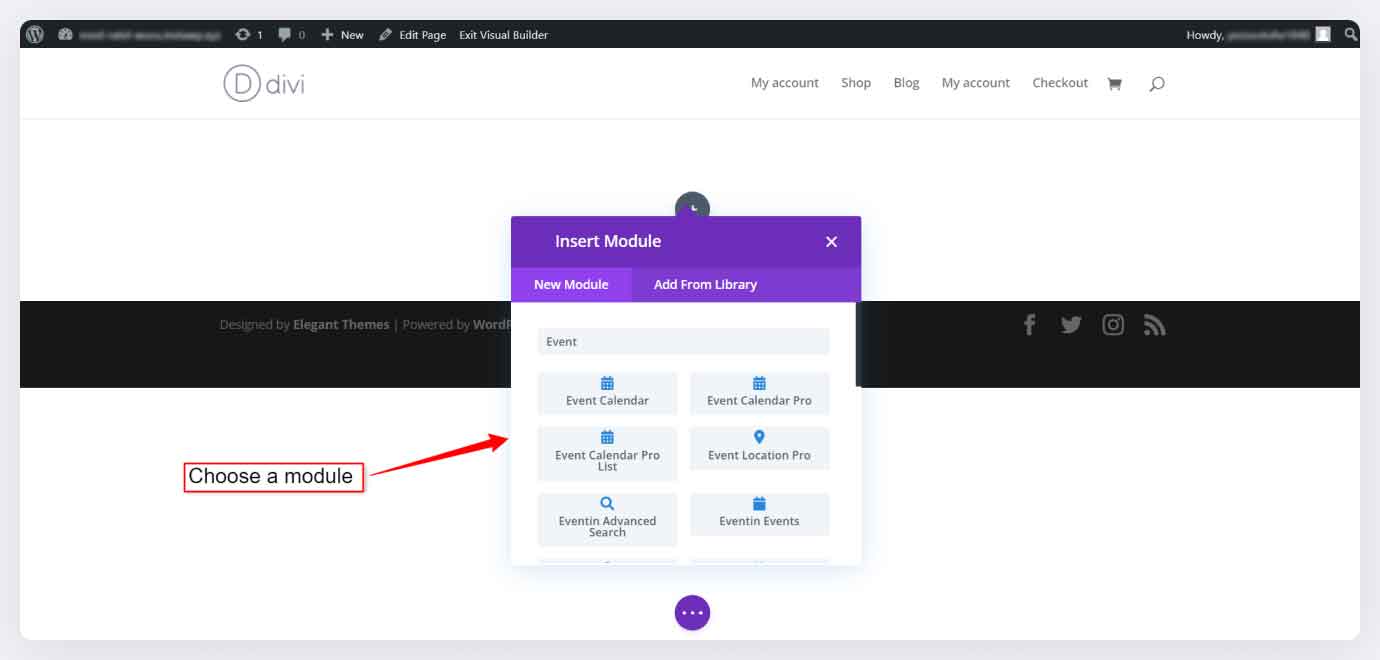 For example, let's take the Event Schedule List module. When you choose a module, you will see a popup to configure the settings. There you can choose the Schedule Style and select the Schedule date to show the list. Then the "✔" button to save the changes. After that, you can see the Schedule list for the selected date.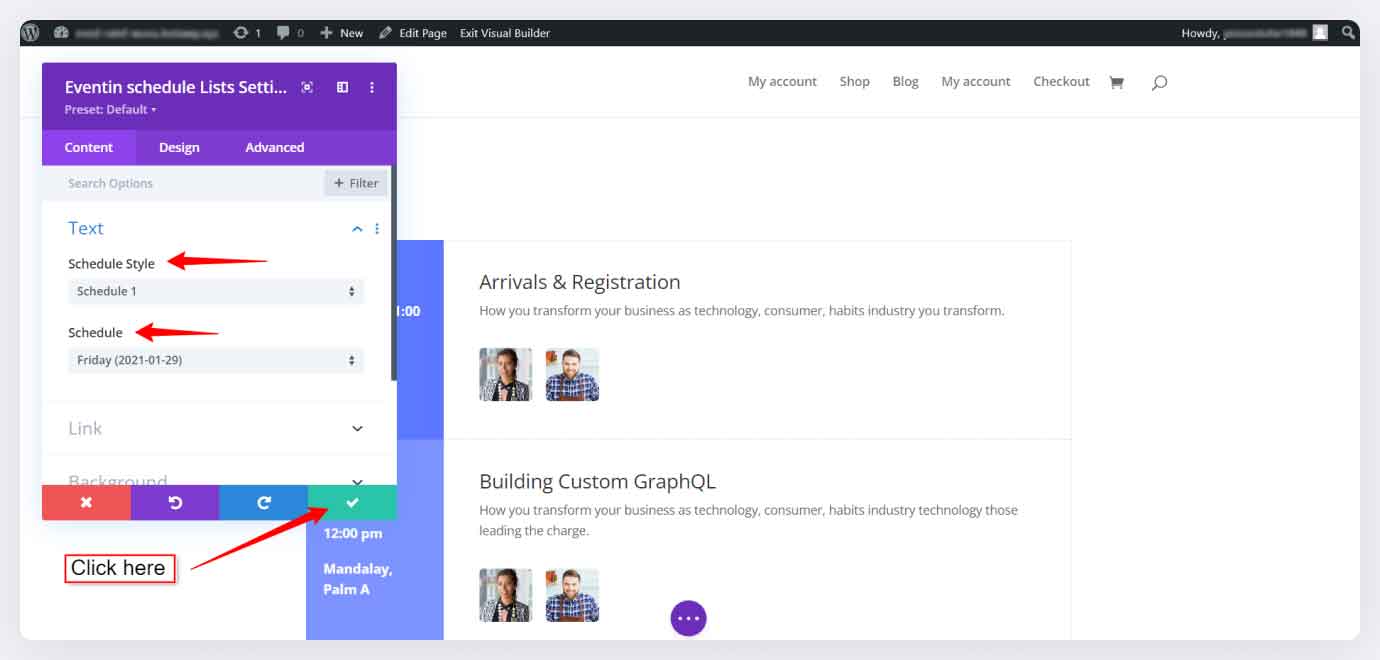 You can use other modules in a similar way. There are plenty more Divi events modules for you to explore. Here is a full list of the Eventin modules for Divi builder.
Beyond WordPress theme functionalities, Divi is a complete website-building platform with an extensive list of features. The beginner-friendly visual editor has been preferred by professionals also because of its ability to create a splendid design in the easiest way.
With Eventin integration, Divi users will be able to manage events from the website in an efficient way with the most advanced features and functionalities.