How To Design Visual Restaurant Reservation System On Your Website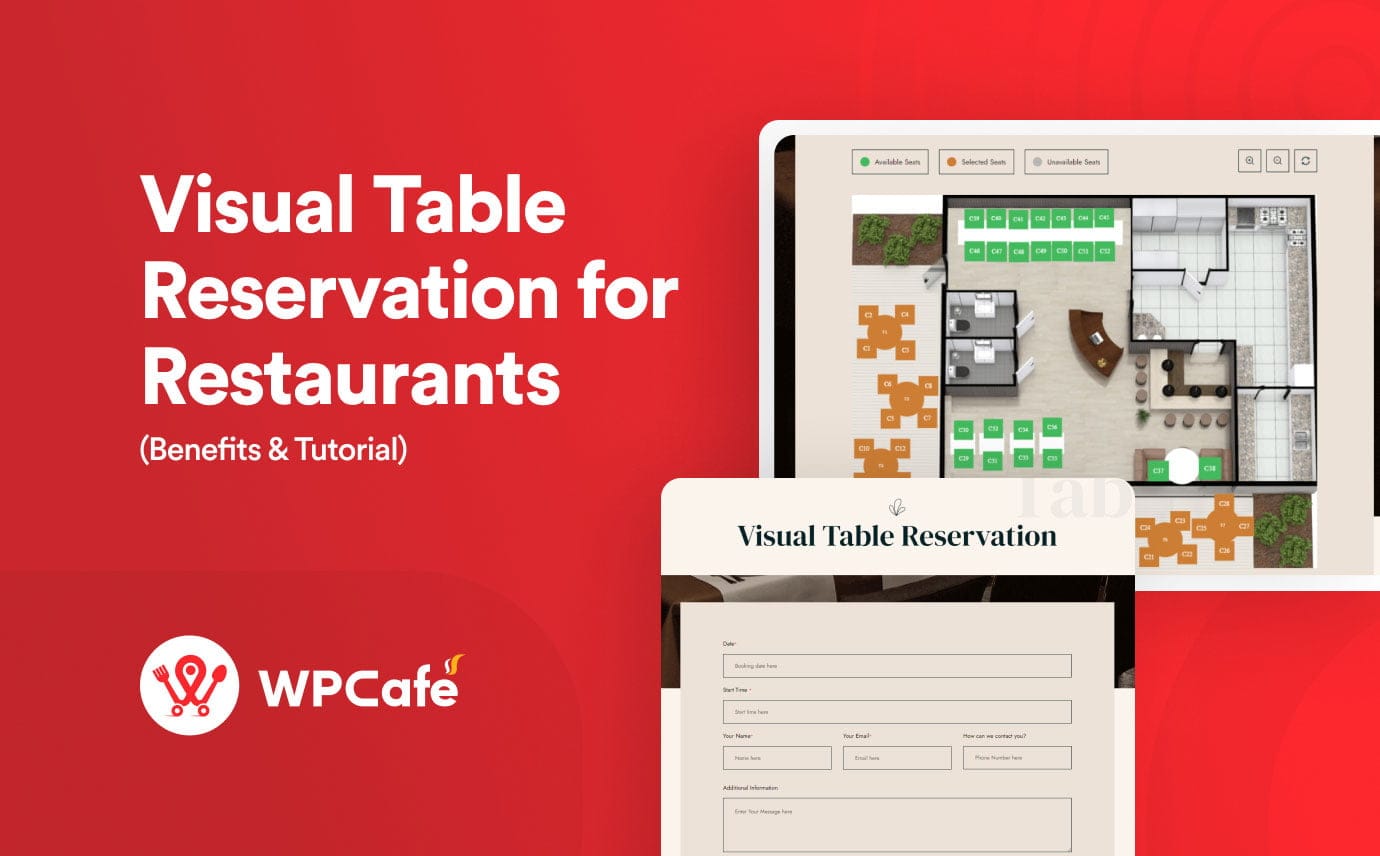 Waiting is always annoying and exhausting. Especially when you dine in your favorite restaurant and starving for the delicious dishes. But what can you do when there's a long queue for the table than waiting! Online reservation is the ultimate solution!
How about making the online table reservation a little bit more alive and interactive? A Visual Restaurant Reservation System is the way to take the step ahead. As it says,
The key to great customer service is to be transparent about what the customer will be getting.
A visual reservation system allows diners to see where they will be seated remotely from their home. The guest can actually choose exactly which table they want to choose by the availability of that tables. This system makes it easier for diners to find and book their preferred restaurants, making the experience more enjoyable.
How visual interface improve the restaurant reservation system?
Traditionally, guests would fill out a reservation form and the restaurant management allocates seats according to availability. Now the problem is, some might have personal preferences like a corner table for two or a center table for a group outing. It's tough to manage seats according to their preferences upon arrival.
Therefore, a lot of restaurants have a hard time with seating arrangements even with online reservations. This could lead to utter dissatisfaction among the customers.
This is where the visual restaurant reservation system comes to the rescue. A visual restaurant reservation system will allow guests to book a table according to their preferences and the restaurant to keep track of their reservations. With the graphical restaurant table reservation:
Guests can choose where they will be seated. They will see a visual overview of the restaurant and book a table of their choice whether they want a corner table, center table, and family table.
Makes the reservation process easier for customers. Visual interfaces are always fun and easy to use compared to traditional form reservations. Making the process more interactive.
Puts the arrangement in a systematic order. The staff will know which table to prepare according to the schedule. Meanwhile, guests will know their table number and find it by themselves.
Moreover, a graphical restaurant table reservation system increases the overall efficiency and enhances the guest experience.
Designing a visual restaurant reservation system for the website
Many restaurants now offer online reservations as a way to save on seating and avoid long lines. While online reservations are a great experience for customers, there are many key reasons why integrating a visual restaurant reservation system is beneficial for restaurants too.
Firstly, the restaurant owners can control the entire reservation without having to depend on any third-party platform. This makes the process more efficient. Additionally, they get the customer's data and use it for marketing campaigns that are designed to stir up the demand of their specific customer base.
Finally, restaurant owners can also create more personalized customer experiences through online reservations. This allows restaurateurs to get to know their customers better and customized recommendations can be sent directly to them as well as follow-up calls if something goes wrong.
Moreover, if your restaurant website is built with WordPress, you can design a visual restaurant reservation system in the easiest way possible with WPCafe.
About WPCafe's visual table reservation
Creating visual restaurant reservations on your website is easy with WPCafe. The all-in-one restaurant management system comes with the Table Layout module that enables the ability to design a restaurant reservation system with a visual interface.
Now you can map the seating arrangement on your WordPress site and let the customers choose where they want to get a seat. Once you set up the Table Layout, you can design a restaurant reservation interface with chairs, text, and tables of different shapes using different color combinations.
The WPCafe's Table Layout features help you in the following manner:
The easiest way to design a visual restaurant reservation interface.
Simple and minimal interface to create or cancel reservations.
Creates a map of the restaurant's seating arrangement.
The reservation system is expandable to the full seating capacity.
Provides Analytics for Reservations with total confirm reservations and cancel reservations as graphs.
Design layout with corner and round tables, chairs, and text with the option to customize the colors.
Adjustable opening and closing schedule of your restaurant.
Furthermore, beyond reservation, WPCafe comes with a complete set of user-friendly features to help you manage your online food business in the most efficient way.
How to create a visual restaurant reservation?
To create a visual restaurant reservation interface, start by enabling the Table Layout module of WPCafe. Therefore you need to have the WPCafe plugin installed on your site. As the Table layout is a premium feature, the WPCafe Pro plugin is required too.
Here is the step-by-step procedure the design a graphical restaurant table reservation on your WordPress website.
Prerequisite:
Make sure you have the following plugins activated on your website:
WPCafe: Download the plugin
WPCafe Pro: Get the Plugin
Step-1: Enable the Table Layout module
To activate the visual table layout feature navigate to WPCafe > Tools and enable the Table Layout module there. Then click on the Save changes button.
Step-2: Set up your restaurant seating arrangments and reservation details
After that set up the seating arrangements details such as seating capacity, minimum and maximum guest numbers, and other details. For that, you have to navigate to WPCafe > Settings. There you will find several tabs and options for restaurant management. Open the Reservation tab and click on the Schedule section.
Now, remember, table layout selection only works with a single slot schedule. Therefore you have to turn off the Reservation Multi-slot Schedule option. Then enter the Seat Capacity of your restaurant. After that, set the minimum and a maximum number of guests you will allow for a single reservation.
In short,
Navigate to WPCafe > Settings from the WordPress dashboard.
Then go to Reservation > Schedule.
Configure the following settings:
Reservation Multi-slot Schedule: Turn off.
Seat Capacity for Single Slot: Your restaurant seating capacity.
Minimum Guest Number: Minimum number of guests you allow for a single reservation.
Maximum Guest Number: Maximum number of guests you allow for a single reservation.
Step-3: Visual Table Mapping
After that, navigate to WPCafe > Table Layout and map the visual table layout of your restaurant.
Here you can choose the following attribute for the table layout: Table Fill Color, Text Fill Color, Selection Color, and Booked Color.
Upload a background image that reflects your restaurant's seating arrangements.
Then set the Room Width and Room Height for the background image.
Now you will Create a Table Layout for your restaurant. WPCafe Table Layout module comes with the following elements that help you to design a layout for restaurant reservations. 
Add Corner Table – Add a rectangle table. Each table will have a corresponding number.
Add Round Table – Add a round table. Each table will have a corresponding number.
Add Chair -Add a chair to your mapping. Each chair will have a corresponding number.
Add Text – Add any text to your restaurant layout.
Zoom In – Zoom in table restaurant layout.
Zoom Out – Zoom out table restaurant layout.
Delete Selected Item – Choose an item you want to delete.
To complete the procedure, make sure you connect at least one chair for each table on the table layout.
Step-4: Let the customers book tables visually
Finally, use the shortcodes to add the graphical restaurant table reservation system on your webpage.
Go to WPCafe > Available Shortcodes > Reservation Form with Visual Table/Seat Selection (Pro) and click on Generate Shortcode. Select a Template and Style and click on Generate. Now copy this shortcode and paste it on your site page. To learn more about the visual restaurant reservation process, read the full documentation for the Visual Table Layout feature of WPCafe.
To learn more about the visual restaurant reservation process:
Why do customers prefer online reservations in a restaurant?
The idea of table reservations was brought to avoid long lines, waiting, and congestion inside the restaurants. However, even with the manual reservations, there was miss management, confusion, and a lot of hassle.
With online reservations, the process has become even more efficient and sorted. The online restaurant table reservation system has come with a great deal of ease for both customers and restaurant owners.
These days, diners prefer online reservations as the process is often faster and more convenient than going to the restaurant in person.
An online restaurant reservation system keeps track of the number of available seats at any given time and allows the customers to book a table for them from the available time. Then, they can arrive at the scheduled time and get a table straight away.
This saves the time waiting in a long queue and the trouble of uncertainty of getting a preferred table. Customers have found online reservations to be more convenient and affordable than traditional reservations, so keep that in mind while designing your restaurant website.
In this regard, the visual restaurant reservation system is a huge boost in terms of user experience.