Introducing A Game-Changer: Eventin Pro V3.3.30 Enhanced Facebook Events Integration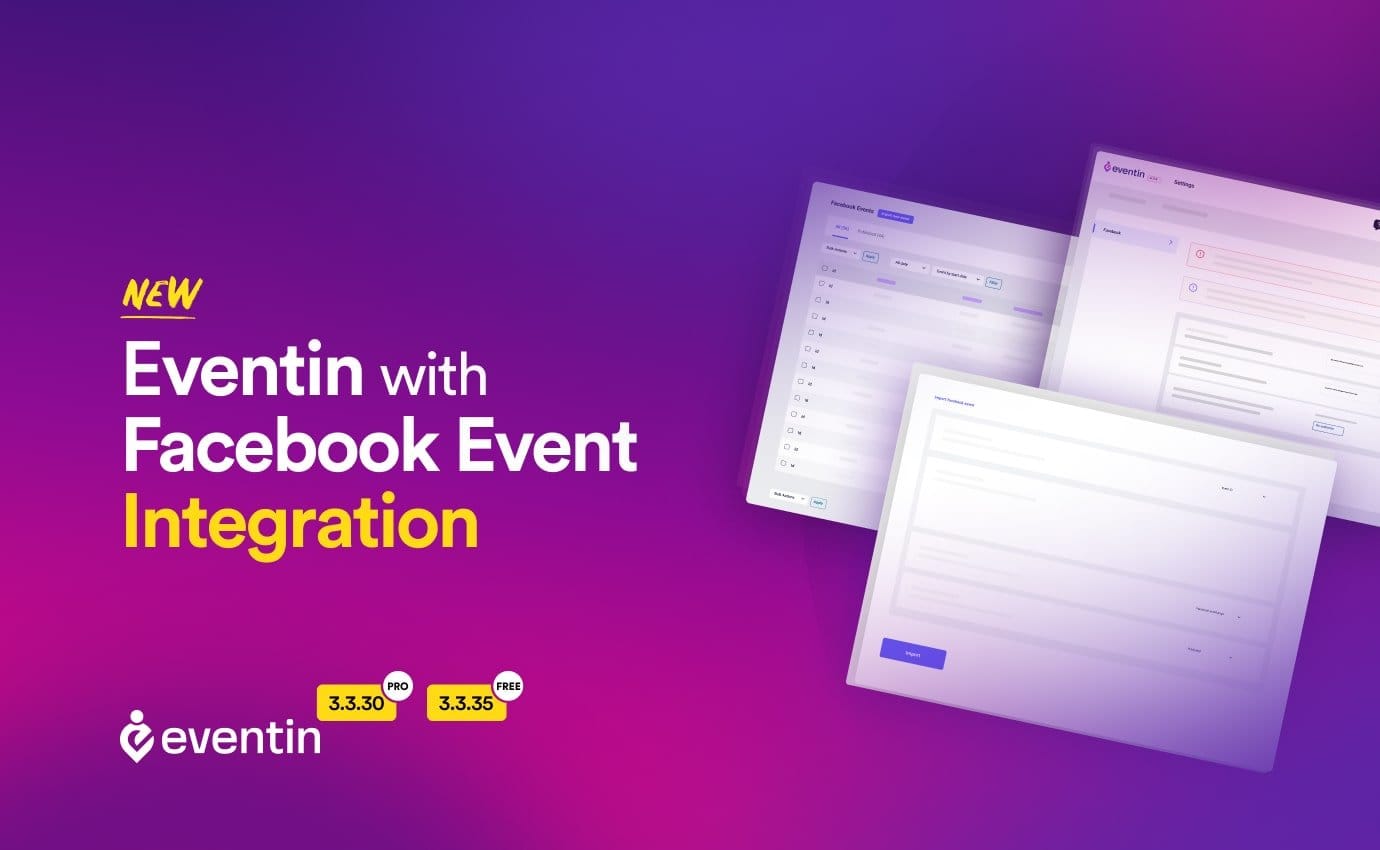 New feature alert!
We are thrilled to introduce you to the long-awaited Eventin's seamless integration with Facebook Events 🙌.
It will be such a dynamic collaboration that brings unmatched advantages to event organizers and attendees alike.
Let's explore the incredible features and benefits that this integration offers so that you can create engaging virtual gatherings with Eventin.
Manage Facebook Events with Eventin: Uniting for Success
Suppose you are an Event Organizer or a Conference Organizer, or maybe a Meetup Host – you can simply take advantage of this feature for arranging any event – both in online and offline settings.
Even if you are a Tutor, Music Instructor, or Fitness Trainer, you can arrange orientation programs, online master classes, paid courses, prize-giving ceremonies, or one-to-one sessions with your attendees through Facebook events.
Here are the advantages of using Facebook events for every professional-
Benefits of Using Facebook Events
Amplify Reach: Through this feature of Facebook, you can leverage Facebook's vast user base to promote your events and reach a wider audience.
Event Discovery: You can allow your attendees to effortlessly discover and engage with your virtual events directly through Facebook.
Social Interaction: You can create a sense of community and encourage social interactions among event participants through this feature.
Real-Time Updates: Your attendees can be informed with real-time event updates and notifications on Facebook.
A New Feature to Synchronize Facebook Events
Discover this new feature of Eventin to make your events stand out from the rest. Here are 3 amazing things you can do with this new feature:
1. Import Events from Facebook Page or Facebook Group into Eventin for Centralized Management
This powerful integration of Eventin's new release allows you to seamlessly import events from your Facebook Page or Facebook Group directly into the Eventin platform.
By importing events from Facebook, you can simplify the event management process by centralizing all your events in one place.
This interesting feature enables you to create thriving communities around your events. It drives you into deeper connections with your audience.
You can cater to specific hobbies, demographics, or themes by hosting events in multiple groups, ensuring you reach the proper audience for each gathering.
You are free to invite as many people as you want! Eventin will display a complete list of your attendance!
What's more, guess what? We are also planning on offering customizable tickets to attendees!
Even adding your current Facebook events to a marketplace that can import and/or sync with them will increase user engagement significantly.
Get rid of the headache of managing events across various platforms and enjoy the ease of having all of your Facebook events managed within Eventin.
2. Display Facebook Events on Your Website with Shortcodes
Eventin takes event promotion to the next level by providing the option to display Facebook Events on your website using shortcodes.
Shortcodes are simple snippets of code that allow you to embed event information directly into your website's pages or posts.
It's very helpful if you have recurring events to arrange. This feature can save you the time of creating events every week.
You can now ensure that your website visitors have easy access to your upcoming events, enhancing engagement and attendance rates.
3. Keep Updated with Facebook Event Reports on the Admin Dashboard
From now on, with Eventin, you can access the Facebook Event reports from the admin dashboard anytime you want. The events that you'll fetch from Facebook, Eventin will show as a list in front of you.
This report will help you to manage events successfully and refine your event marketing strategies for future success.
Changelog
Eventin v3.3.35
Tweak: Eventin onboarding system optimized
Tweak: PHP script optimization
Eventin Pro v3.3.30
Added: Import Facebook events and show using shortcode
Fix: Attendee information edit issue fixed.
Fix: The location list pro widget issue is fixed.
Fix: Min Qty not working correctly fixed.
Fix: Attendee search filter issue fixed.
Wrap Up
So, Eventin's each version has seen a significant addition of functionality, and this one was no different. It is constantly being improved to be the ideal event management plugin for you.
Share your brilliant feature suggestions on the Eventin-Syncronize Events to Facebook Event Roadmap if you want to help the plugin reach new heights.