WP Eventin Updated to v2.6.1: Functionality Improvements, Tweak and Known Fixes
Greetings 🎁 WP Eventin lovers! WP Eventin version v2.6.1 is here with multiple tweak, fixes and new features. In this version, we focused on tweak and update UX. Multiple tweak update in both free and pro version of WP Eventin. Also, new compatibility with popular Zapier, Pably and WPML will give you full independacy while creating new event.
Looking for the full list of WP Eventin update? Let's disclose it. Here's the full changelog for WP Eventin v2.6.1 changelog.
WP Eventin Free Update
New : WPML compatibility
New : Zapier & Pabbly compatibility
Fix : Calendar warning issue fix
Fix : Header already sent issue fix
Tweak : Event calendar module
Tweak : Admin settings style
Tweak : Shortcode menu splitted from settings
Tweak : Submenu position altered according to settings
Tweak : Enable multiline location in pdf
WP Eventin Pro Update
New : Radio input type support for attendee extra field
New : WPML compatibility
New : Zapier & Pabbly compatibility
Tweak : Refunded and failed price count adjusted in purchase report
Tweak : WooCommerce Deposits extension compatibility
Radio Input Type at Attendee Extra Field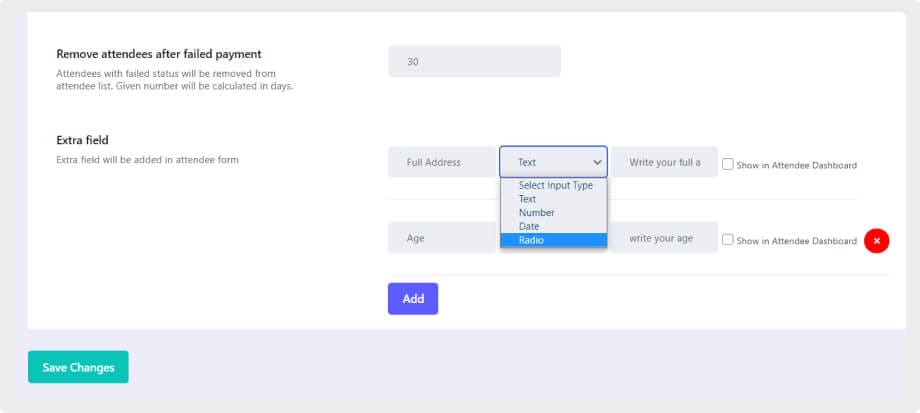 At WP Eventin pro, you can set extra field to get more specific information from the users. Early days, the extra field input option was text, number and date type. In this update, we added 'Radio' type input extra fields. Now, you can set a radio options for the event attendee. The features is design to provide smooth user experience for events attendees.
-> How to create attendee registration with free ticketing system
Final Words
We are excited for this WP Eventin updated. With Zapier and Pabbly, you can use all the available application to extends your services. Apert from all visual changes, we also optimized our codes. We are working for more amusing features and soon you will see those changes. Try WP Eventin today for your next event. Before the tab closing, just a quick question. Which update you like most in WP Eventin v2.6.1?