Choose the Best Education Theme for WordPress Education Website
If you're looking for the best education theme for WordPress, then you are at the right place. Online learning is the present and the future of education. Khan Academy, Coursera, Udemy, edX and many more e-learning websites are revolutionizing the way we learn. If you are planning to start a WordPress education and learning website, the first thing you have to do is choose a theme. You need to know how to choose the best education theme for WordPress education and learning websites. The right WordPress education theme can completely transform your WordPress education website into a knowledge hub.
There are plenty of options for choosing the best education theme for WordPress website. However, choosing the right theme requires some research and analysis. This article summarizes the key elements to look for when choosing a WordPress theme for your education website.
What is an Education and Learning Website
Educational websites can include content such as interactive lessons, videos, or topic-related resources that act as tools to improve learning and conduct classroom teaching. These websites help make the process of learning entertaining and attractive to students. A complete education website will have all the features to handle quizzes, assignments, and tests to assess students' performance. For WordPress, the theme will set the style for your e-learning website. This makes it important to choose the best education theme for WordPress education websites that fulfills your needs.
How to Find the Best Education Theme for WordPress
WordPress has thousands of themes for you to choose. Trying out each theme one by one is not possible. So how do we know which theme is the best? There are some key elements for any education website which the theme should present. To find out the best education theme for WordPress, you need to look for the following components. This is just a list of necessary steps for you to decide on which theme is best suited for you.
Identify Your Audience
First thing you need to consider is your audience. Education websites can be created for schools, colleges, universities or even kindergarten students. Based on your audience, you will need to look for themes that suit them. Each theme has a unique design which needs to match your purpose. Additional features and plugins for designing your WordPress education website needs to be compatible with your theme. This makes it really important to choose the best education theme for WordPress that fits your audience.
"The COVID-19 has resulted in schools shut all across the world. Globally, over 1.2 billion children are out of the classroom."

Source World Economic Forum
Know Your Requirements
Once you choose your audience, you need to list your requirements. An education and learning website contains lessons, courses, instructors, testing and assessment, certifications, progress reports, and much more. Based on your audience, you should narrow down the set of features that you think are essential for your WordPress website. This can help you narrow down your options to choose the best education theme for WordPress.
If you are planning to create an e-learning website for multiple audiences, then you can choose a theme with multiple niches. Themes with multiple niches can help you create content for each group of your audience. The customization features for each group will make your life easier when designing your website.
Focus on Important Features
Once you have finalized your requirements, you are ready to start looking for themes. Make sure to look for important features to build a complete education website. Generally, a theme needs to be compatible with popular LMS plugins. The design must be compatible with all devices and your site should be scalable. A detailed explanation of essential features is provided below to help you choose the best education theme for WordPress.
Integration of Popular LMS Plugins
You need LMS plugins to build your online learning website. Make sure that the theme you choose is compatible with the plugins you want to use. LMS plugins are the key elements to designing a complete online education and learning website. Look for themes that are compatible with some of the best LMS plugins such as
Sell Courses with WooCommerce
WooCommerce is a must have feature if you want to earn from your WordPress learning website. You probably already know by now how useful this plugin is for selling any product or service using WordPress. Make sure that you can use WooCommerce with your website when choosing your themes and LMS plugins.
"The online education market is expected to grow by USD 247.46 billion during 2020-2024"

according to Technavio
Compatible with Popular Page Builders
The beauty of WordPress is in drag-and-drop page builders. This allows you to easily customize or build a complete WordPress website from scratch in minutes. Make sure that your theme is compatible with popular page builders. The best education theme for WordPress will give you more control over your website. Few of the popular page builder's you can use for your online learning website are:
Cross Browser Compatibility
If you want your website to reach maximum audience, then you must ensure cross-browser compatibility. Your visitors might be using different devices or browsers to access your website. You must make sure that browsers such as Mozilla, Opera, Safari, Chrome and Explorer can be used to access your site. The content of your WordPress website should appear the same for each browser. The best education theme for WordPress should ensure cross-browser compatibility.
Responsive Designs
Learners will want to access your site from various devices such as tablets and smartphones. A responsive theme will adjust its layout and designs across all screens and devices. Although most themes are mobile responsive, some free themes are still using fixed designs. As most learners may be on the go, it is very important to ensure responsive designs to provide your learners with a positive experience. Moreover, Google also recommends creating responsive websites to increase your website ranking on Google. The best education theme for WordPress will always ensure a responsive design for your website. These factors make it crucial to select a theme with a responsive design.
Scalability
An education website will have a lot of content. There will be lessons, courses, videos and much more resources for both students and instructors. You need to keep in mind that the theme you choose must scale with your website. This is especially important if you have multiple niches such as university, schools and colleges. The best education theme for WordPress must scale seamlessly for each category if you want your website to flourish.
Choosing the Best Theme
Now that you know what a theme should have, how do you decide on which theme is the best education theme for WordPress? The purpose of your website is to provide a platform for students and instructors to easily share education content. Keeping in mind the important elements mentioned above, start comparing your list of required features and the themes.
The right WordPress theme for your website will depend on factors like the site's goals, your skill level, and your budget. As you already know, your site's goal and the required features, look for themes that are easy to use. If you are a developer, then you can easily edit the source codes to modify designs. Otherwise, choose a theme with good page builder support.
Your budget must also be taken into account since you will need to install additional LMS plugins to increase the functionality of your online learning website. Try to select a theme that not only looks great, but also provides a great user experience. This is because your users will spend numerous hours on your website and a good UI & UX will keep them coming back to your site. In summary,the best education theme for WordPress must fit your style and have the required features for your education website.
Best Education Themes for WordPress
To help you get started, we have made a list of popular themes for you to choose the best education theme for WordPress. These themes can be integrated with the most popular LMS plugins so you will find plenty of features to work with. The design as well as compatibility with page builders will simplify the process of designing your education and learning website.
Turitor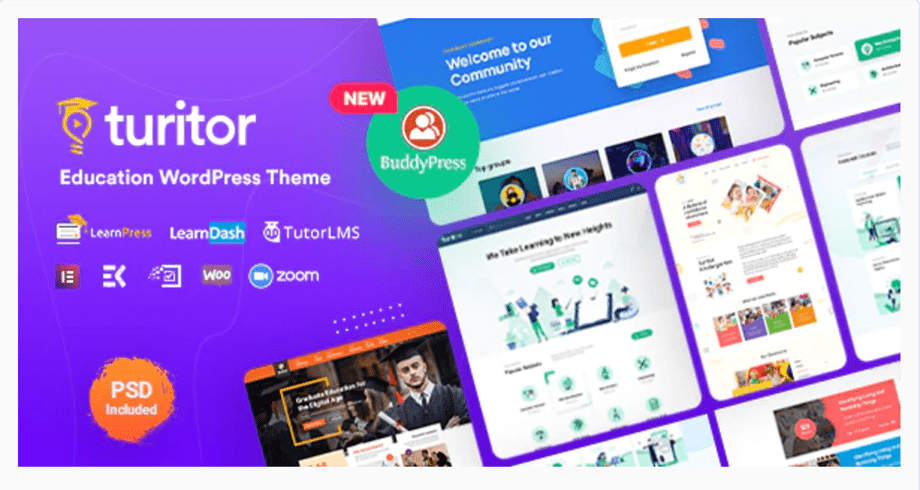 Turitor is a top choice for a WordPress education theme because of its flexibility that works well with LMS websites. Multiple niches are available for this theme as you can create Education Websites, Online Courses, LMS, Education Content Marketers, and more. Create clean-looking and functional websites for school, university, or kindergarten. You can also easily create and scale responsive online learning websites like Udemy with this theme because it supports plugins like LearnPress, LearnDash, and TutorLMS plugins.
There are 9+ stunning demos and templates for you to choose from and support for Elementor Builder and ElementsKit makes it easy to customize your site. The drag-and-drop user interface will let you take full control when building your site. Plenty of integration and compatibility with tools such as Zoom, WooCommerce, BuddyPress, MetForm, Ultimate Review and more gives you plenty of options to create a learning hub. These make it one of the best education theme for WordPress education websites.
Education WordPress Theme Eduma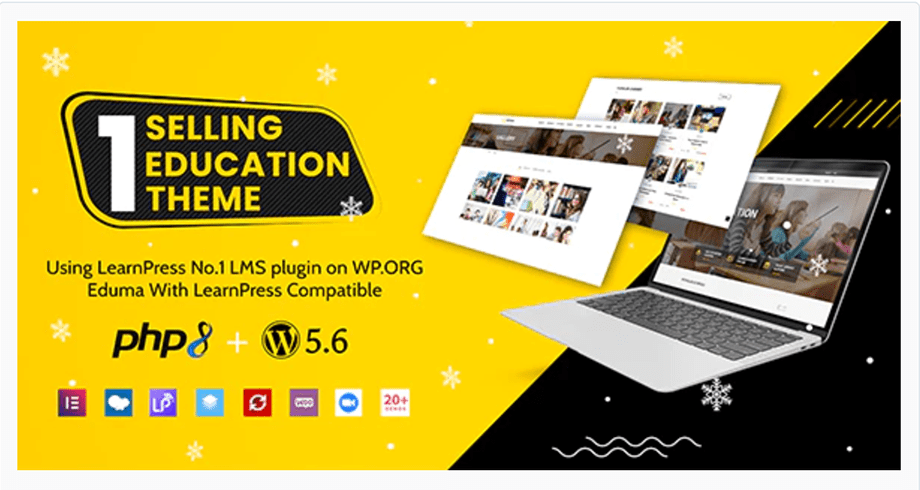 Eduma is a popular WordPress education theme with plenty of pre-made designs to choose from for single instructors, language schools, kindergarten, etc. You can simply pick a design and start customizing it with page builders like the Elementor plugin. This theme has easy visual customization tools which means you don't need any programming skills to edit your content.
This theme is mobile-friendly and SEO optimized ensuring that your website is available on all devices and is easier to access thanks to better ranking. The best part of this theme is that it comes with LearnPress, one of the most popular dedicated learning management systems for WordPress. Other premium plugins you can get with this theme are WPBakery Page Builder, Slider Revolution, Isotope Commercial license.
MasterStudy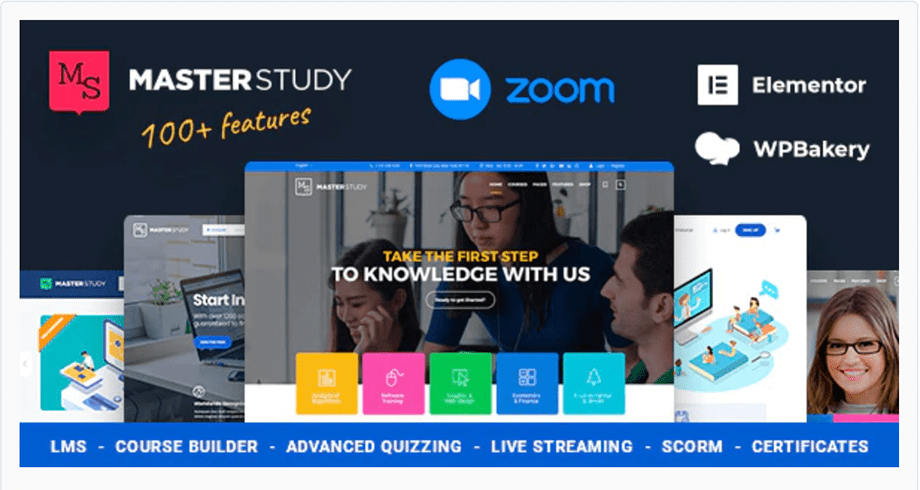 Masterstudy is a complete theme with great pre-built website demos to create your online education and learning platform. This theme has a clean design with plenty of functionalities. You can find a wide range of demos to start building your online course website. They are quite versatile since you can publish a single course online, build an online learning system, or create a course delivery platform where others can sign up and publish their learning content.
The best part about this theme is that they have their own plugin called Masterstudy LMS WordPress plugin. The integration of this theme with their own plugin provides a complete solution. One key feature of this LMS plugin is the course builder tool that simplifies the process of building an online learning website for WordPress. Additionally, integration of other features and plugins like Elementor, WooCommerce, Zoom, Google Classroom, BuddyPress and much more makes it a popular choice for many.
WPLMS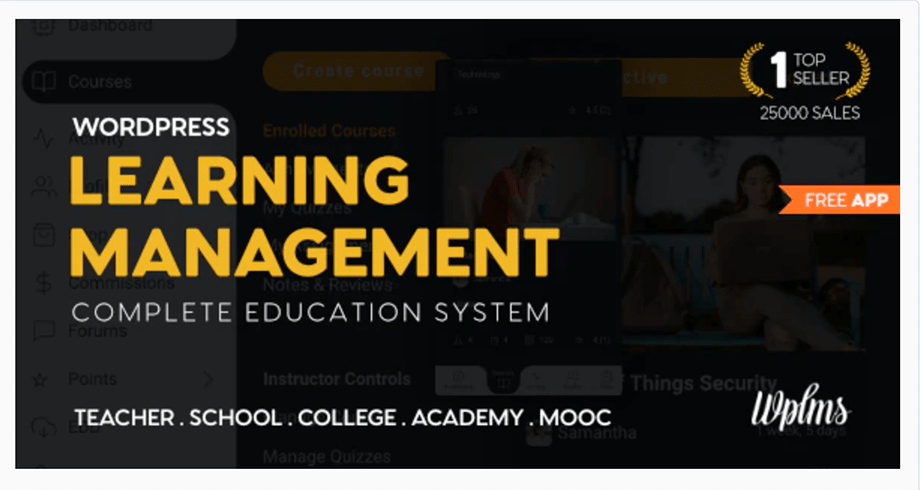 WPLMS has a bold look and with regular updates, you can expect this theme to be well maintained for its users. This theme is an enterprise-grade Learning management system for WordPress with great scalability. It is packed with plenty of useful features for Learning Management Systems making it suitable for any type of online learning website. WPLMS lets you create and edit your online learning website through the front end of the website which saves a lot of trouble of editing from the WordPress admin back-end.
The UI & UX is great for this theme as well. Learners get a personalized dashboard that shows them the content they have access to and their progress throughout the courses. Similarly, the instructor gets a dashboard to get a quick view of quiz and course submissions as well as course stats. There is support for LearnDash, BuddyPress, bbPress, and WooCommerce built into the theme. This makes it easy to add learning content, discussion forums, social networking, and eCommerce functionality to your site with the WPLMS WordPress theme.
Language School
Language School by Themeum provides a clean design that is perfect for any language institution. The theme is specifically optimized for language learning and it can be used for professional education institutions like colleges, schools and universities for any language courses. This niche-specific theme is carefully designed to best fit your needs for any language studies. It is one of the best education themes for WordPress language websites.
This theme is powered by Tutor LMS which is an advanced WordPress plugin to design an LMS website. You will find features for eLearning, Quiz Builder, Stats & Reports, Student Dashboard, Multiple Video Sources, Course Review, Certification and more. It is compatible with Gutenberg and combined with Tutor LMS, WP Page Builder and WooCommerce, this theme is a complete solution for any language.
Courselog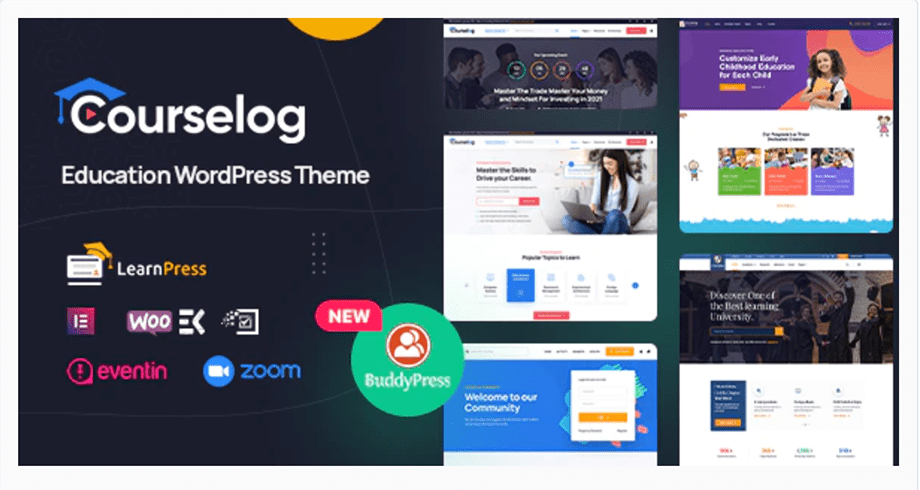 Courselog is a versatile WordPress education theme suitable for multiple niches. You can choose from beautiful designs which were carefully created for university, kindergarten or schools. This theme offers a modern and responsive design that will guarantee a great learning experience. There are 15+ unique pages to choose from and cross-browser compatibility along with fully responsive designs will ensure that your learners can access your content from any device.
Apart from the design, this theme is compatible with Elementor Builder and ElementsKit lite which lets you design your website with drag-and-drop features. You can sell courses with WooCommerce and additional plugins like MetForm, Event Solution Plugin and Ultimate Review only adds to the reasons for selecting this theme. Moreover, WPML is compatible with this theme allowing you to translate your website into your preferred language. It's versatile features make it one of the best education theme for WordPress websites.
Choosing the Best Education Theme for WordPress
It is difficult to label the perfect theme since requirements for different websites may vary. When you are choosing the best education theme for WordPress, make sure that the essential elements are there. Among this list, you can look into Turitor. This theme offers a variety of features and you should be able to find what you need. Try out these themes and see which one suits your needs the best.