Best LMS Plugins for Designing an LMS WordPress Website
E-learning is the revolution in the education industry and LMS is the driving force. Educational institutions are looking to build their WordPress LMS website using one of the best LMS plugins. If you are planning to start your own LMS website using WordPress, then you're at the right place. Find out the best LMS plugins and the basic elements required to create a complete WordPress LMS website.
What is LMS?
Learning Management System (LMS) is a platform that allows you to create and distribute online courses like Udemy. It generally contains features for managing your online course training content, handling subscriptions, running and grading quizzes, accepting payments, and more. If you are planning to start a WordPress education website, you need to choose an LMS plugin and theme to build it. This makes choosing from the best LMS plugins for your website an important step. The first step, however, is to select an education theme for your website.
Benefits of Learning Management Systems
One important benefit of LMS is that the training platforms can be used by multiple colleges and academics without interference between each other. It can work as a standard faculty. You can create a learning system for a specific institution or create multiple courses from different institutions. This flexibility lets you pick the best instructors and courses to create a unique learning website. A lecturer has the flexibility to experiment by applying various learning techniques to improve the process of learning.
Your audience will have unlimited access to the information once you publish your eLearning course materials to your LMS website. Users on the go can even log in to the e-Learning platform via their smartphones and tablets. This removes the waiting time between the next class to develop their skills. Learning from This is often one of the most reasons why an LMS is crucial for world audiences in several time zones.
Most importantly, an LMS will save you a lot more money than traditional forms of training like seminars. Learners can use the eLearning platform anytime and anywhere without using additional company resources. This makes it crucial for selecting the best LMS plugin for your website.
The Research Institute of America concluded that e-learning boosts retention rates by 25% to 60%, compared to retention rates of 8% to 10% with traditional training.

Source: Forbes
WordPress LMS Plugin Features
WordPress just makes life so much easier thanks to its drag-and-drop widgets. You can find plenty of useful plugins to choose from for your LMS website. Top plugins for LMS will give the essential features for students as well as instructors to add engaging content to teach, assess and network with users. The following features are basic guidelines that will help you choose one of the best LMS plugin.
Course Management
The primary function of an LMS should be to easily deliver course content to learners. So it is important to get the best LMS plugin that can make course creation as simple and straightforward as possible. Look for LMS plugins that allow you to create lessons and courses from the front-end and backend. Some tutors might want to add their own course content so check for LMS plugins that allow you to do that. A course progress dashboard should also be available for students and tutors to track their progress and achievements.
Instructor Profiles
The instructors are an important part of any course as they are the ones who deliver the course content to the learners. This makes it important to highlight their profile to sell courses to students. A Good LMS website should make sure to highlight an instructor profile by providing enough information on their background and experience. The following list summarizes the basic information which should be displayed in an instructor's profile.
Instructor Details
Enrolled/Active courses
Completed Courses
Total Students
Student Profiles
You need to let the students keep track of their courses and achievements with a student profile page. This will be the most visited page for students as they will want to keep track of all of their learnings and progress. By letting students visualize their progress, they will be motivated to do more. You can even gamify this process by awarding certain points or badges for achievements. Students can display this on their profiles. So it is important to make sure that it provides all the information of the student activities without cluttering the page with excessive information.
Testing and assessment
Flexible testing and assessment options are almost always considered important LMS features, although they're not always available. A complete LMS system will have materials to test students and gather feedback from them on courses. When choosing from the best LMS plugins, make sure that you can add these features to your website using them.
Quizzes and tests for students
Multiples styles and Quiz formats
Course assessment survey from students to rate the Course and Instructor
Certification
Students need incentives to complete their courses and certificates are a great way to give it to them. You can provide certificates for students after finishing courses. Giving badges along with certificates to display on their profile can also motivate them to come back for more courses. They can later print the certificates and add them to their professional profile to look for opportunities in the future.
Course Completion certificates
Achievement certificate – for completing multiple courses in a specialized field
Reporting and Tracking
LMS reports should contain data on user progress, survey responses, exam results, training histories, and more. It's also helpful to be able to export and schedule reports so they're sent straight to you or your stakeholders inboxes. This reporting and tracking method can help users understand the quality of the courses and students. Later the results can be analyzed to improve the experience of users by identifying which courses students are following along well or have difficulty understanding.
Identify trends within your courses
Highlight opportunities to improve your learners' experience
Distinguish courses which students can follow and which ones they abandon
Integration of WooCommerce and Social Features
The whole purpose of the internet is to connect people to interact as conveniently as possible. Your platform needs to provide services for instructors and students to carry out activities to benefit their learning. It should also have a smooth process for purchasing course materials. All of these can be done by integrating useful applications. Some of the useful applications your LMS website should have are the following:
Popular Page Builder Support
The beauty of WordPress is in its drag-and-drop feature simplifying the process of web designing. When searching through the best LMS plugins, always remember to check if popular page builders are integrated with it. This will make your life easier when designing your LMS website. Some of the popular page builder integrations you should look for are listed below.
Optimized for Mobile Learning
Mobile learning is the delivery of training or education materials or learning support on a mobile device like a phone or a tablet. This is convenient for learners as they can access learning materials from their portable devices anytime they want. The best lms plugin should make sure that your site performs optimally on all devices.
Mobile Learning Results in a 72% Increase in User Engagement

Source Course Method
Learner Experience
Having a learner-friendly platform that's easy to access, engaging, and simple to use is crucial for creating a great learner experience. Learning needs to be effortless for your learners; you want them to spend their time training, not learning how to use your LMS.
Clean and welcoming page design
Integrate tools like ZOOM for webinars
Great UX from registering to completing a course.
Ease of access and searching courses
Educational Blogs
A great way to sell your courses is through expressing the importance of those subjects through blogs. A learner who visits your website might be confused on which courses to go for. You can clear their doubts by writing blogs on topics relevant to your courses to guide them.
Give insights on popular courses and their impact
Show popular subjects or new subjects through blogs
Highlight jobs
Excellent Payment Gateways
Make the process of paying for courses as smooth as possible by integrating popular and flexible payment methods for your LMS website. WooCommerce offers plenty of options that you can integrate into your website. Payment options like Stripe, Paypal, and others are compatible when choosing from the best lms plugins.
How to Find the Best LMS Plugins
The first thing you need to do is choose a theme. You can look up some of the best WordPress education themes before moving on. Now that you know the basic requirements, let's take a look at some of the best LMS plugins available. We have created a list for you to get started with when choosing the best LMS plugin. Look for features that you will need to create your LMS website.
LearnDash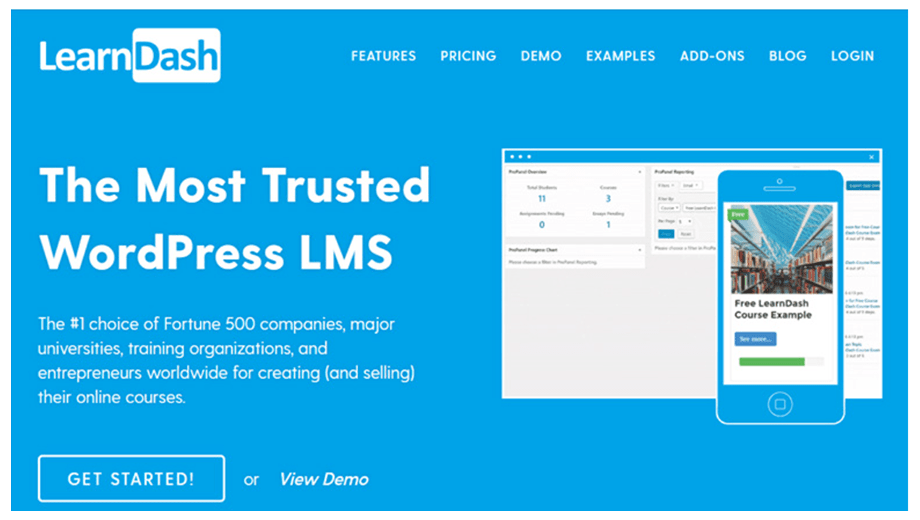 LearnDash is one of the best LMS plugins available for WordPress. It simplifies the process of creating and selling courses. Plenty of features for delivering quizzes, awarding certificates, and more are also available with this plugin. It enables you to offer a robust learning experience to your members and supports the latest gamification, social learning, and micro-content trends. This plugin also supports the following page builders.
Some of the ways you can sell your online courses from LearnDash are:
Memberships: Sell traditional membership access to your entire online courses.
One-time price: Allow users to make individual online course purchases.
Subscription: Maximize revenue through recurring payments and subscriptions for your online course.
Students can unlock courses using points which they earn by completing courses. This process improves user engagement for your online courses. You can also offer front-end user profiles where members can track their learning progress.
LearnPress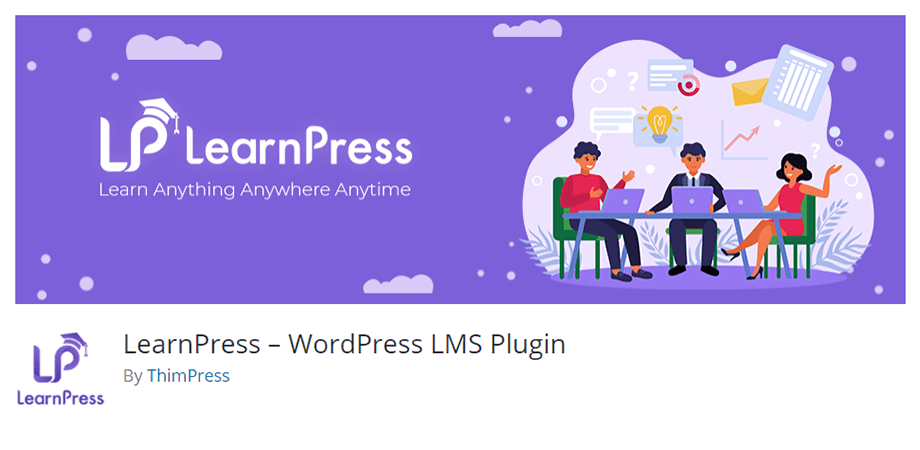 LearnPress comes with great features for your LMS website and it is free. A setup wizard is available which makes it simple and easy for all levels of users to get started with this plugin. Unlike most other LMS plugins in this list, LearnPress comes with a setup wizard that makes onboarding easy for all levels of users.
Creating, importing, or exporting courses from different websites using LearnPress is a breeze thanks to its wonderful user interface. The main plugin is lightweight, but you can expand it with powerful extensions such as content drip, quizzes, grading, and a lot more. This plugin also supports the following page builders.
You can integrate BBPress forums, BuddyPress social networks, and add powerful storefront features using WooCommerce. Plenty of free add-ons are also available with LearnPress such as wishlist, course review, prerequisite courses. Overall, LearnPress is one of the best LMS plugins for anyone who wants to create a learning community and frequently create quizzes, or sell products through their WordPress LMS website.
Sensei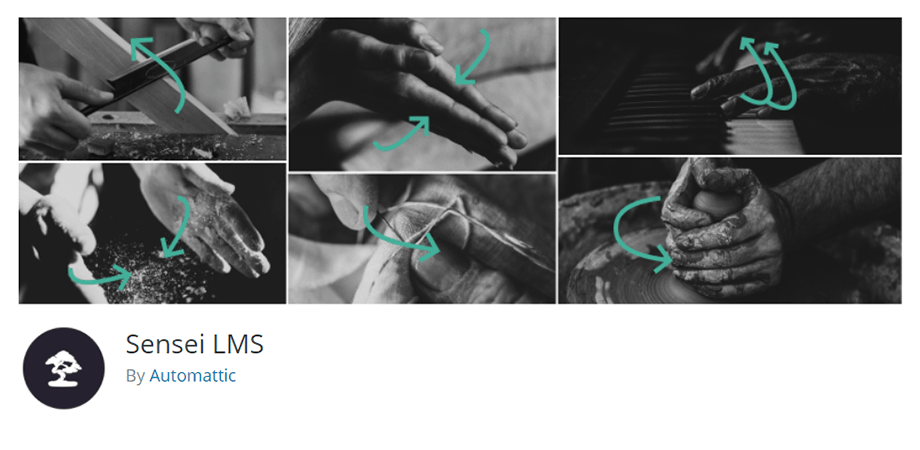 Sensei is a premium LMS plugin that can convert your WordPress LMS website into an advanced learning platform. It was created by the same team that developed WooCommerce. So you can expect it to have great performance for your LMS website.
Sensei does not, however, have enough features for memberships. You can create and public online courses but to sell them, you need to use Sensei with other membership or eCommerce plugins. Launching courses with Sensei is simple and quick. There are reporting facilities that provide an overview of your content, grades, and students registered with the site. There are a limited number of extensions available for you to enhance the core functionalities. However, it is one of the best LMS plugins to create professional online courses for free.
TutorLMS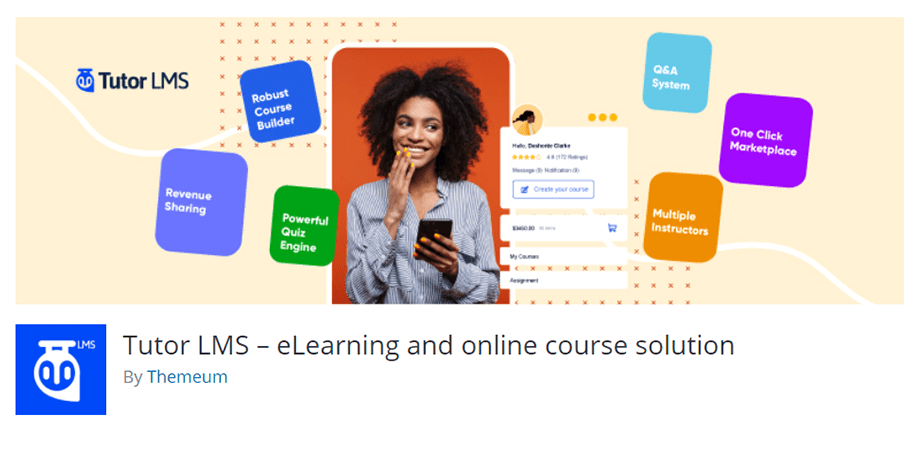 TutorLMS by Themeum has delivered superior performance and features which has helped them reach 30,000+ eLearning enthusiasts in a short time. It's built with excellent features such as frontend course builder, drag-and-drop quiz creator, and more making it a great competitor for being the best LMS plugin. This plugin also supports the following page builders.
You can get the core plugin is free and their upgrade to their premium plan starting at $149. Additional premium addons will give you features like course previews, certificates, multi-Instructor, and more. Google Classroom integration and Zoom make it a lot easier for users to communicate and manage their content. Adding to that, Elementor will let you easily build your page and customize your course-building experience. Additionally, plenty of integration for eCommerce plugins, page builder plugins, and popular plugins like BuddyPress, GamePress and more are compatible with this LMS plugin.
LifterLMS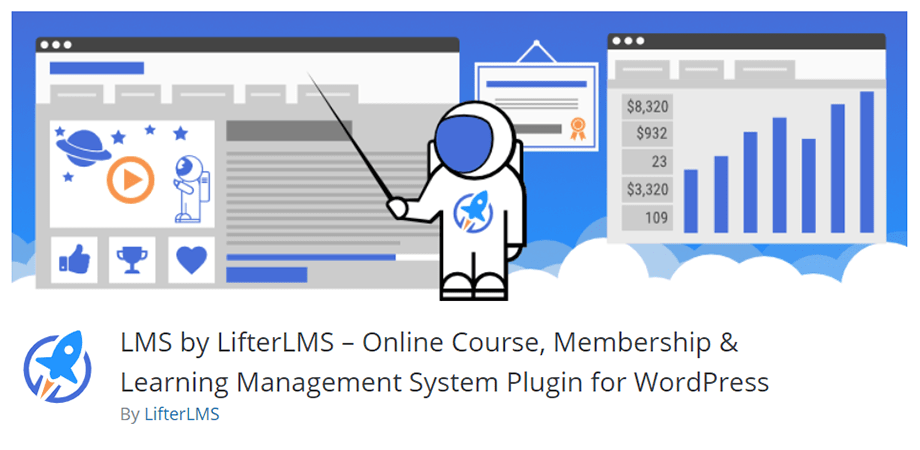 LifterLMS is a powerful LMS plugin for WordPress which simplifies the process of creating and selling courses on your WordPress LMS website. Useful extensions such as Stripe, PayPal, Authorize.net, MailChimp and more are available for you to expand its core functionalities.
There are features such as achievement badges, certificates, social learning, 1:1 private coaching, and more which focus on increasing engagement. Moreover, you can monetize your LMS platforms using different methods like memberships, course bundles, members-only pricing and other addons. You can spend $99 for individual addons by purchasing a bundle for $299. LifterLMS is the best LMS plugin for anyone who wants to create and sell an online membership course on their website.
Choosing from the List of the Best LMS Plugins
Before you begin looking for the best LMS plugin, your goal should be clearly defined. All the plugins mentioned here can help you create an LMS website. However, to choose one from the best LMS plugins, you need to compare your requirements with the plugin's features. Keep in mind that your LMS website will need to scale in the future. A clear list defining your present and future requirements will best assist you in choosing the right plugin.