5 Easy Steps to Build a Multivendor Food Ordering Website in 2023
Your restaurant is going very well these days. Your sales are higher than ever before. But you want to do something with your current experience in the restaurant business. 'So, what can I do?', you might ask yourself.
Well, Here's an advice. Follow these 5 easy steps to build a multivendor food ordering website. This will change your life (in a positive way) forever. On the other hand, If you have no experience in the restaurant business but want to start off with this idea then it's okay for you too.
Here are some stats to jiggle your mind a bit –
The number of users in the eCommerce market is expected to grow up to 5.26bn by 2027. 

Statista
In the US, e-commerce sales are anticipated to soar by a staggering 50%, from $907.9 billion in 2022 to $1.4 trillion in 2025.

Oberlo
Do you get it now? So, let's dive into the details.
The Best Definition of a Multivendor Website
I'm pretty sure you've gone to super shops, marketplaces, or shopping malls at least once in your life. In those places, you've seen plenty of products from plenty of brands, right? In general, those are called multivendor marketplaces.
A multivendor website is a kind of platform for different businesses to sell their products. It can have all sorts of products there is or based on a single category or niche products.
In this case here, we will be creating a website where other restaurants can showcase their food items and customers can order those food items. This is what we can call a multivendor food ordering website or online food marketplace.
Benefits of a Multivendor Website
Since we are creating a platform for other restaurants to sell their products, there are lots of benefits to creating an online restaurant marketplace like this.
Massive Product Diversity
If you run a single restaurant, it will be very hard for you to bring in diverse food items because first of all, a chef who is good in cooking asian cousin will not always be good in cooking italian or french cousin.
There is also the matter of managing the raw materials costs. But with a multivendor restaurant marketplace, there can be multiple restaurants with multiple cultural backgrounds, thus, you can attract people from all cultures and backgrounds.
Scalable Business Model
Multivendor websites are more scalable than you can ever imagine. The potential this business has is unimaginable. Businesses like Amazon, Alibaba, Daraz, Foodpanda, Zomato, and Swiggy are basically multi-vendor marketplaces.
Now do you get how scalable these businesses are? You can start as a local marketplace and turn into a large MNC (Multi National Company)
Easy-to-Manage Financial Costs
Since everything is being done by the vendors, you have very little to manage. You don't have to think about how they advertise their product or how they could generate more sales.
You just have to think about how you can convince people to visit your website and convince them to buy something from your vendors which is comparatively easier than marketing separate products.
So as you can see, the cost is very low in the marketing sales area. The only cost you have to bear is the website maintenance cost, server cost, and if you get a white label mobile application further, then the maintenance cost of that one too.
The aggregate of the total cost will be lower than you think.
Vendors Bring in Traffic
Bringing in traffic won't be your first concern anymore because the vendors will do that job for you anyways. The more vendors you can gather, the more traffic will come as well.
The vendors themselves will do as much as they can to bring in more traffic because more traffic equals more sales.
Easy Inventory Management
If you look at the operations tasks of any of the popular multi-vendor marketplaces, you will see that the inventory management is comparatively easy. Because those inventories will be taken care of by your vendors.
Requirements for Creating a Multivendor Food Ordering Marketplace in WordPress
Since we will be building a Multivendor food ordering website for WordPress, we will be needing some Plugins. Our recommended plugins and addons are –
1. WPCafe
WPCafe is a WordPress plugin for creating restaurant menus, online ordering through WooCommerce, Pickup/Delivery module, and table reservation. It's basically the full solution to your restaurant business. 
WPCafe offers some of the coolest and most useful features in the market currently. The notable ones are –
Visual Table Reservation
QR Code for Ordering Food
Advanced Search & Filtering Option
Live Order Notification
Advanced Pickup & Delivery Module
Multivendor Support
Ability to Add Product Addons
Plenty of Shortcodes
Loads of Integration
And Many More
This is the perfect plugin for you to start with for your first WooCommerce based multivendor food ordering website.
2. Dokan
Dokan is the best WooCommerce Multivendor Marketplace solution you will ever find. The plugin is packed with features that are very easy to use and very beginner friendly. 
3. WPCafe Multivendor Addon for Dokan
In order to create a multivendor restaurant marketplace with WPCafe and Dokan, you will need to have the WPCafe Multivendor Addon for Dokan. This will make your overall operations easier.
4. WooCommerce
Last but not the least, you will need WooCommerce. This is obvious! In order to run a store or a marketplace in WordPress, there is no alternative to WooCommerce. It is the most popular e-commerce solution in the world. 
Step-by-Step Process of Building a Multivendor Food Ordering Website
You can create your first multivendor food ordering website in just 5 easy steps and everything will be set up for you. The steps are –
1. Installing the Required Plugins
The first and foremost thing to do is to install all of the plugins that are mentioned above. I have already explained what each of these plugins are and why you will need them. All of them are extremely beginner friendly so don't worry much.
2. Setting Up WPCafe, Dokan, & WooCommerce
After you have installed all of those plugins, it's time for you to set them up. Setting up these wordpress plugins aren't very complicated but if you want guidelines you can definitely read out the documentation for WPCafe, Dokan, & WooCommerce. 
3. Setting Up The Multivendor Addon
Now that you've finished installing and setting up the plugins, now you have to set up the WPCafe Multivendor Addon for Dokan. The setup process is very easy. You can check out the documentation for that. 
4. Add Products & Vendors
Now comes the main part. You have to add your vendors and products. To add vendors, you have to go to Dokan→Vendors→Add New. After that, you have to provide all the necessary information and you'll be good to go.
In order to add products, you have to go to products→Add New. Then, just all the information that is required.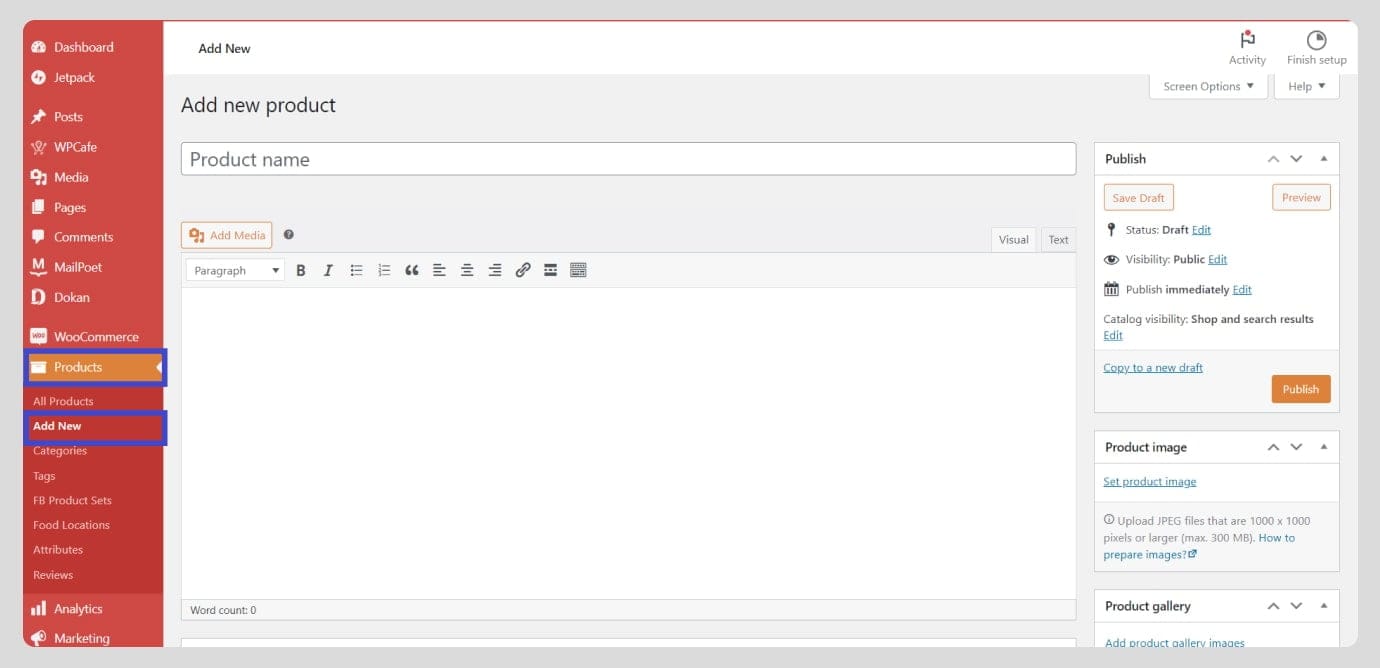 If you have any confusion, you can give Dokan and WPCafe documentation a read and everything will be clear as a day. 
Setup Payment Gateway
Well, if you have set up WooCommerce fully, you might have crossed this section. But if you haven't, then this is for you.
Go to the WooCommerce dashboard. If you haven't set up the payment system yet, a prompt will appear on the dashboard. You just have to answer the questions and insert the required information and everything will be set. 
Best Practices for Building a Multivendor Food Ordering Website
A multivendor business can be a major cash cow but there are some things you need to keep in mind before starting one.
Construct a Well Thought Out Plan
Managing a food marketplace that has multiple vendors in WooCommerce can be easy if you plan everything correctly. From commissions to bringing more sales to vendors, everything requires a plan.
Make Sure The Website is Attractive
You can expect new customers and vendors if your website looks like a wikipedia page from the early 2000s, right? Create a website that has a lucrative design. If you think that that's too much for you to handle, you can always look for multivendor restaurant themes. 
Build Good Relationship with Vendors
You can only grow your multivendor food ordering website if you build a strong connection with your vendors and let the word of mouth do your marketing on a B2B level. Because the more vendors you get, the more traffic you'll earn, and slowly the more earnings you will have.
Final Verdict
To sum things up, you can start your own multivendor food ordering marketplace by following the above mentioned five steps and all of them are very easy to follow even for a beginner. So, we wish you all the best!