5 Best WordPress Restaurant Reservation Plugins For You in 2022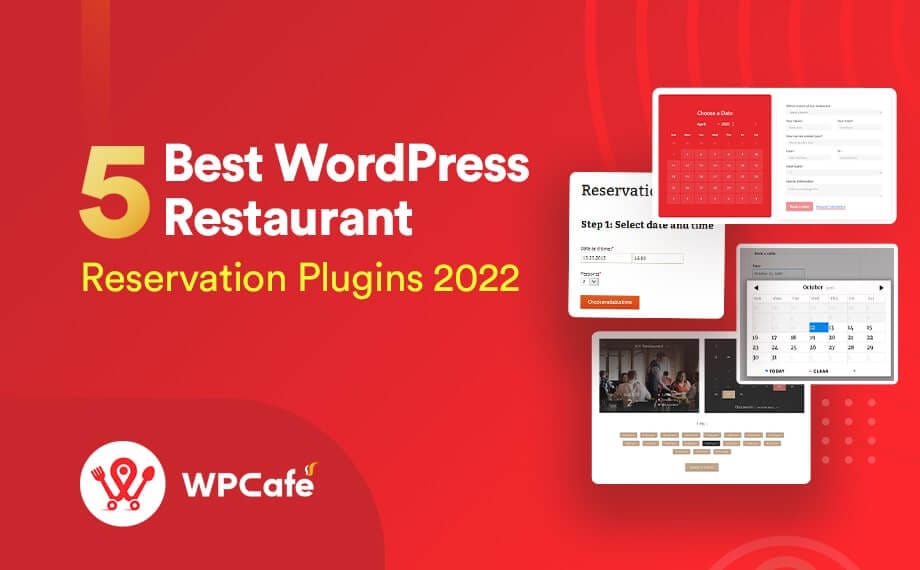 Gone are the days of manually managing reservations. You can now integrate great reservation systems for your site with WordPress restaurant reservation plugins. Customers are always looking for the best experience. A great reservation system can give them just that.

Managing reservations is a time-consuming process. The restaurant business is quite competitive. Automating this process can help you save time and focus on what's important.

To make your lives easier, here are 5 popular WordPress restaurant reservation plugins. Each plugin is unique and can help you create a fantastic reservation system for your restaurant.
Why Do You Need A Restaurant Reservation Plugin?
WordPress makes it so much easier to create and manage a restaurant website. What makes it better are plugins that can automate processes like restaurant reservations. A reservation plugin can speed up this process by letting customers place reservations online.
Generally, all reservation plugins will give you that feature. But if you want customization options, then you should investigate each feature before choosing one. The following list summarizes the key benefits of having an online restaurant reservation management system.
Greater convenience for customers
Manage floor plans better
Customers can add reservation notes
Collect customer information
Optimize staff
Better management of cancellations and no shows
WordPress Restaurant Reservation Plugin Feature Comparison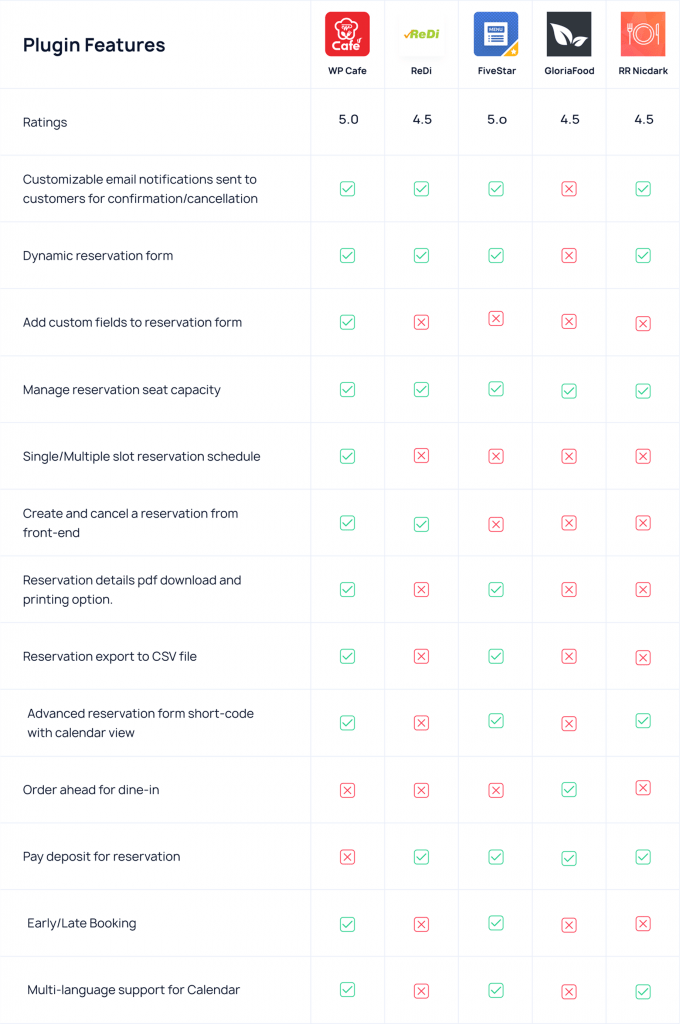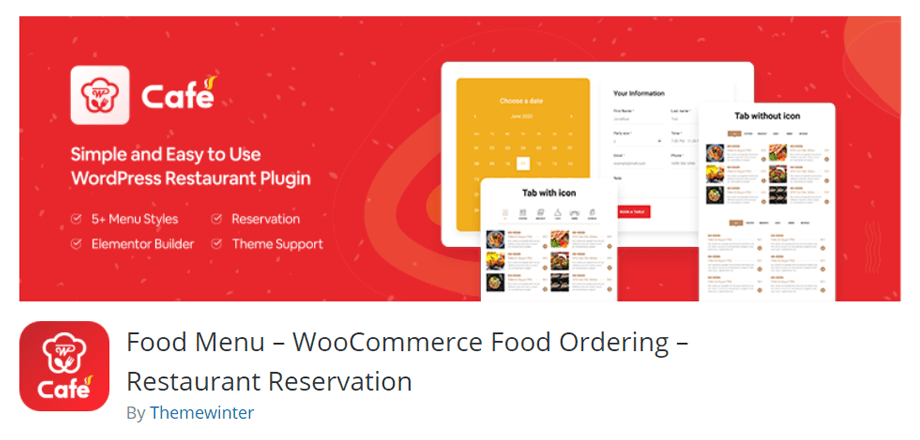 WP Cafe by Themewinter provides an excellent restaurant reservation management system. This all-in-one WordPress restaurant reservation plugin is packed with great features. It offers two types of reservation schedules: single slot and multiple slots. You can set one schedule for each day of the week at different timings. For each day, you can even set multiple schedules by choosing different timings based on your needs. This feature gives you all the options you need to schedule reservations for your restaurant. You can also get multivendor support with WPCafe and Dokan Addon.
This plugin lets you maintain the seating capacity too. You can manage pending or confirmed requests straight from the dashboard. The dynamic reservation form lets you add extra fields. There is also an email notification system which makes it easier to track reservations. You can compare the food menu features of WPCafe with other plugins to see exactly how powerful this plugin is.

Some key features of this WordPress restaurant reservation plugin are:
Restaurant open and closing scheduling widget
Day-wise restaurant opening/closing schedule (Single-slot/Multi-slot)
Special day booking system
Show reservation list on admin dashboard
Reservation forms can be placed on pages, posts, and widgets
Early-booking / Late-booking system
Customizable e-mail notifications can be sent to customers to provide confirmation or cancellation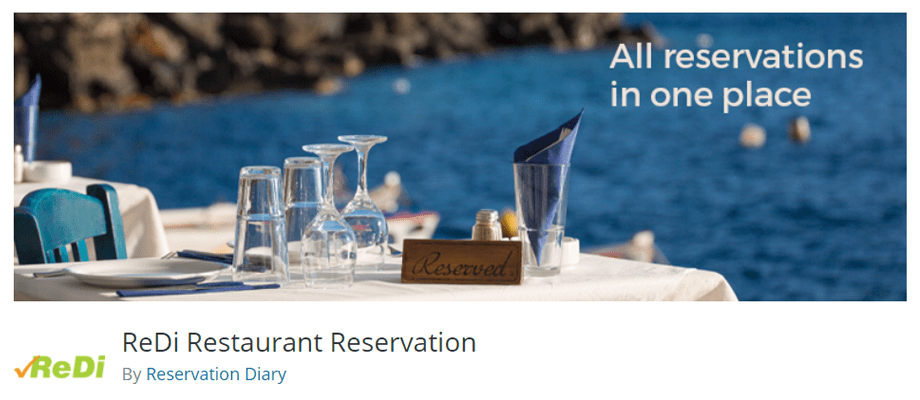 ReDi Restaurant Reservation by Reservation Diary is another popular WordPress plugin to manage your reservations. It comes with a lot of customization features. You can edit your calendar, reservation form fields, display messages and much more. It lets you create custom fields for your reservation forms. You can also set restrictions on the seating capacity.
ReDi also lets you manage reservations easily from a mobile device with its responsive layout. Your staff can conveniently check reservations on a tab without disrupting service. Bookings can be automatically blocked for specific days. You can even create personal notes, schedule modifications and send & receive confirmation messages to customers when changes are made.

Few of the key features are:
View upcoming reservations from Mobile/Tablet PC
Page refreshes every 15 minutes to show previous and upcoming reservations.
Setup maximum available seats for online reservation by weekday
Quick automated response to your client
Set time for not accepting reservations and add a note to explain why.
Support for multiple places based on the number of subscriptions.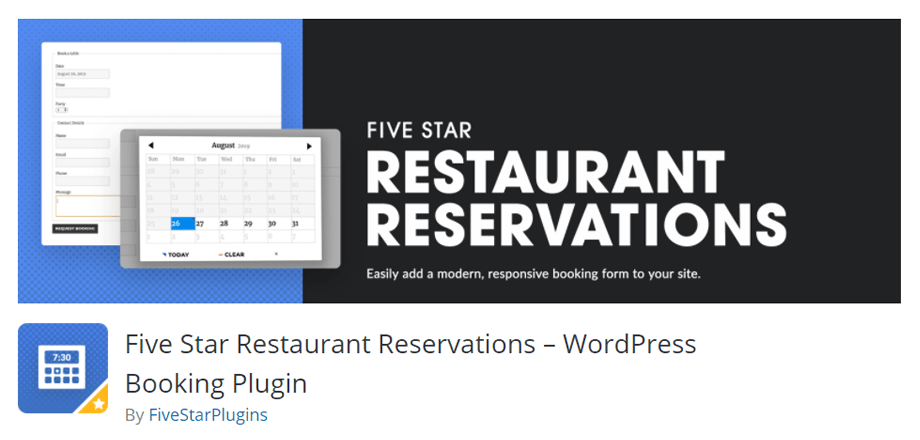 Five Star Restaurant Reservations by FiveStarPlugins is a great WordPress reservation plugin for your restaurant. It comes with multiple templates for reservation forms for you to choose from. You can add customized reservation forms with Gutenberg blocks or shortcodes to your post or page. This plugin will also let you add and edit bookings directly from the admin panel.
You can use this plugin to ban abusive customers who do not show up. Additionally, you can set restrictions on reservations, minimum and maximum party sizes. The premium version of this plugin supports MailChimp and provides custom email templates and designs.

Few of the key features are:
Specific restaurant schedule by defining the times and dates available for reservation
Add exceptions to your schedule (e.g. for holidays and special events)
Automatically block bookings when you're closed, including holidays and one-off openings
Ban abusive customers to save money on no-shows
Export bookings by printing bookings as PDF or export them to an Excel/CSV file
Booking deposits either per guest or per reservation to help prevent no-shows.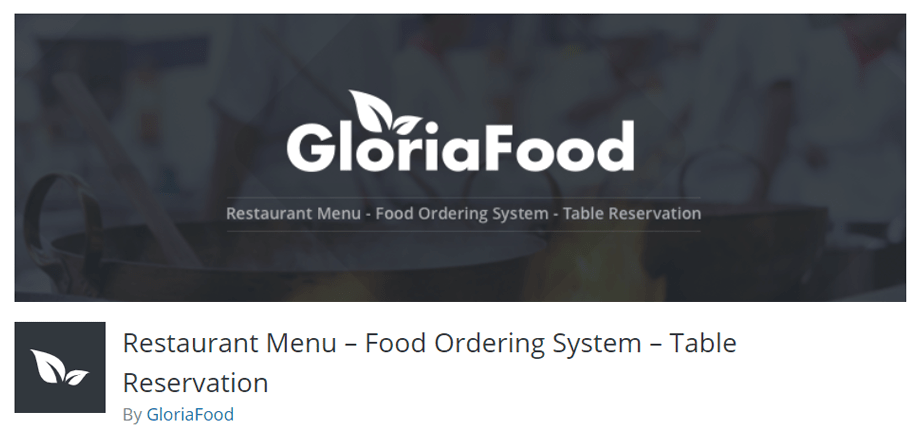 GloriaFood's plugin is a complete solution for restaurant owners. It provides a restaurant menu, food ordering and a brilliant reservation system. This WordPress restaurant reservation plugin is simple and convenient. You can set up your reservation form with unlimited table reservations to overcome no-show scenarios.
This WordPress restaurant reservation plugin also offers pre-order for customers. Customers can book a table and order their food. This will lower waiting time and allow your restaurant to host more customers. You can build your customer database and send out promos too. Email notifications are also available in this WordPress restaurant reservation plugin.

Few key features of this restaurant plugin are:
Order ahead before arriving at the restaurant for dine-in
Unlimited table reservations to overcome no-show scenarios
Receive and confirm table reservations from the restaurant app (Android / iOS)
Simple restaurant reservation form
Online order for food delivery/takeaway
Customize an online restaurant food menu for any type of cuisine.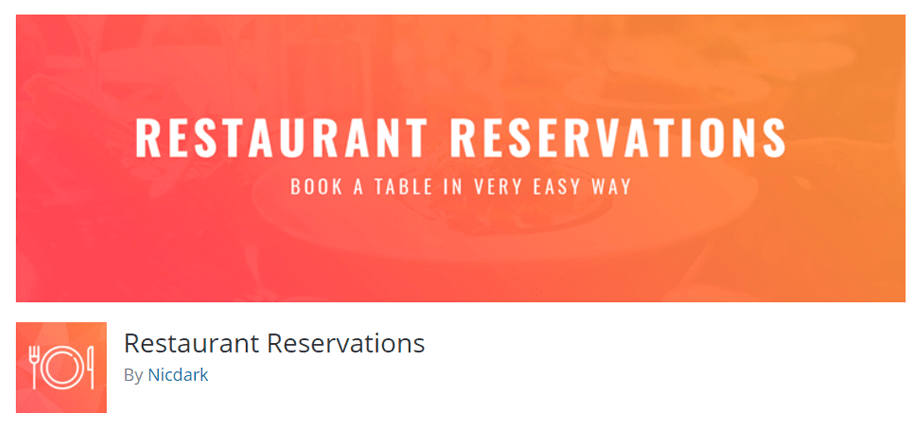 Restaurant Reservations by NicDark is a powerful WordPress restaurant reservation plugin. It has beautiful templates to choose from. This WordPress plugin lets you create reservation forms with a deposit option. Customers can guarantee table reservations by making a deposit during reservations.
Time scheduling and order management are also possible with this plugin. You can set up exceptions to define your special closure. The calendar view makes it easy to check reservations at a glance. This plugin is also compatible with WooCommerce, Mail Chimp, Yoast SEO, and many more.

Some key features of this WordPress plugin are:
Time schedule to manage and add schedules for reservations
Order management to add, edit, delete customer orders.
Gutenberg page builder
Multiple payment methods
Compatible with WooCommerce, Mail Chimp, WPML, Yoast SEO, GDPR
Is There One Plugin That Fits Your Needs?
Restaurant reservation is really important if you want to serve more customers. You need to make sure that the process is as simplified as possible. Although each plugin offers great features, it will probably be difficult to select one plugin that fits your needs. We have simplified the process for you by highlighting the reasons to choose each plugin.
Which Restaurant Reservation Plugin is Best for You?
Managing restaurant reservations online can save a lot of time. A great reservation system can also optimize seating layouts to save costs. WP Cafe offers a complete solution for a restaurant business. It has all the necessary features to make a great reservation management system. You should also keep in mind the key elements when designing your restaurant website as well the steps to designing the perfect food menu. 
You will also get a restaurant menu and food ordering system with WP Cafe. This makes it a great choice for any restaurant owner to create their own online restaurant website. Moreover, compatibility with Elementor will make designing a restaurant website super simple. Learn more about the features of WP Cafe to know if this fits your needs.