7 Best WordPress Event Plugins You Need in 2022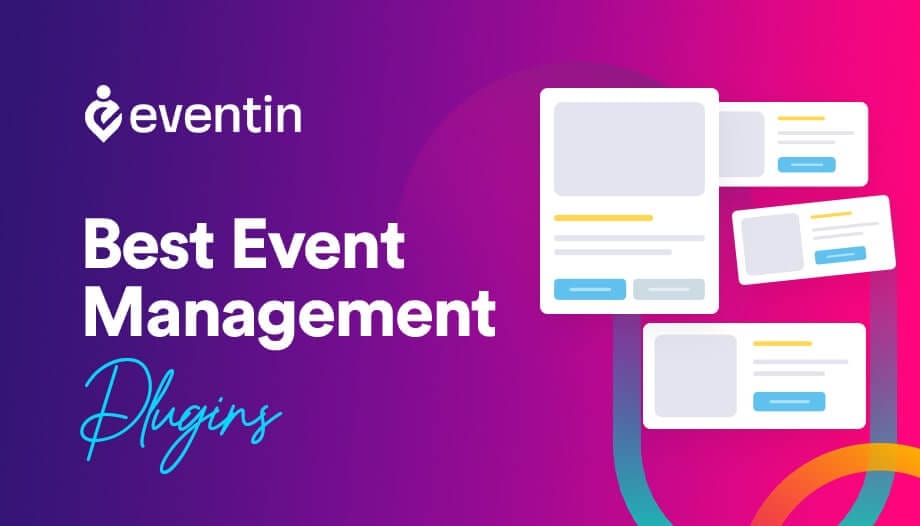 Managing events have become so much easier than before thanks to the growth of WordPress event management plugins. Popular WordPress event management plugins are available to save time managing events. Everything from creating, sharing and selling tickets can be done using them on your WordPress site.
Each plugin is designed to help you setup your event in seconds. However, you need to find out about the benefits of each WordPress event management plugin to find the best one for you.

Here is a list of 7 promising WordPress event management plugins that can help you get started.
WordPress Event Management Plugin Feature Comparison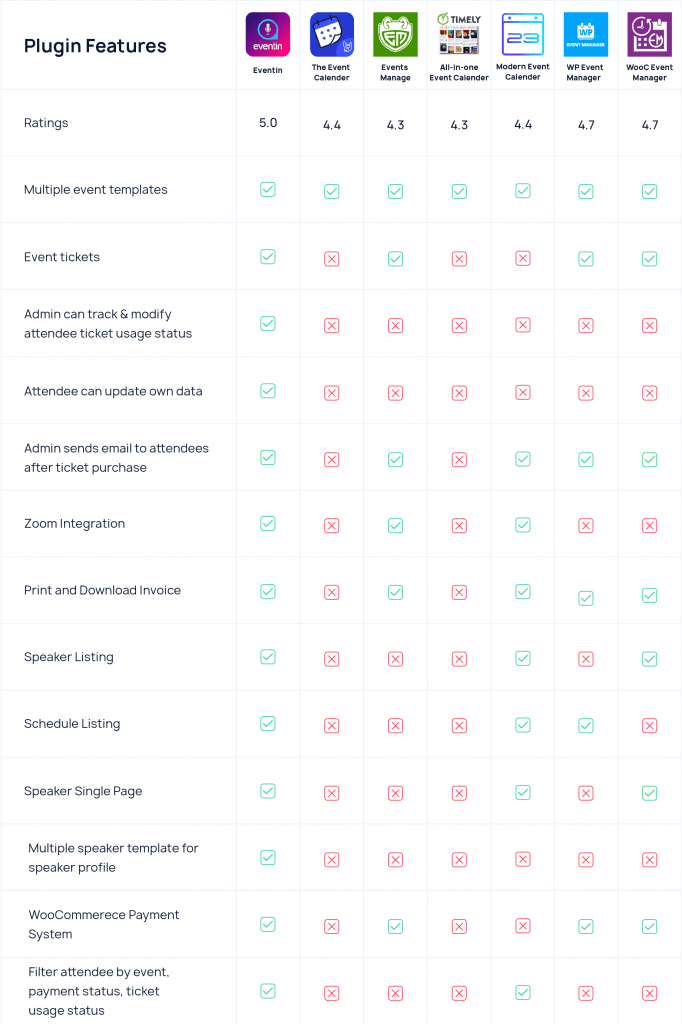 WPEventin by Themewinter is one of the best WordPress event management plugins available. It is compatible with WooCommerce, Elementor, Elementskit and Metform making it the perfect event management plugin for all events. You have full flexibility over customizing event details, registration forms and email. Multiple templates also make it easy to get started.
Eventin lets you create speaker profile pages which is perfect for highlighting important individuals for conferences. Zoom is also integrated with this plugin so you can arrange zoom meetings directly from your dashboard. You can also send email notifications to your attendees. Attendees can buy tickets using WooCommerce payment system and you can view or export attendee lists too. There are also 18+ widgets to give your site users a premium experience.

Few key features:
Admin can track & modify attendee ticket usage status
Attendee can update own data
Zoom Integration
Speaker & Schedule Listing
Speaker Single Page
Multiple speaker template for speaker profile
WooCommerece Payment System
Filter attendee by event, payment status, ticket usage status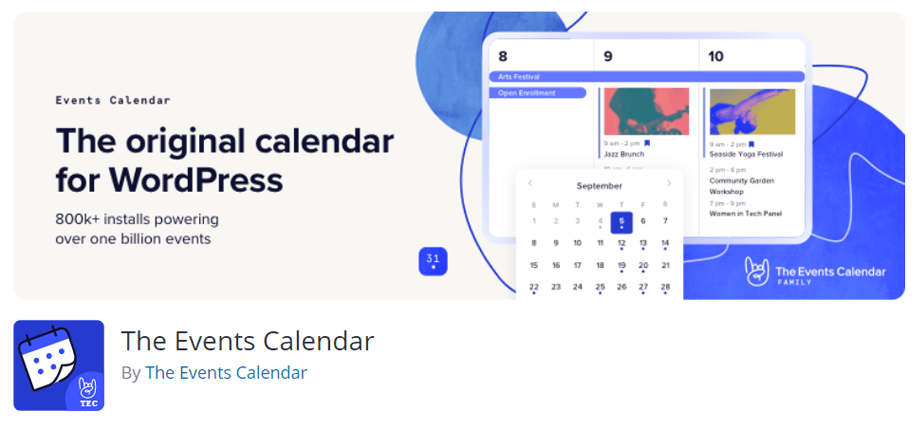 The Events Calendar is a popular calendar plugin for its ability to integrate with all kinds of themes. Conference, online class and movie themes are among the favorite themes to use this WordPress plugin with. It has also been tested on major theme frameworks such as Avada, Divi, Enfold, Genesis and more.
This event planner plugin has several great layouts for calendars. It has Google Calendar and iCal exporting features as well. This WordPress plugin can also be integrated with Eventbrite. Many addons such as Event Tickets, Virtual Events, Community Events and more are available to turn this into a complete event planner for you. You need to use these addons if you want a complete event management experience.

Few key features:
Google Calendar and iCal exporting
Multiple stylesheets to improve integration
Widget: Upcoming events list
Tested on the major theme frameworks such as Avada, Divi, Enfold, Genesis, and many more.
Internationalized & translated
Completely Ajaxified for super smooth browsing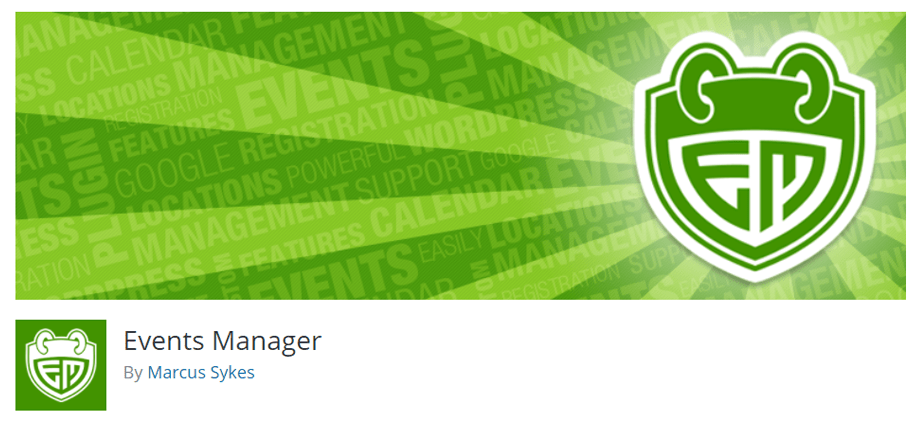 Events Manager by Marcus Sykes makes it simple to create and share events. This powerful WordPress plugin makes it easy to register for single-day or multiple-day event registrations. You can add, edit or remove events straight from the dashboard. There are options to add custom attributes such as dress codes to your events.
This WordPress event management plugin provides a button to add events to Google Calendar. Google Maps integration and widgets for events, locations and calendars makes this event planner plugin friendly to use. You can also create events in different time zones because it offers timezone support.

Few key features:
Recurring and long (multi-day) event registration
Bookings Management (including approval/rejections, export CSV)
Assign event locations and view events by location
Create custom event attributes (e.g. dress code)
Multiple Location Types with Zoom Webinars/Meetings Integration
Widgets for Events, Locations and Calendars
Timezone Support – create events in different timezones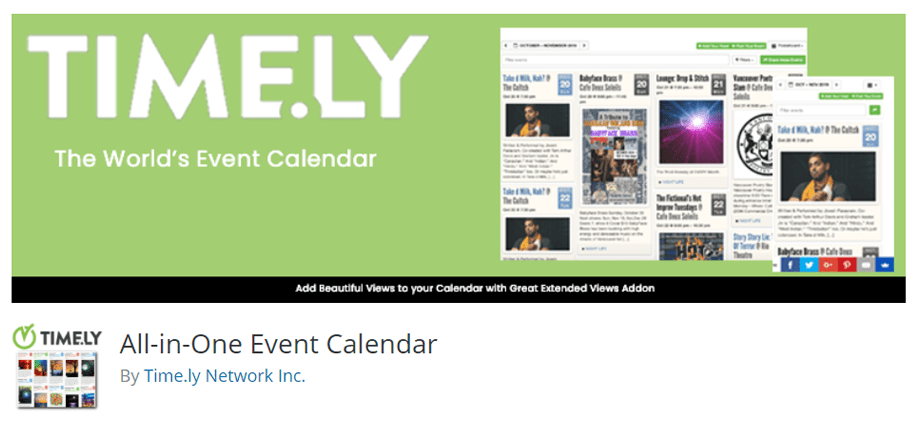 All-in-One Event Calendar has enough features for you to start your journey as an event planner. This WordPress calendar plugin can help you create recurring events and filter events by category or tags. You can easily share these events with Google Calendar, Apple iCal, MS Outlook and other systems using iCalendar feeds.
Enough options for themes are available for you to customize your calendar. It provides an inline Calendar Theme editor to make it easier for you to change calendar design. This WordPress plugin also makes it simple to embed your calendar into WordPress pages without creating template files or modifying themes.

Few key features:
Recurring events including complex patterns.
Easy sharing with Google Calendar, Apple iCal, MS Outlook and any other system that accepts iCalendar (.ics) feeds.
Filtering by event category or tag.
Day, Week, Month, Agenda, Posterboard view
Theme options to customize calendar appearance.
Categorize and tag imported calendar feeds automatically.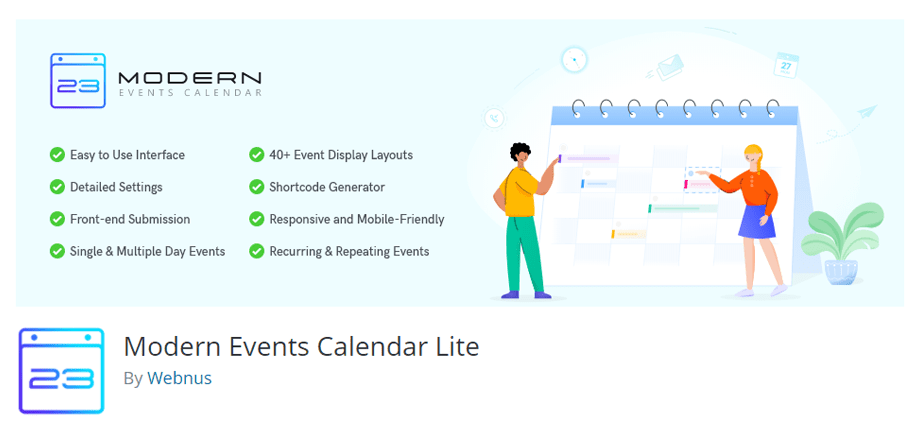 Modern Events Calendar by Webnus is a WordPress event management plugin that holds true to its name. It offers high quality and professional-looking event management layout. A variety of designs are available to choose from making it a great WordPress plugin for branding your events. It also lets you import your events from a number of different event management plugins if you're not satisfied with the one you are using.
A long list of features and integrations are available for this plugin for you to create a user-friendly site. Front-end event submission, WooCommerce payment system, Mailchimp subscription are just a few. There are many customization features too for creating your perfect event calendar.

Few key features:
Single and Multiple Day Events
Front-end Event Submission
Google calendar integration
Different hours for custom days repeat
Customizable Notifications Emails
Export filtered events into CSV, MS Excel, JSON and XML formats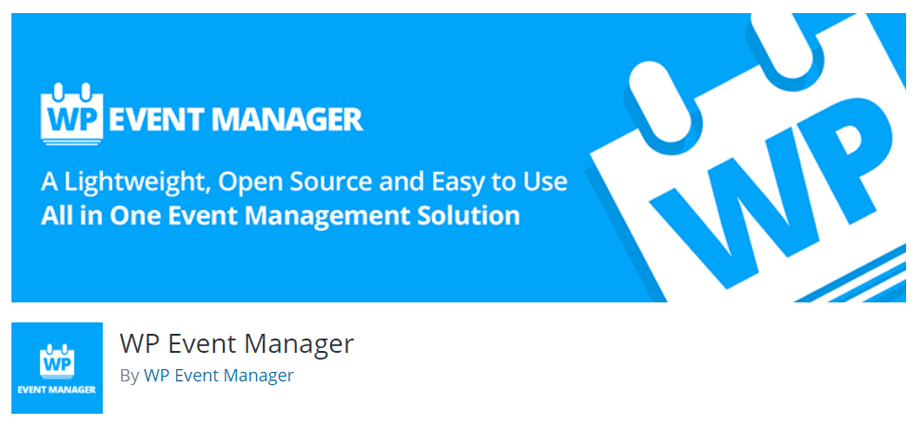 WP Event Manager by WP Event Manager offers a great experience for users to create and manage events. This responsive WordPress plugin is compatible with all browsers. It also comes with complete AJAX support for smooth browsing. You can create listings for your events and categorize them to easily search and filter events.
Plenty of templates and features make it a great plugin for event management. Frontend forms make it easy for guests and registered users to sign up for events. RSS feeds and links matches attended to new upcoming events. Developer-friendly code and debug mode will allow you to customize your posts to design your ideal event. You need to buy Pro addons to fully utilize all of its functionalities.

Few key features:
Frontend forms for guests and registered users to submit & manage event listings.
Custom event fields (e.g. dress code)
Multilingual Translation – Internationalized Supported
Searches display RSS links to alert attendees on new events matching their search.
Searchable & filterable ajax powered event listings added to pages via shortcodes.
Widgets for Recents, Upcoming, Featured Events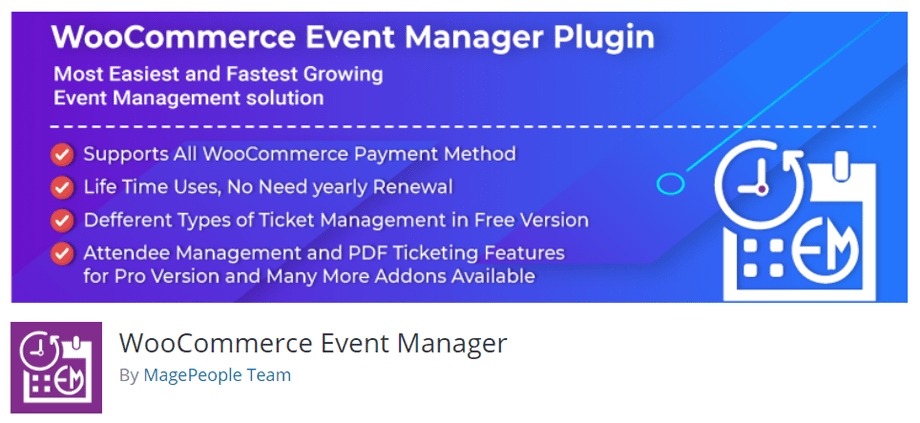 WooCommerce Event Manager is another great WordPress event management plugin. This plugin is perfect if you are using WooCommerce to create your site. You can use WooCommerce payment gateways to let your visitors pay for tickets. It also lets you sell products and events separately.
Shortcodes are available for you to customize your events and showing it on other web pages. Multiple templates and their compatibility with standard WordPress Theme gives enough flexibility in design. Many addons are also available with this plugin to improve your event management experience.

Key features:
Support All Payment Method available in WooCommerce.
Multilingual Translation Support
Manage Event Ticket Type, Quantity, Prices, Category & Organizer.
Event Extra Service with Price & Quantity Management.
Show Event Venue Using Google Map.
View Registered Attendee from WooCommerce Order Details.
Automatic Email Confirmation Message and Pdf Tickets Mailing Features
How Do You Decide on Which Plugin is Best for You?
When you are busy managing events, you really don't have much time to spend looking for plugins to design your site. We made it easier for you to choose the best plugin that suits your needs. If you are not sure yet, then go through this summarized list of reasons for picking each plugin.
Choosing the Right WordPress Event Management Plugin
Finding the right time and place for your event is difficult. The process of arranging a meeting and inviting guests takes away a lot of time. With these plugins, you can focus more on making your event a success and less on managing your event. You can take advantage of the WordPress Elementor page builder to design an event website. Similarly, you can look up Gutenberg plugins to design your pages with Gutenberg blocks for posts.
A great WordPress event management plugin can help you create attractive events and promote them to your audience. Remember to choose a plugin with great design and user-friendly interfaces to give your users a premium experience.