Beginner's Guide for Checking Website Traffic Statistics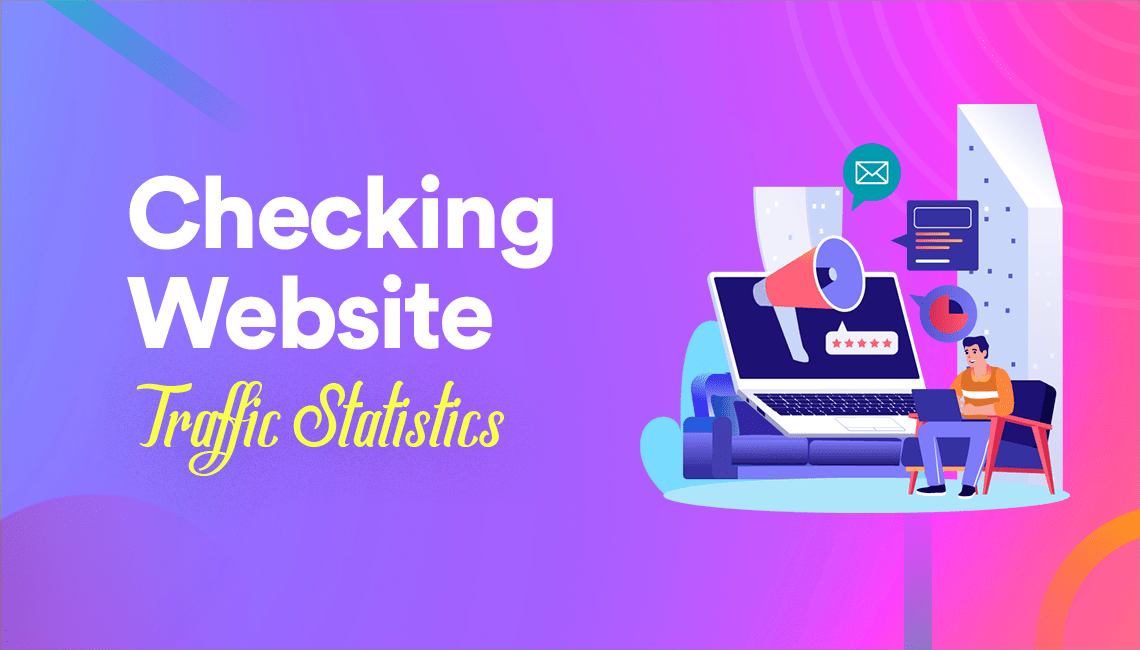 Billions of websites are available on the internet and staying relevant means everything. If you are wondering how your website is performing among them, then you should check your website traffic statistics. Just like a newspaper, your website might go obsolete if you fail to keep up with recent events that attract visitors to your website.
Before checking your website traffic statistics, you should understand what it is and how you can use it. Although the metrics remain the same, tools for checking website traffic statistics have evolved over the years. To make your life easier, we have summarized the key elements of website traffic statistics. You will also find a list of popular tools to help you get started.
What is Website Traffic Statistics?
Website traffic statistics is the data related to the number of web users who visit a website. Web traffic is measured in visits which are referred to as sessions. It is a common metric to measure online business effectiveness at attracting an audience.
Website traffic statistics generally include information regarding the number of visitors, the time they spent, their actions, and much more. Your website traffic data will show you where your traffic is coming from, how visitors engage with your site, and what digital marketing strategies are working.
Reasons for Checking Website Traffic Statistics
Website traffic statistics can help you understand where your site currently stands and how you can improve it. If you have proper data, you can create a marketing funnel to grow your business. This is because each visitor to your website acts as an opportunity for your business to:
Make an impression
Generate qualified leads
Share your brand
Build relationships
Based on how visitors interact with your site, you can take advantage by finding strategies that work to convert visitors to customers. Moreover, you can build relationships with these visitors that will ultimately help you sell your product or service. Successfully converting visitors to clients will help you create a loyal customer base that you can use to try out new products or features.
The bottom line is that the more visitors you have, the more chances you will get to make money. 💰
Key Metrics To Check for Your Website
Before looking up your website traffic statistics, you need to understand what it means. You can get all kinds of information from website traffic statistics tools. This can get confusing if you are just starting off. We created a list of all the important metrics you should pay attention to.
Sessions – Number of website visits over a selected period of time.
Pages/Session – Average number of pages a person views in a given session.
Avg. Session Duration – The duration of one session is calculated as the average number.
Organic Traffic – Any traffic that comes to your site from a search engine like google, bing, yahooo etc.
Paid Traffic – Web traffic that comes from paid promotions or advertisements, such as Google Ads or Facebook Ads.
Users – Number of unique users that visited the website for a selected period of time.
Bounce rate – The percentage of users who leave the website within less than 15 seconds after visiting it. High bounce rates show that the web resource doesn't satisfy the needs of visitors and they have landed there accidentally.
Channels – A traffic channel is an advertising channel or a source the potential target client comes to your web page from.
Devices – Segmenting users by device type (PC, tablet, smartphone).
Average Position – The keyword/content position of the website in search results.
Click-Through Rate (CTR) – The ratio of impressions to the number of clicks on your page in search results. The better CTR you have, the more effective your website promotion strategy is.
Backlinks – Links from one website to a page on another website.
Clicks – Visitor's interaction with different elements on your website pages.
Scroll map – This information allows analyzing the scroll depth on your website.
Domain Authority – Domain Authority is a search engine ranking score developed by Moz
Organic Keywords – Keywords used to attract free traffic through search engine optimization (SEO).
Popular Tools to Check Website Traffic Statistics
The high demand for website analytics has introduced a number of tools for you to choose from. Each of these tools can get the job done. However, depending on your goals and requirements, some may be preferable over others. We have selected a range of popular tools and highlighted the methods for getting the best results from these tools.
Google Search Console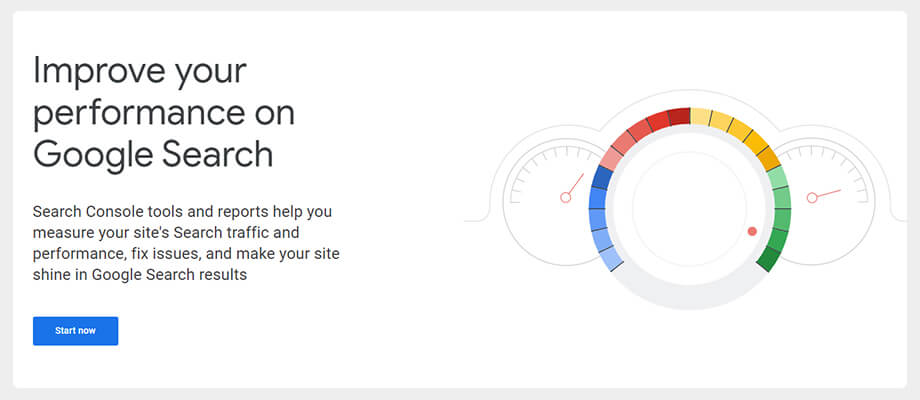 If you want a free tool, then you can choose Google Search Console. You will get a complete overview of exactly how your site is viewed by search engines. You can check the number of impressions, clicks, click-through rate (CTR), and the average position of your keywords in the search engines.
This helps you understand what keywords you're ranking for and the search volume they're bringing in. This information is crucial in improving traffic. You can check which keywords are falling behind and optimize the content which has those keywords to bring it up again.
Additionally, you can also see which pages are indexed. When you add your site to Google Search Console, you can start viewing your website data. The simplest way is to connect your Google Search Console account with All in One SEO. Moving forward, you will have advanced features like checking page performance, indexed URL, and so on.
The best part about this is Google Analytics. All of the information collected from Google Search Console can be viewed from Google Analytics. This provides you more options to visualize your website traffic data. Based on these visualizations, you can find trends that can help you make better decisions for your website.
Ahrefs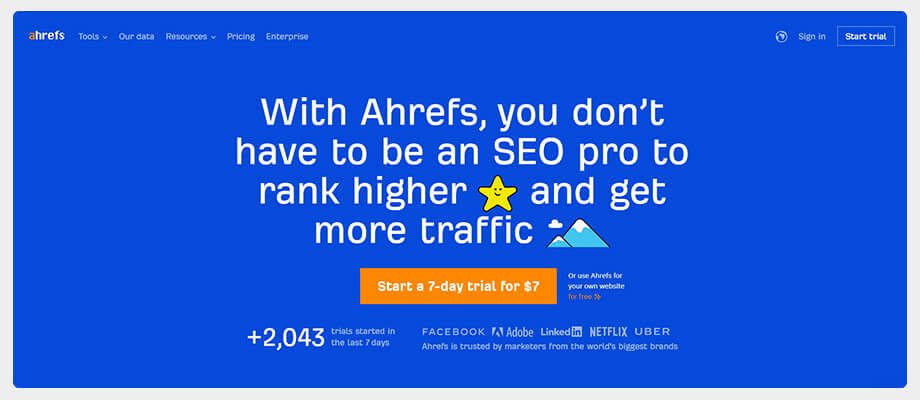 Ahrefs is a popular SEO tool that lets you track your website traffic statistics. It has a simple and user-friendly interface that can help you get started. All you have to do is enter the website URL in the search field and the tool will pull all available website information.
You will get a search overview report where you can check the organic search traffic a site receives, the domain authority, biggest competitors, and much more. There is also an option to filter your website traffic statistics and view only the last 30 days, the year, or all time.
Even though there's a ton of data present, it's easy to filter and find the website metrics you're looking for. Keep in mind that the traffic data only shows organic search data and not other sources like social media.
Ubersuggest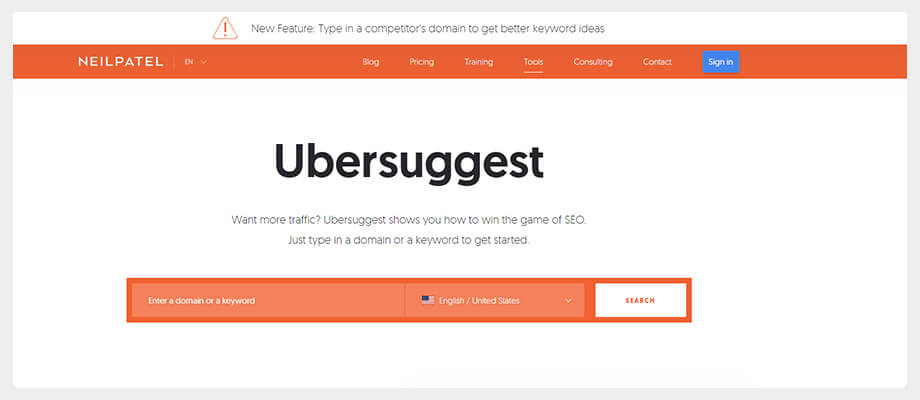 Another free and premium tools are Ubersuggest by Neil Patel where you can find tons of useful website traffic statistics. The interface is straightforward to use and is built for beginners. If you are doing keyword research or traffic analysis for the first time in your life, then this tool makes it incredibly simple.
You will get a detailed breakdown of your competitor's traffic over time, the keywords bringing them the most traffic, and the most popular pages on the site. All you have to do is enter the website URL you want to analyze and click 'Search'.
The total number of organic keywords your site ranks for, organic monthly traffic, domain authority, and the total number of backlinks are available on The 'Traffic Overview' page. If you want more details, you can expand the 'Top Pages' results to get a breakdown of each published page on the site and the estimated amount of traffic it brings in every month.
The estimated number of backlinks, along with the number of Facebook and Pinterest shares are also available for you to see. You can use this information to get a general overview of what you'll have to do to outrank that page in -the SERPs. You can track keyword ranking and competitors from Ubersuggest. The free version will give you access to the last 3 months of data. Premium plans start at $29 per month, which makes them one of the cheapest tools on this list.
SEMRush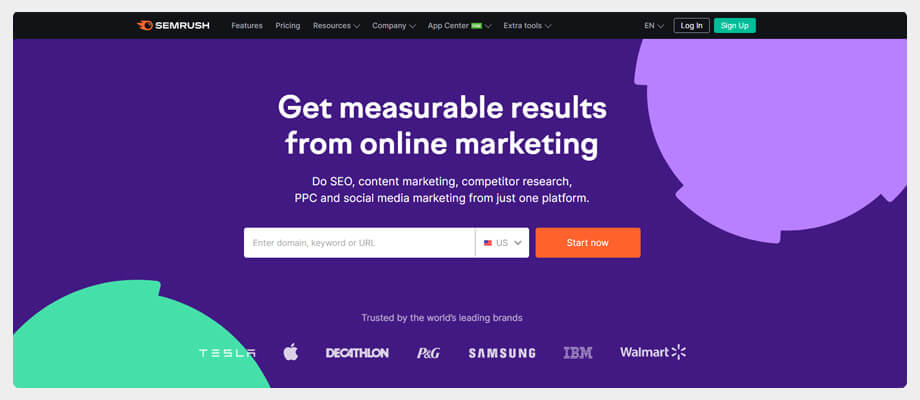 SEMRush is the perfect all-in-one traffic analysis that you need to check your website traffic statistics. It is one of the best tools for analyzing and monitoring traffic for any website. When you enter your website URL, you'll get a detailed breakdown of your total traffic.
You'll be able to see important website metrics like the following:
Volume of monthly traffic over time,
Traffic distribution by country
Keywords that bring the most traffic and more.
From the Traffic Analytics tab, you can check:
Number of unique visitors
Total visits
Average visit duration
Number of page views
Bounce rate the site receives.
Check the traffic analytics report where you will find information on which sites are sending the most referral traffic, which pages on their site are the most valuable, and which locations bring them the most traffic.
Serpstat

Serpstat began as a simple keyword research tool and quickly expanded to offer a wide range of different SEO tools making it an all-in-one website analysis tool. A lot of features have been packed into this tool but it is still very easy to use.
Simply visit Serpstat and enter your site URL. It will then generate a traffic report where you will find Just enter the URL and it will generate a traffic report. Along with traffic features, you will also find features for backlink analysis, site auditing, and rank tracking tools.
You can get all kinds of useful website traffic statistics such as organic and paid keywords, the average number of visitors per month, and the pages that get the most traffic. Other information will help you determine how your site is ranking, its traffic, and keyword performance over time.
SimilarWeb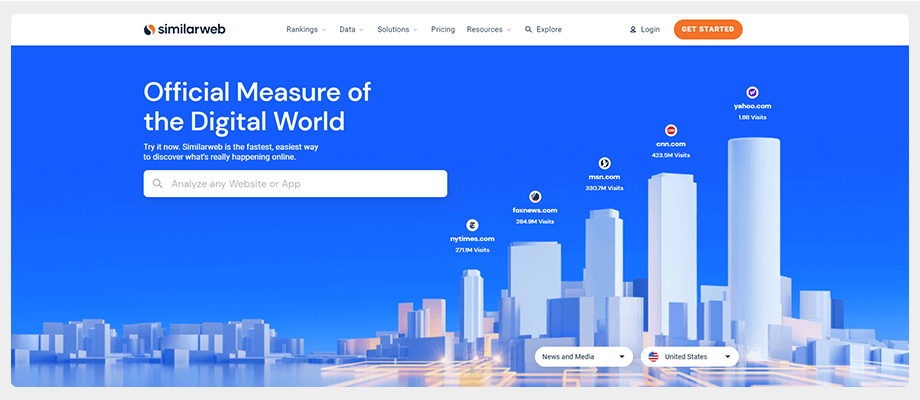 SimilarWeb is another great website traffic statistics tool that gives you an overview of your traffic as well as your competitor's traffic and which channels are the most valuable. You can get detailed reports on your competitor's website's entire traffic strategy and compare it with yours.
When you search your website using this tool, you'll get a breakdown of the overall traffic, including a country-by-country report. You can check engagement metrics like bounce rate, the number of pages viewed per visit, average visit duration, and the top traffic sources for that website.
Apart from organic search traffic, there are results for paid keywords that bring website traffic, social channels that are most valuable, and the networks that the site uses to monetize. You will also find a detailed breakdown of the site's audience, other sites they're interested in, the top referring sites, and a list of competitor sites for you to research further.
Use the free version to get useful traffic data or create an enterprise account with custom pricing for more detailed reports.
Finding the Right Tool to Check Your Website Traffic Statistics
If you are new to this field then it may be hard to decide on which tool is right for you. All of the tools mentioned in this guide can get the job done. However, your requirements may vary depending on your specific goals.
Pricing for Website Traffic Statistics Tools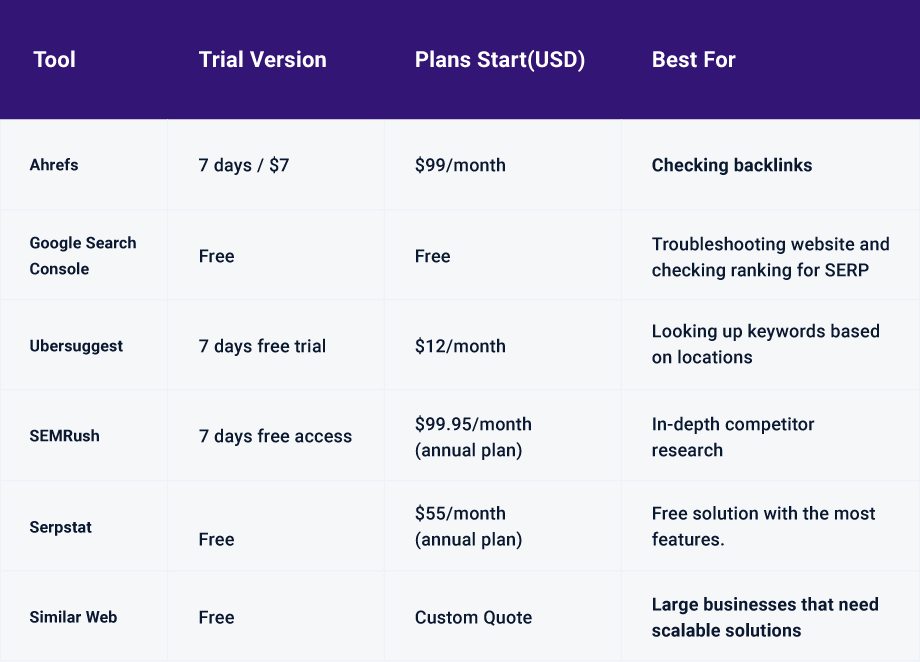 🔹 Google Search Console – This is best for troubleshooting your website errors and checking your page rankings in google search results.
🔹 Ahrefs – You will get the best backlink checking solution with Ahref's.
🔹 Ubersuggest – Make this your top choice if you want to look for keywords based on locations.
🔹 SEMRush – If you want in-depth competitor research and check traffic on any website then this is a top choice.
🔹 Serpstat – Get Serpstat if you are looking for a free solution that has enough features for you to get started.
🔹 SimilarWeb – If you need a scalable solution for large businesses then this is the best choice.
Grow Your Website Traffic the Right Way
Checking website traffic statistics is really important if you want your website to be found. There are all kinds of tools you can use to check your website traffic and competitor website traffic. Checking competitor traffic will give you insights into your market and what you can do to get more traffic. While, monitoring your own website traffic will show you if your SEO, social media, and other traffic generation strategies are working.
Your goal should be to perform in-depth analysis on your website as well as your competitor's website. From your findings, you can create a digital marketing strategy. These strategies can help you also if you perform affiliate marketing. It can help you not only improve your website but also compete with your competitors.