WP Eventin – Events Management Plugin Hits 4,000+ Active Installations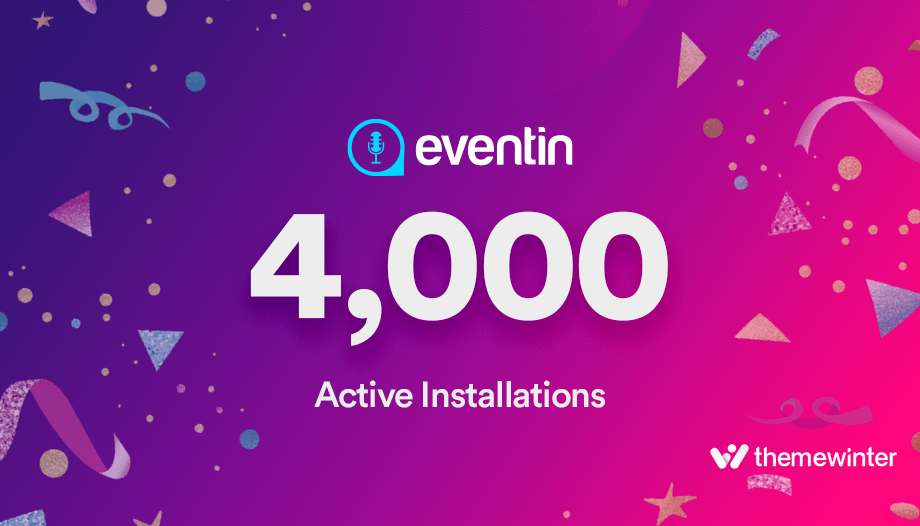 We are incredibly happy to share that WP Eventin hits 4,000+ active installations. It would have been impossible to achieve this amazing milestone without our users who chose the plugin. The Themewinter team is thankful for your constant support. In this happy moment, let's look back at the core feature that you love most.
WP Eventin – Best Events Manager & Event Tickets Plugin
WP Eventin – events management plugin lets anyone with zero coding knowledge build an event/conference website. In the early days, only professional developers could build. Now, let's have a look at WP Eventin's core features that lead you to love us.
Complete Event Management Solution
WP Eventin provides a complete event management solution from creating a speaker profile to the event landing page. You can add unlimited events, add speakers, zoom meetings and schedules. From the admin panel, you can get the report, ticket, registered attendee details and more.
Register Guests with Attendee Registration
Attendee registration is a process by which event participants can register for the event. You can get your event attendee information with the registration form. This feature is helpful for interacting with event attendees. Also, you can do future marketing with the data collected from the registration form.
Easily Manage Recurring Events
Themewinter is always committed to giving more than the other similar plugin does. This is why they keep the recurring event feature fully free on WP Eventin. You can create repeated events as recurring with a few clicks. You can update both child individual recurrence and parent event based on your needs.
Elementor Page Builder Widgets
If you use Elementor page builder for your site, still you should not be worried. WP Eventin offers you an Elementor widget. You can use it and create your event smoothly.
Seamless Payment Solutions
WP Eventin uses WooCommerce for handling payment-related issues. So, if you use WP EVentin, you can use any payment gateway supported by WooCommerce. From your next event, you can start selling tickets with WP Eventin.
You can check the list of the full features here. Also, we added the comparison table between WP Eventin Free and Pro versions here.
Our Customers Love Us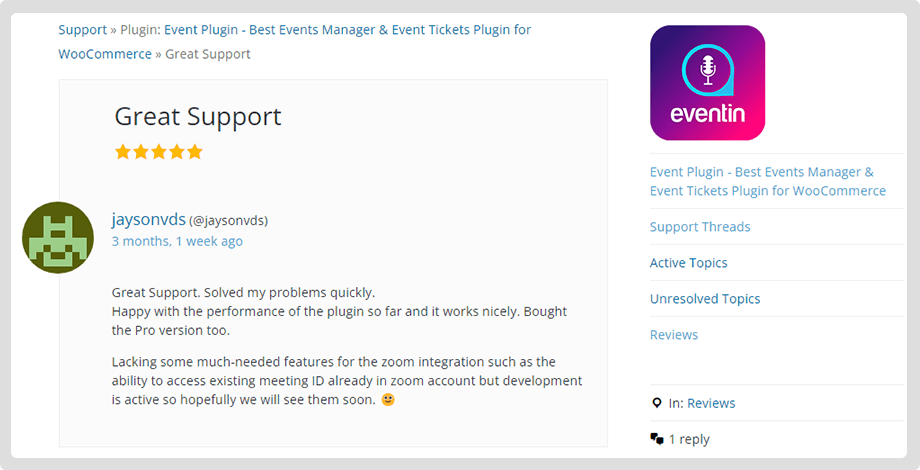 We are very lucky to create wonderful connections with our amazing customers. And we got unimaginable love and support from you. This reflects on our WordPress.org rating. So far we maintained a clean 5-star rating in the WordPress directory.
What Can You Expect Next?
The Themewinter team knows this is not the end, this is the starting of the journey. We are stepping forward to enrich the plugin with more functionality and features. Currently, we are working on the 'calendar module' by which you can use the calendar for better event management. Here is what we have in our plan. Thank you for loving us.