ShopEngine Review: Is it the most Complete WooCommerce Builder for Elementor?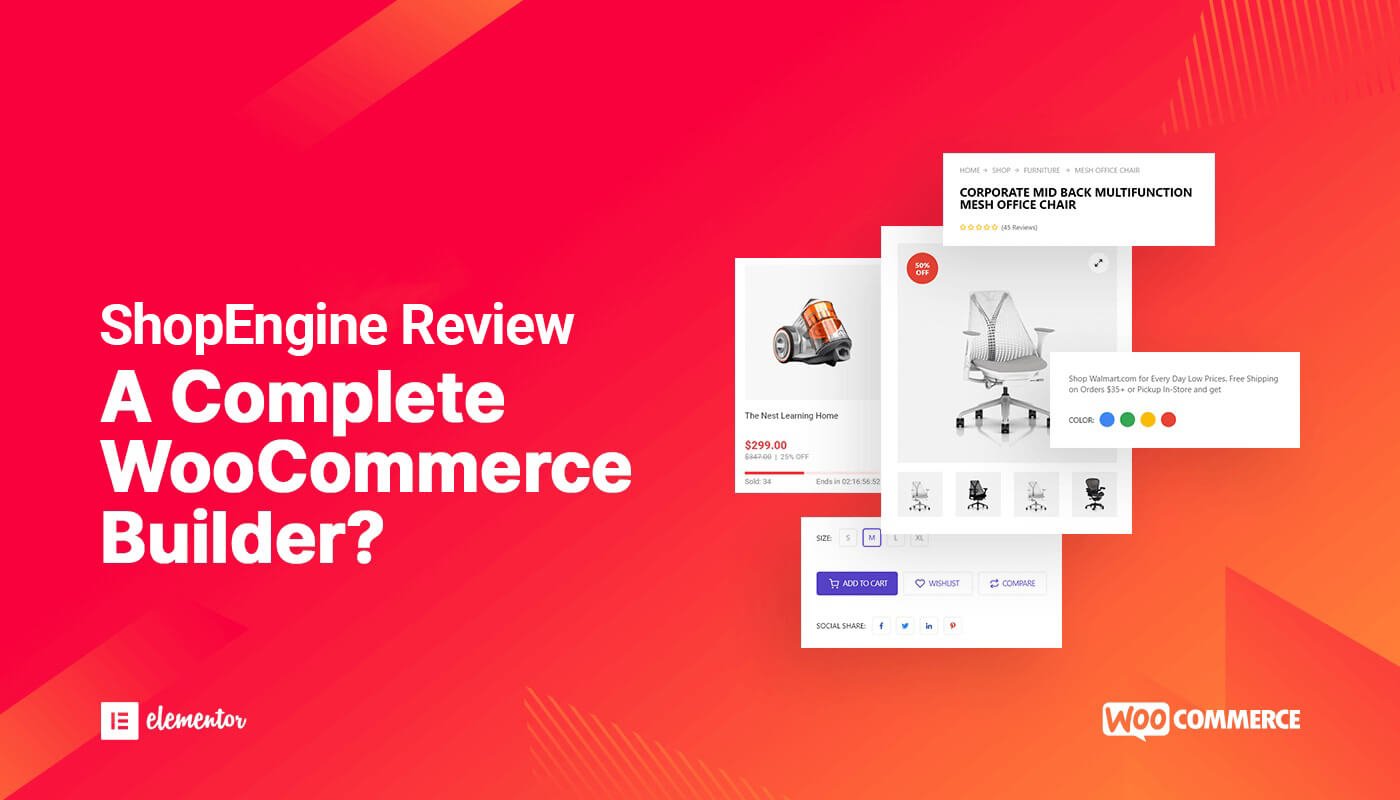 ShopEngine has recently released its Pro version and it looks promising. I have used different plugins from the same company before and really liked some of those.
I thought I should try this plugin to know if it actually lives up to the hype. And honestly, there are not many very good Elementor based WooCommerce template builders in the market.
So, if this product is really good it's really a win-win situation for both the people who built it and people like us who are going to use it.
In this article, I am going to take a deep look at all the features and modules of this promising plugin. Not just the good part but also the part where the plugin can improve.
In short, in this article, you are going to find out if ShopEngine is really the most "Complete" WooCommerce builder as the plugin claims or not. 🤔 🤔🤔 So, keep reading…
Pros of ShopEngine
Cons of ShopEngine
✅ 65+ Advanced Widgets
✅ 12+ Advanced Modules
✅ 15+ WooCommerce Template
✅ Most of the widgets have multiple (up to 10) premade designs each
✅ Extremely LightWeight
✅ Fast loading
✅ Easy to Customize
✅ The interface is extremely user friendly just like Elementor
✅ An all-in-one package to build WooCommerce
✅ Modern technology like Ajax Based Filter & Pagination
✅ Gives an elegant look to your eCommerce website
✅ Well Documentation (both written and video)
✅ 24×7 Support Team
❌ My Account Login/Register, My Account Dashboard have 1 premade design available
❌ Similarly, Cart and Order / Thank you offer only 1 premade design.
















What is ShopEngine?
ShopEngine is a WooCommerce builder for Elementor developed by Wpmet. ShopEngine enables you to use Elementor Page Builder to custom design every page of WooCommerce. This plugin gives you the luxury of creating beautiful WooCommerce pages just using drag and drop technology without any coding knowledge.
To make a custom WooCommerce store ShopEngine offers lots of useful widgets and premade eCommerce templates with complete customization options. Not just that! With advanced widgets, ShopEngine also comes with modules like Pre Order, Back Order, Wishlist, Product Comparison, Quick View, and many more modules which you can use to enhance the functionalities of your online store
ShopEngine Free VS Pro
Shop Engine has 2 versions, Free and Pro. The free version has been available on WordPress.org for less than 6 months and has over 3,000+ active installations. Following the success of the ShopEngine Free version, the team has recently released the Pro version with more features.
| | | |
| --- | --- | --- |
| Feature | ShopEngine | ShopEngine Pro |
| Modules | 4+ | 12+ |
| Templates | 5+ | 15+ |
| Widgets | 40+ | 65+ |
Of course, there is a difference in the number of features between the Free and Pro version. But the free version offers a good amount of features to start building your custom WooCommerce site. And the Pro version seems fully packed with WooCommerce tools to build your own custom eCommerce store.
In this blog, we are going to review the pro version which includes all features.
Features of ShopEngine
Like I have said before, it offers not only advanced widgets but also advanced modules and templates for all WooCommerce pages.
Let's talk about all the features one by one
Modules
Ideally, I should start with the Template builders but I was so impressed with the Modules ShopEngine has to offer that I must talk about them first. Modules are the high point that makes this plugin more effective and useful than other plugins in the market.
You will find plugins that do offer you more or less options to beautify your WooCommerce site but they don't necessarily offer so many eCommerce functional features. You will need multiple plugins to get all the functionalities that ShopEngine Pro provides in just one.
ShopEngine offers 12+ Modules that you can use to make the website more appealing to customers and your business more profitable. Let's have a look at those:
| | | |
| --- | --- | --- |
| Modules | ShopEngine | ShopEngine Pro |
| Quick View | ✅ | ✅ |
| Wishlist | ✅ | ✅ |
| Product Comparison | ✅ | ✅ |
| Flash Sale Countdown | ✅ | ✅ |
| Swatches | ✅ | ✅ |
| Badges | ❌ | ✅ |
| Quick Checkout | ❌ | ✅ |
| Partial Payment | ❌ | ✅ |
| Pre-Order | ❌ | ✅ |
| Backorder | ❌ | ✅ |
| Currency switcher | ❌ | ✅ |
| Sales Notification | ❌ | ✅ |
| Additional Checkout Fields | ❌ | ✅ |
You can use ShopEngine's modules to make the website more appealing to customers and your business more profitable.
For a better shopping experience for your customers, ShopEngine provides Quick View, Variation Swatches, Wishlist, Product Comparison modules with advanced settings and styling options. These will make give your website a more advanced with modern look. In addition, these will make it more convenient for your customers to navigate and choose products according to their choice.
And they choose the products they want to buy, customers can easily checkout with ease using the Quick Checkout module. This module is a blessing for busy customers as it is a time saver. ShopEngine also offers Currency Switcher Module so consumers can easily check product prices in their preferred currency and also check out on their own currency.
Wanna boost your sales? No worries! ShopEngine got that part covered that too with modules like Flash Sale Countdown and Badges. These two modules highlight the product that is on sale. You can also easily create sales campaigns like Black Friday using Flash sale countdown.
Not just sales, you can encourage your customers to shop more by giving them the option of paying in parts using the Partial Payment Module. Also, notify customers every time someone purchases something at your website with a sales notification module.
The icing on the cake is the Pre-Order, Back-Order module which will turn stock management into a super easy task. The Back-Order module of this WooCommerce plugin has more advanced options than the WooCommerce built-in one.
Another interesting new addition to the ShopEngine module list is the Additional Checkout Fields module. This module lets you add a custom form field to check out forms like Billing Form, Shipping From, etc.
Overall, I can say the modules are rock-solid and will be valuable to your WordPress eCommerce store. Especially if you consider the fact you are getting so many functionalities under one plugin.
Let's move on to templates now…
Templates
ShopEngine provides 15+ WooCommerce templates to make your life easy. You can use any of the templates and edit them with the Elementor page builder.
All the templates come with multiple ready-to-use designs which you can use to give your WooCommerce pages a stunning look in just a few clicks. You will get multiple in fact up to 10 premade designs with each of the templates. Still, if you don't like the existing designs you can always create one from scratch.
I want to specifically highlight the Quick View Modal and check-out templates. These two are highly effective features when it comes to eCommerce stores. Furthermore, You can make the My Account Page and Thank you pages more personalized to give your customer a better experience.
You get every page you need for a WooCommerce page and it's incredible how every little thing about the template is customizable. It is the most freedom you are going to get when it comes to WooCommerce page customization.
Here is a list of all the WooCommerce templates you will get with ShopEngine:
| | | |
| --- | --- | --- |
| Templates | ShopEngine | ShopEngine Pro |
| Single Page | ✅ | ✅ |
| Archive | ✅ | ✅ |
| Shop | ✅ | ✅ |
| Cart | ✅ | ✅ |
| Checkout | ✅ | ✅ |
| Quick View | ✅ | ✅ |
| Order/Thank You | ❌ | ✅ |
| Quick Checkout | ❌ | ✅ |
| My Account Dashboard | ❌ | ✅ |
| My Account Orders | ❌ | ✅ |
| My Account Order Details | ❌ | ✅ |
| My Account Download | ❌ | ✅ |
| My Account Address | ❌ | ✅ |
| My Account Login/Register | ❌ | ✅ |
| My Account Details | ❌ | ✅ |
Of course! to build templates, you need widgets and so let's talk about the widget now…
Widgets
You will get around 65+ advanced-level widgets to build your pages. And the great thing is widgets are added keeping different WooCommerce page templates in mind?
So, whether you are looking to build a Single Page, Cart Page, Checkout Page, or Thank you page, you will find almost every possible relevant widget that you can use or will need.
You will find more control over your shop page design with the Archive/Shop page widgets. On the checkout page, along with the traditional widgets, you also get an order review so your customer can see the order details in one place.
In addition to the specific widgets, you get a set of general widgets that you can use on all the templates. Some of the general widgets are Filter Price, Advanced Search, Deal Products, Flash Sale Products, Filterable Product Lists, and many more.
You also get advanced thank you widgets which are rare in WooCommerce builder plugins. In ShopEngine, along with Thank You Address Details, Order Details, Order Thank You, you also get the Order Confirm widget.
And don't forget, you can add custom form fields to your check-out page widgets which you can use to get more information about your customers. This option can be extremely handy depending on the business you do.
The search widgets are Ajax-based which will ensure customers can search for products and shop seamlessly. In short, ShopEngine provides enough widgets to equip you to build professional WooCommerce websites with a personal touch.
User Interface
ShopEngine is an Elementor WooCommerce builder and Elementor has recently given recognition to ShopEngine's credibility by adding it to its 3rd party addon list. So, you can be assured that it's 100% compatible with Elementor. If you are an Elementor lover like me, then you will find no difficulty using this.
I liked the fact the widgets are organized template-wise so it's easier to find them. You can also search for them just like any Elementor widget and use them. Overall the user interface is pretty user-friendly.
One more thing I liked is the plugin offers 2 options for enabling and disabling features. So, you can turn on/off all the widgets/ modules at once or can turn on/off individually depending on your needs.
Ever faced Elementor not loading error? To find the perfect solution, read our blog on probable solutions of Elementor Not Loading Error
How ShopEngine Pro Compliments Elementor
Elementor is one of the most popular Page builders among WordPress users because it's a visual page builder feature where you can create and edit a WordPress website without any coding knowledge.
While Elementor is undoubtedly one of the best page builders, you can not customize WooCommerce Pages with Elementor. Elementor Pro has added the feature where you can customize WooCommerce Pages but you can not edit all the WooCommerce Template. And it's where you need ShopEngine Pro.
So, if you want to leverage this awesome page builder to get the best for your WooCommerce website, then ShopEngine is the best add-on.
ShopEngine is the best compliment for your Elementor based WooCommerce store. If you add ShopEngine with Elementor, you can easily customize not only the basic WooCommerce templates but also
Quick View Modal
My Account Page
Thank you page
Login/Register Page
Quick Checkout Modal
Not just basic customization, ShopEngine gives you advanced options to customize both the layout and styles of every WooCommerce template. In short, if you want complete flexibility while building your WooCommerce store, you must choose ShopEngine Pro with Elementor Pro.
ShopEngine Pro and Elementor Pro is the perfect combination you need to build your WooCommerce store with a complete custom design and feel. And, don't forget about all the modules you will get with ShopEngine which will cover up almost all additional WooCommerce functionality you will need.
Final Verdict
Well, the final verdict is it is the most complete WooCommerce Builder for Elementor 🏆🏆🏆. Because you get almost everything you can wish for under one umbrella. So many advanced widgets with useful modules and completely customizable WooCommerce templates, I can assure you, you will not find in any other plugin.
It is absolutely user-friendly and just a magical gift for Elementor users to build a WooCommerce website in the simplest and easiest way possible. And you get complete control over the design and functionality. What else do you need?
To buy this amazing WooCommerce builder, click on the button below.