Design an Engaging Elementor Event Page with WP Eventin for FREE
Arranging an event is much simpler these days thanks to event management websites. WordPress lets you create an Elementor event page in minutes. Combined with a flexible plugin, you can design engaging event management WordPress websites for FREE!
To get started, you need to understand the basic components of an event management website. Find out the purpose of your event and create your WordPress website accordingly. We will first look at the basic components and purpose of an event management website. Then we will go through the step-by-step process of designing a simple Elementor event page with WPEventin.
Why Do You Need an Event Management Website?
There really is no better way to reach people than using the internet. With over 4.6+ billion internet users, there is a greater chance for you to connect to them over the internet. The greater your reach, the more people will know about your event and your brand. Moreover, an event management website can drastically reduce the time spent managing all the event details. The following list only shows a few of the benefits of an event management website.
Connect to a greater audience
Centralize all of the event details and information
Easily promote events on social media platforms
Save costs on offline promotions
Sell tickets
Register and track attendees
Send Email notifications to attendees on event updates
As of January 2021, there were 4.66 billion active internet users worldwide – 59.5 percent of the global population. Of this total, 92.6 percent (4.32 billion) accessed the internet via mobile devices.

Source Statista
Why Elementor is the Perfect Choice for You?
If you are new to WordPress, then you should look into popular page builder plugins. These plugins make it super simple to create a WordPress website by drag-and-drop feature. Elementor is one of the best plugins when it comes to designing WordPress websites. The free version of Elementor provides all the basic features for you to get started. When combined with a great event management plugin, you can create an event management website exactly the way you want. Here is a brief list of the features you will get with the Elementor Free version.
Things to Keep in Mind Before Designing an Event Website
Prior to designing an event website, you need to understand what exactly your goals are. Each event will have a unique theme and an agenda for a specific group of audience. Before you start designing your website, you need to keep in mind these key points.
Know Your Audience to Create Meaningful Connections
Every event will have two things: a purpose and an audience. Let's consider that you already know the purpose which is why you want to host an event. The people attending your event are the next thing to consider. Your audience's response and testimonials will determine your event's success. When planning your event and deciding on your website design, make sure you understand who your audience is and what they want.
Highlight Your Brand to Visitors
As the host, you probably want your visitors to remember you and your brand. Keep a clear idea of what you represent and try to highlight it as much as possible on your website. The key to creating a great event management website is to provide a premium user experience. You will want to keep your brand image on their mind if you want them to come back in the future. Make sure to keep your branding in visitors' minds when designing your Elementor event page.
Presenting a brand consistently across all platforms can increase revenue by up to 23%.

Source Smallbizgenius
Create Event Schedules and Agenda for Visitors to Plan on Attending
It is common for people to forget important events and dates. If this happens to your visitors, then your event will not be a success. Make sure your event schedules are displayed clearly when you design your Elementor event page. You can also add sticky content to emphasize your event date and time to your visitors. Additionally, you should mention the agenda of your event. This will help users understand your event and prepare accordingly.
Add Speaker Profiles to Showcase Their Character
A great way to attract users to your event is by highlighting speaker profiles. Inviting prominent speakers will attract visitors who might not have been interested in the first place. If you plan on getting notable speakers for your event, showcase them when designing your Elementor event page. You can include bio information, speaker session times, and their social media information.
Basic Components of WordPress Event Management Website that You Should Consider
Event management websites have a few basic elements to properly manage events. These requirements can vary from person to person. However, it is recommended that event management websites have these basic components to get started with.
Attractive Homepage to Create a Great First Impression
The homepage will make the first impression for your event. There should be compelling images that help get visitors attention. You should keep your design minimal and encourage them to explore more details such as the speaker lineup, schedule, entertainment and any other information that encourages users to purchase a ticket.
Adding location information is important because people would want to know where the event is to plan on attending. For online events, this may not be necessary. In addition, the homepage on an events website should have testimonials from previous attendees, a sponsors list, and links to social media pages associated with the event.
Descriptive About Page to Highlight Important Event Details
The about page should summarize the details of your event. Include a short bio of the event's organizers and why they decided to launch the event. You can add images to show what exactly the event is about. This page should also show the schedule of the event and any other details relevant to the event. It's also important to have a contact form for site visitors to get in touch with the event organizers.
Previous Events Page to Encourage Visitors to Register for More Events
If your event is recurring such as annual or monthly events, then create a dedicated page with media from previous events to encourage new users to purchase tickets. An image gallery with pictures and videos of attendees enjoying the event can greatly motivate them to sign up. You can even add a reviews section from satisfied participants to show the impact of your events.
Add Registration and Ticketing Option to Sell Your Event
The purpose of your event is probably not just to invite attendees but also to sell tickets. If you want to earn, then you should consider including a ticketing option for your event. For this, you need to include a registration form with payment options. Remember to keep your form short but informative to make the process of registration as user-friendly as possible. When designing your Elementor event page, you will need to make sure that the form is accessible to make the registration process smooth and easy to use.
If you want more visitors, then you need to let people know about your event. The quickest way to do that is to share your event on social platforms. Facebook has over two billion active users while networks like Twitter and Instagram have millions of users. You should keep in mind social sharing options when creating your Elementor event page.
With roughly 2.85 billion monthly active users, Facebook is the most popular social network worldwide.

Source Statista
Choosing an Event Management Plugin compatible with Elementor
Designing an Elementor event page on WordPress is the easiest way to get started for FREE. However, WordPress has hundreds of event management plugins for you to choose from. Finding the right plugin will take hours of research. If you are new to the WordPress community, then this will be a difficult task.
We have simplified your work by doing the research for you. Learn about the top event management plugins for your event website. For our purpose, we will choose the WPEventin plugin to create an Elementor event page on WordPress.
WPEventin by Themewinter is the perfect WordPress event management plugin to get started with. It is packed with great features that can help you create and manage a complete WordPress event website. The best part about this plugin is that it is compatible with WooCommerce, Elementor, ElementsKit, and Metform. Plenty of customization options are available for you to design your unique Elementor event page. You can create Multi/Single events, speaker profiles, event landing pages, custom registration forms, and a lot more.

Some Key Features of WPEventin are:
Attendee self-update details after registration
Track & modify attendee ticket usage status by Admin
Zoom Integration
Speaker & Schedule Listing
Speaker Single Page
Multiple speaker template for speaker profile
WooCommerece Payment System
Filter attendee by event, payment status, ticket usage status
Create Your FREE Elementor Event Page with WPEventin
Now that you know the basic requirements, we can start designing our website. In this section, you will see just how easy it is to create your Elementor event page with WPEventin. Install both plugins from your dashboard and follow the step by step process. You can check the documentation for WPEventin and the documentation for Elementor setup both plugins.
It is important that you set up the speaker details, event schedule, event details before continuing. We will be using drag-and-drop widgets to design our Elementor event page. Read the step-by-step guide on how to set up WPEventin for your event management website.
Elementor Settings for WPEventin
After choosing your template, you need to allow Elementor to edit WPEventin events. Go to your dashboard and find Elementor -> Settings. Then check the box for WPEventin events and save changes. Now you are ready to start designing your Elementor event page.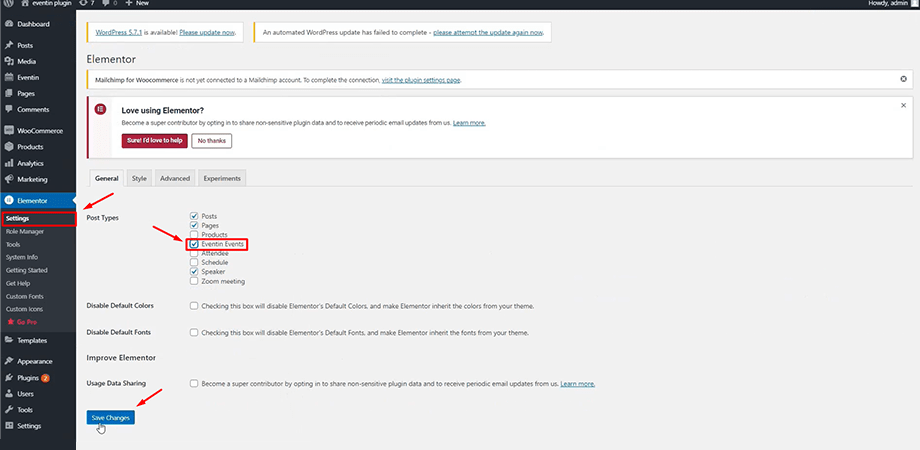 Add Event Details to Describe Your Event
Start off by adding a title and image for your event. Simply drag the Elementor widgets for heading and image and drop them on your page and edit the text and colors. Elementor makes it easy for you to customize color, font and more. Also, add a description for your event to show what it's about. You can add extra text or headings as you like to design your Elementor event page.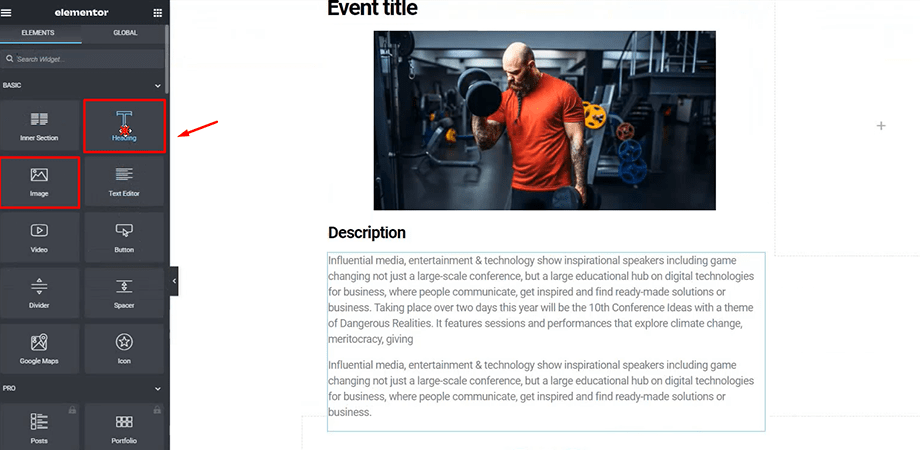 Add Event Schedules
Next, add the event schedules on your website. You can search for the WPEventin Event Schedule Tab in the Elementor sidebar and drag-and-drop the widget. The schedule tab will list all the event schedules with the time, title, location and a short description. You can add more sections for schedules on your Elementor event page.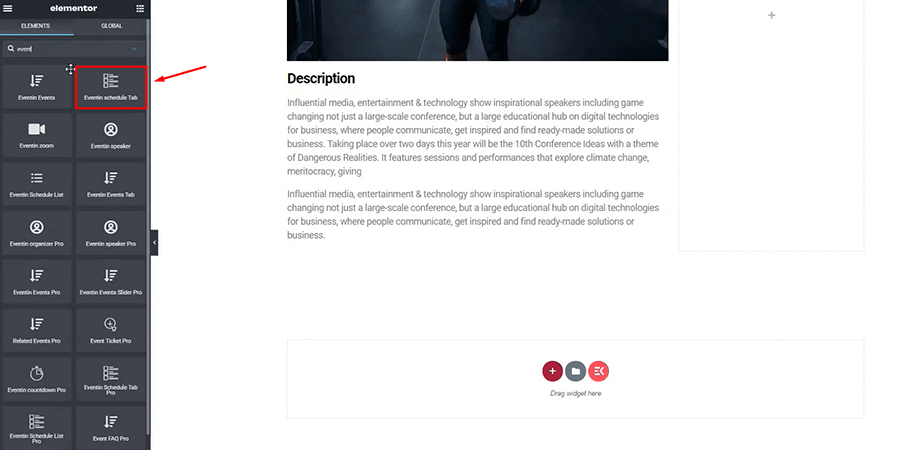 You can edit the schedule style from the Elementor sidebar. Make sure to add the schedules you want to be displayed. These schedules were created from the WPEventin plugin. The order of the schedules can also be changed.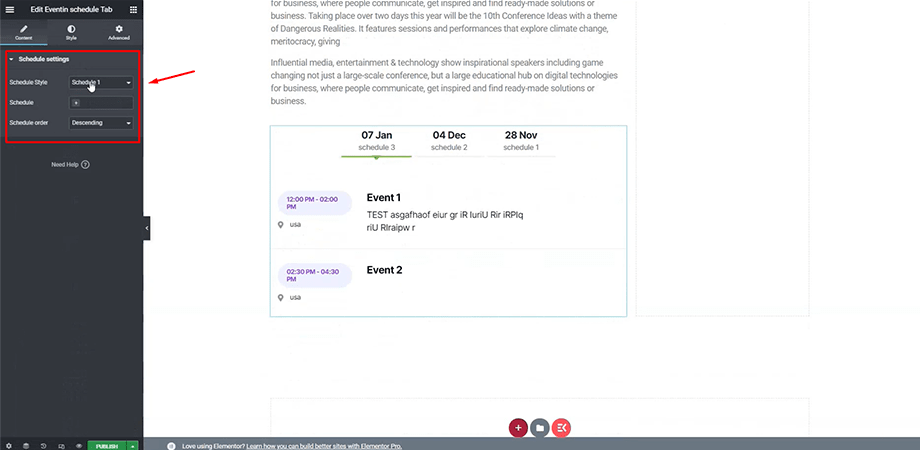 Add Event Ticket
If you want to sell tickets, then you can add a registration form for ticket purchase. With WPEventin PRO, you will get the event ticket feature which you can search in the Elementor sidebar. Select the event name and the ticket quantity and price will be displayed. This will let visitors buy your tickets straight from your event page. WooCommerce support for WPEventin provides flexible purchase options.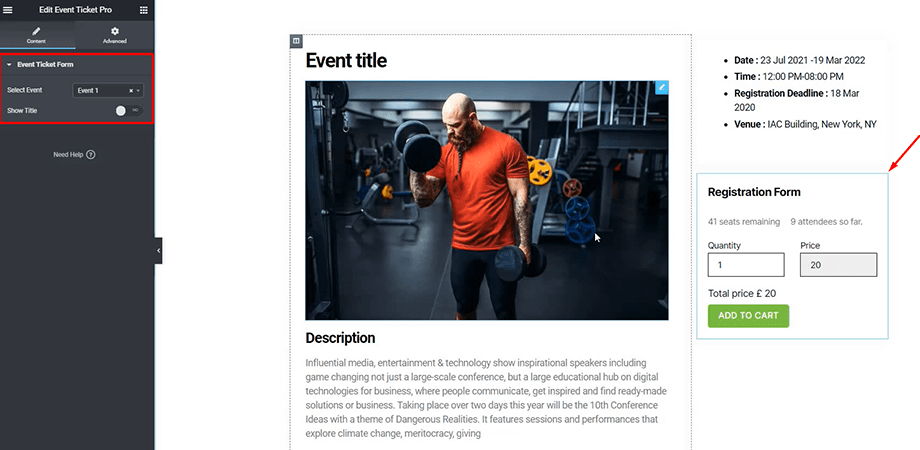 Add Event FAQ (PRO)
An important part of any event is the FAQ. Add an FAQ section to your page to answer frequently asked questions that your visitors may have. You need to select the Event ID to show the FAQ for that specific event. The event ID is selected from WPEventin plugin. You can multiple.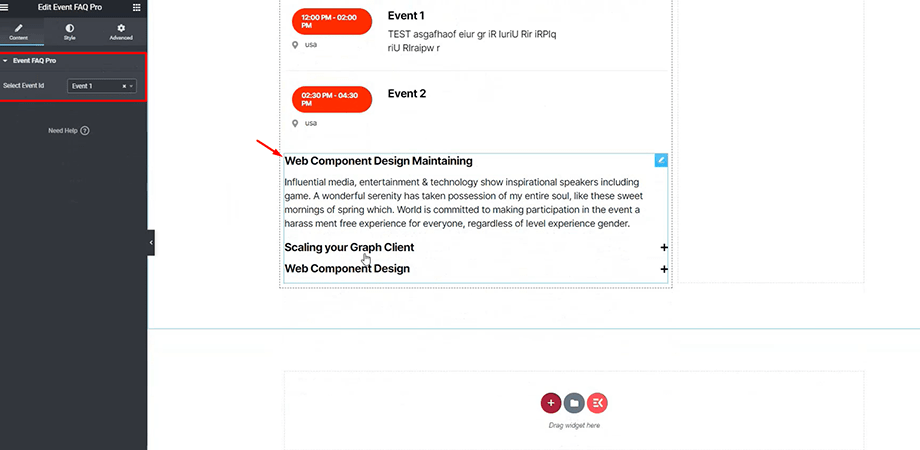 WPEventin Countdown Timer (PRO)
WPEventin PRO also offers a countdown timer for your event. Search for WPEventin countdown timer and add it to your page. Then you can select the countdown style, event name, timer details and more. Elementor also lets you edit the style of the countdown timer.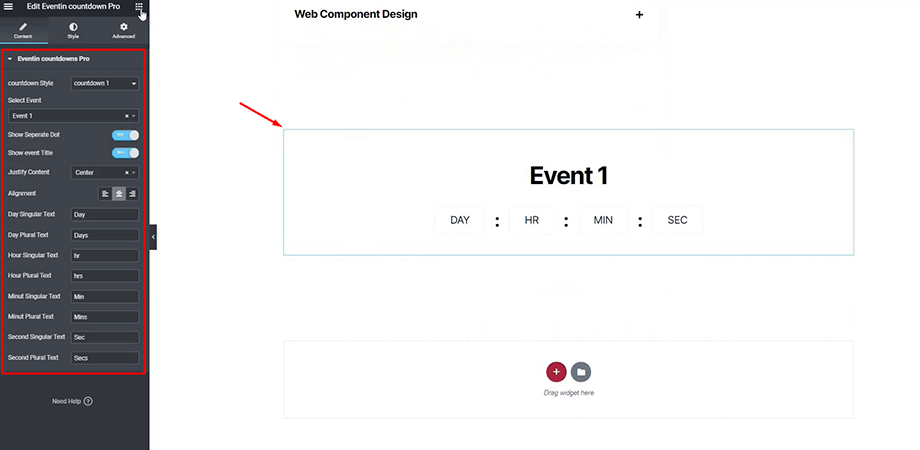 Related Events (PRO)
If you have multiple events on your site, you can choose to display the related events section. This section will show upcoming events from your list of events. You can select the number of columns you want to display and set a label. Then select Event ID for the events you want to display.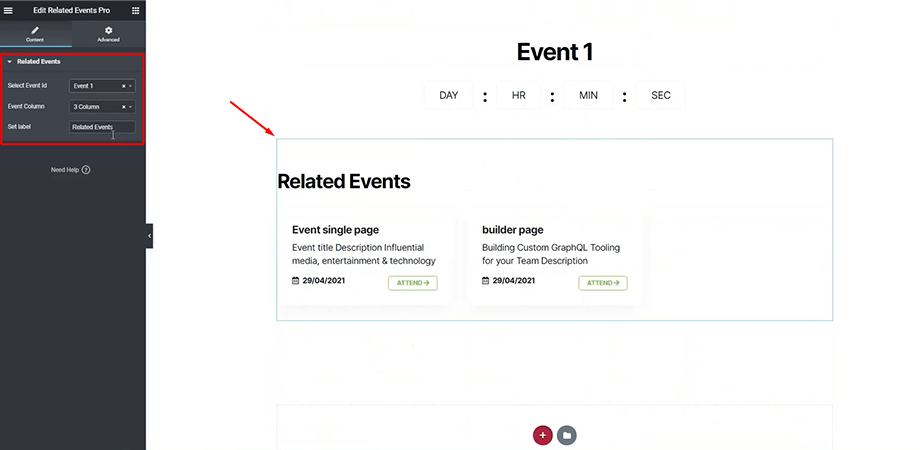 Do I need Elementor PRO?
For the most part, you do not need Elementor PRO to get started. Elementor free version will give you enough features to add headings, details, images, and social icons for your event page. You can even customize these settings to change the typography or color. Google Maps feature is also available for you to show your event location. However, if you do want to get more features, you can upgrade to PRO. A brief list of features are compared in the following table. You can check out the Elementor support page to find a complete list of features you will get with Elementor PRO.
| | | |
| --- | --- | --- |
| Features | Free | Pro |
| Heading | ✓ | ✓ |
| Text Editor | ✓ | ✓ |
| Image | ✓ | ✓ |
| Video | ✓ | ✓ |
| Button | ✓ | ✓ |
| Image Box | ✓ | ✓ |
| Testimonials | ✓ | ✓ |
| Social Icons | ✓ | ✓ |
| Image Gallery | ✓ | ✓ |
| Google Maps | ✓ | ✓ |
| Mobile Editing | ✓ | ✓ |
| Forms | ☓ | ✓ |
| Posts | ☓ | ✓ |
| Customs CSS & Font | ☓ | ✓ |
| Countdown | ☓ | ✓ |
| Header & Footer Builder | ☓ | ✓ |
| Animated Headline | ☓ | ✓ |
Final Elementor Event Page with WPEventin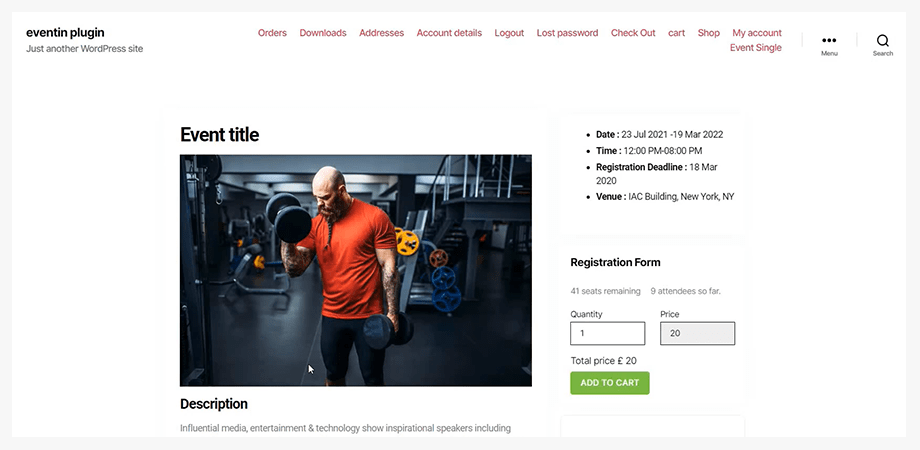 Your final landing page is now complete! Visitors can read about your event, buy tickets, share it on social media or find similar events to join. WPEventin also allows you to create Zoom events so your attendees can attend from anywhere in the world. Most importantly, compatibility with Elementor makes designing your event website with WPEventin easy.
Why Should I Get WPEventin PRO?
Setting up an Event Page with basic information may not always be enough. You probably will be able to design a beautiful event page with a ticket selling option. But to give your visitors a premium experience, it is recommended that you try out WPEventin PRO. The PRO version has much more features like an event-specific banner and logo, unlimited FAQ, countdown timer, and more features to get your attendees excited about your event. Since your goal is to reach a maximum number of people and encourage them to buy tickets, you need to make your event page a little more exciting. If you are not sure, see the demo or try out WPEventin FREE first and see how the PRO version can optimize your Elementor event page.