How to Create Attendee Registration with Free Ticketing System
In many cases, events are hosted for charity or social work where you can not charge the event attendee. Maybe in some cases, you also want to host a free event but track the event attendees. Are you looking to arrange an event where the attendee does not need to pay, but you want to track the attendees? Then this is the perfect blog for you.
Now, you can build a full-feature event conference website for free. You will have all the functionality and features along with attendee registration and ticket selling. With the free ticketing system, you can host a full free event for the attendee and get the registered attendee information.
After the end of this blog, you will be able to make an event website with attendee registration and free ticketing option. You can get attendee information by downloading a list. You can also control the registration form.
What is Attendee Registration?
Attendee registration is a process by which event participants can register for the event. The event organizer can define which information they need like name, email, phone number and zip code etc. The organizer also defines whether the field is required or not. During the ticket purchasing or event registration, participants need to fillup the form. Attendee registration is important to get participant data and track the return on investment(ROI).
Why is Attendee Registration Important?
Event attendee registration action is supposed to be the first meaningful interaction with your event attendees. An excellent first impression is always helpful for getting more attendees. Better first impressions get more mouth marketing and more sales. Aren't you looking at this?
Benefits for Event Attendee Registration
There are several benefits for event attendee registration. In order to analyze ROI and create a feature event plan, event registration is highly important. You can get the following advantage from the attendee registration information.
Track and analysis- If you have a solid event attendee registration option, you can get a lot of information. This information could be great to track and analysis. You can check from where your attendees join with you, how is there age level, the ratio of male and female and many more. With this analysis, you can bring future events and paid service as well.
Future marketing- Retargeting is great marketing especially when you have solid leads on your hand. During the attendee registration, you can take the attendee's phone number, email and address. Which is great to do future marketing. Not only future event promotion, but you can also promote running service, product and donation campaigns as well.
Simplifies registration procedure- Getting attendee registration manually is hard. During this pandemic, it becomes harder and it might create health damages. Automated attendee registration is a great way to solve the issue. It is simple and simplifies the procedure.
Things You Need Before Starting
In order to get started, you will need WordPress themes and plugins. But don't worry. We are not leading you in any confusion. Here is a straightforward description, what you need.
Theme for Building the Foundation
Themes like Hello Elementor, Astra or OceanWP are great to start a new event management site. Those are free and basic themes, compatible with Elementor drag and drop page builder.
Common Features of These Themes:
Fast and lightweight theme made by high-quality professionals
SEO optimize and user-friendly design
WooCommerce ready
A non-techy person can use them
Highly customizable WordPress theme
In order to create a beautiful and professional event, you can use any free and premium theme. You can check the best event management theme comparison to get an idea. Besides this, we recommend you check the best event management plugin comparison to know about the best event plugin.
WooCommerce Plugin for Stock Management
WooCommerce powers over 30% of all eCommerce stores worldwide, making it the leading eCommerce platform in the world. Not only the eCommerce site but WooCommerce can also be used to manage stock. If you want to sell a ticket then WooCommerce is a compulsory plugin. Without WooCommerce installation, attendee registration is not possible.
WP Eventin for Event Management Functionality
As per the comparison blog, WP Eventin is the best event management plugin. Here is this blog, we are going to use WP Eventin as our main plugin to enable events functionality and attendee registration. Surely you can use other plugins but check this comparison before you try a new plugin.
Elementor (For drag and drop editing)
Do you want to drag and drop building options for your event management website? Want to avoid WordPress coding? Then install the Elementor drag and drop page builder. The plugin has 5+ million active installations so I am sure, you will enjoy working with Elementor.
-> Read More- Elementor not loading error (proven solutions)
Create a Full-Featured Event Page
Let's drive into the target step by step. Assuming, you already have installed every plugin like WP Eventin, WooComerce. Now, activate and set up the WooCommerce plugin with every information. Once you are done, go to WP Eventin from the WordPress dashboard.
Add Speaker Schedule
You can have a single or multiple schedules for speakers. In order to add a schedule, go to WP Eventin and click on 'Schedule'. After that click on 'Add New'. Give the schedule information and save it. If you want to add multiple times then click the 'Add' button from the bottom of the schedule page. If you want to edit/update an earlier schedule, then check the schedule list and click edit from there.
Settings Key:
Add Schedule : Eventin -> Schedule -> Add New -> (Update Info) -> Publish
Add Multi-time schedule-> Eventin -> Schedule -> Add New -> (first schedule Info) -> Add -> (first schedule Info) -> Publish
Add Speaker Profile
In order to add a speaker profile, then go to WP Eventin and click on the speaker. After that click on 'Add New'. Give the schedule information and save it. If you want to add multiple times then click the 'Add' button from the bottom of the schedule page. If you want to edit/update an earlier schedule, then check the schedule list and click edit from there.
Settings Key: Eventin -> Speakers -> Add New
Add Event Landing Page
To create an event landing page, go to eventin, then event and then add new. From the editable panel, add speaker, schedule and event details. Once you are happy with the information, click on the update button.
Settings Key: Eventin -> Events -> Add New
Enable Attendee Registration
To enable the attendee registration form, go to eventin then settings and under the general tab, you will see, 'sell on WooCommerce'. Click on the toggle button and save changes. Remember, you have to install the WooCommerce plugin before taking this action.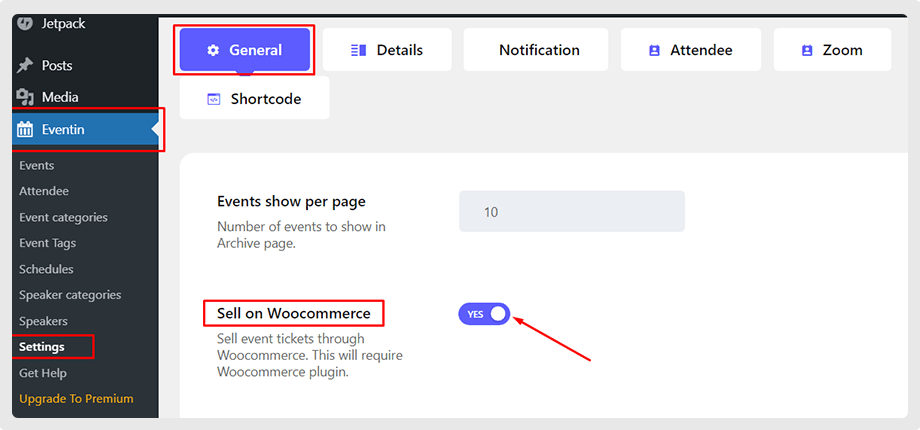 Now, from the same setting page, under the 'Attendee' tab click on 'enable attendee registration'. Save changes and the event will start showing the registration option. Now, from the front page, your ticket purchaser can buy tickets.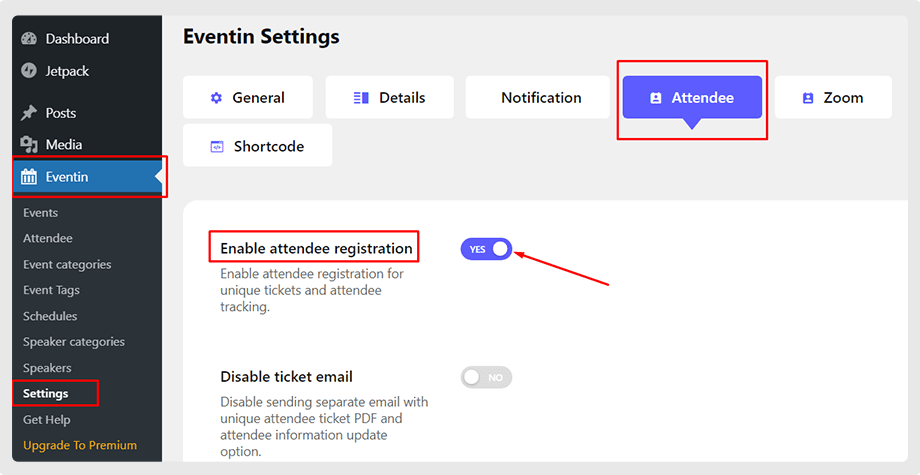 What is Free Ticketing System?
A free ticketing system is a process where participants need to purchase the ticket with a regular process but they will not charge for it. In this process, they(participants) will share the necessary information for the charge transaction and ticket confirmation. An event can be free or paid, it can be open for all or open for registered participants only. If you want to get participant data but want to host an event for free, then the free ticketing system is for you.
Why Free Ticketing system is important?
Let's say you want to host a series event where an initial event is free but the rest of them are paid. You want to get initial event participant details for marketing. You can use free ticketing stem.
You want to host a charity event where you want to make sure participants will not overflow. There are several cases, where you can not take charge but you also need the attendee data. In all these cases, you can use the free ticketing system.
Enable Free Ticketing System
Now, If you want to make the event full free, you need to keep the ticket price as ZERO. In order to do this, go to the eventin ten events and click on edit. At the bottom area, ticket pricing is available, update it as zero then save changes.

How to Download the Attendee List?
You can download event attendees from the WP Eventin dashboard. Go to Eventin and then click attendee. You can see the list of your attendee with all the information. You also have the option available to download the tickets. Download full attendee list as CSV is available on WP Eventin pro version only.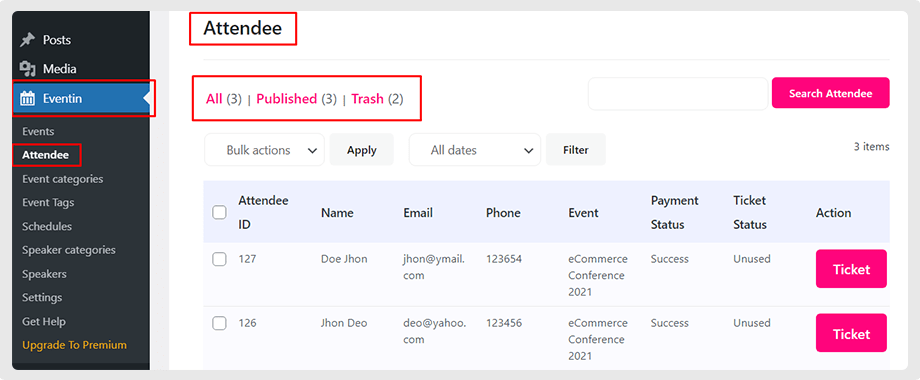 Do More with WP Eventin Pro
With WP Eventin, you can get premium features on the attendee restoration and event landing page. You can add an extra unlimited field on the attendee registration form on WP Eventin pro. You can add user notifications about an upcoming event from the dashboard. Check WP Eventin PRO feature from here.
Start Today!
With our plugin, WP Eventin, you can manage a paid ticketing system too. A premium ticketing system is nothing but the same system given to this blog. Don't forget to check the documentation from here.
If you have attendees' information like name, email, phone etc then you can send future updates to them. This is one of the keys to making future events successful. Not only do events update, but you can also do marketing of your own products too. If you are a starter on event management, I hope this article will be a great resource for you.
Did you enjoy the blog? Share with your friend on social media. This is the way you can help your friend too. Let us know if you face any difficulty while creating attendee registration with free ticketing system. We will be glad to hear about your experience.